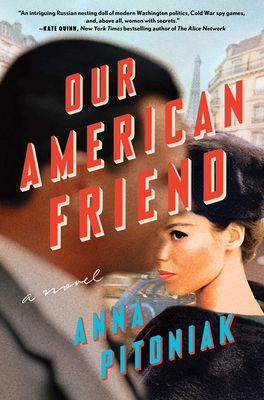 Our American Friend
A Novel
Hardcover

* Individual store prices may vary.
Other Editions of This Title:
Digital Audiobook (2/14/2022)
Paperback (2/28/2023)
Library Binding, Large Print (3/23/2022)
Compact Disc (2/15/2022)
Description
A globe-spanning thriller of love and betrayal about a mysterious first lady with an explosive secret.

Paris, 1974. Lara Orlov and her family arrive from Moscow at the height of the Cold War, thanks to her father's position as a diplomat. The years pass, and Lara becomes more and more enamored with the City of Lights. As a teenager in Paris, she falls deeply in love with a fellow Russian expat: the passionate, intellectual Sasha, who opens her eyes to the ills of the Soviet Union.

Decades later and across the globe, journalist Sofie Morse is taking some much-needed time off after several chaotic years covering Washington politics. But when she gets a call from the office of First Lady Lara Caine, her curiosity is piqued. Sofie, like the rest of the world, knows little about Lara—only that she was born in Soviet Russia and raised in Paris before marrying Henry Caine, the brash future president.

After decades of silence, Lara is finally ready to speak candidly about her past: about her father's work for the KGB and about her ill-fated relationship with Sasha—which may be long in the past, but which could have explosive ramifications for the future. As Sofie begins to write Lara's biography, she can't help but wonder: Why is Lara revealing such sensitive information? And why now? Caught in a dangerous game of cat-and-mouse, both Lara and Sofie must ask themselves what really matters—and confront their own power to upend the global political order.
Praise For Our American Friend: A Novel…
A New York Times Book Review Editors' Choice

"What happens when a young, relatively inexperienced writer is tapped to write the biography of an enigmatic Russian model turned inscrutable first lady? Pitoniak answers this question in her fast-paced and fun third novel."—New York Times Book Review (Editor's Choice)

"Pitoniak braids timelines to create a portrait of a woman torn between two countries, two belief systems, two selves....Elegant and well-paced.... Like "Emily in Paris" meets "Scandal" — fantastic fun."—New York Times

"A gripping tale of the Cold War and its legacy."—People

"Riveting…. Our American Friend interweaves the increasingly suspenseful story of Lara's youth with the present-day partnership between Lara and Sofie. The back-and-forth gives the novel a propulsive energy, especially as the truth behind Lara's clandestine activities in Paris – and their role in her present political position – come to light."—Christian Science Monitor

"Spectacular - a global thriller with pace, tension and ever-higher stakes, born of an intimate and unlikely friendship between two very different women ... the story succeeds on every level."—Lee Child, #1 New York Times bestselling author

"An enthralling journey into the life of one of the most powerful women in the world....Exploring interpersonal loyalties and the difference between cowardice and patience, the well-researched and twist-filled Our American Friend is a natural next-read for fans of Curtis Sittenfeld, A. Natasha Joukovsky, and Stacey Swann."—Booklist (starred review)

"A journalist gets sucked into the orbit of an enigmatic first lady—and her life will never be the same.... This lively political thriller mulls love, loyalty, and the rewards of playing the long game."—Kirkus

"Viewers who followed the TV series The Americans will recognize and enjoy its thrilling hallmarks in this exciting novel about the erstwhile first couple."—Library Journal

"A surprising tale of international intrigue…. A smart, timely take on American politics, Soviet spy craft, and the lengths we'll go to for love and revenge."—Town & Country
"Wholly original."—Entertainment Weekly

"A smart, timely take on American politics, Soviet spy craft, and the lengths we'll go to for love and revenge."—Town and Country

"Anna Pitoniak's latest page-turner Our American Friend is packed with Cold War spy intrigue, complex women characters, and rich historical details. I read this novel in one sitting, pouring over the pages, wanting to know what secrets the unforgettable character of First Lady Lara Caine held. Our American Friend does what good fiction does best—it reaches across time to speak to the present moment."—LARA PRESCOTT, author of The Secrets We Kept

"Our American Friend is an intriguing Russian nesting doll of modern Washington politics, Cold War spy games, and above all women with secrets. A burned-out White House correspondent gets the opportunity of a lifetime when she is selected to write the biography of an enigmatic Russian model turned even more enigmatic First Lady of the United States. Just what is the President's wife hiding? Anna Pitoniak's masterful puzzle of espionage, love, and betrayal keeps us flipping the pages to find out!"—KATE QUINN, New York Times bestselling author of THE ALICE NETWORK

"An irresistible political thriller with wit and heart, Our American Friend is a fascinating take on a mysterious fictional First Lady and a moving, rueful exploration of love, loyalty and the presence of the past." —AMY BLOOM, author of White Houses

"I was immediately hooked on this novel about Sofie, a burned-out political reporter, who develops a friendship with the mysterious and elegant First Lady. Pitoniak blends a sharp look at present-day Washington, DC with an exploration of power, love and politics and the result is this smart, addictive page-turner. OUR AMERICAN FRIEND is a delicious political thriller and I couldn't put it down."—JENNIFER CLOSE, bestselling author of Girls in White Dresses

"This should be catnip to political thriller fans--a smart, witty take on a fictional, foreign-born First Lady with a secret tied to Cold War espionage who tests the boundaries of friendship with her would-be biographer. This fast-paced novel about love, loyalty, and the secrets we should or should not keep will keep you gobbling up each page." —MELANIE BENJAMIN, New York Times bestselling author of The Aviator's Wife and The Children's Blizzard

"Anna Pitoniak's Our American Friend is a smart, political thriller, sharply observed and well-written." —ALAN FURST, bestselling author of A Hero of France, Midnight in Europe, and Mission to Paris
Simon & Schuster, 9781982158804, 336pp.
Publication Date: February 15, 2022
About the Author
Anna Pitoniak is the author of Necessary People and The Futures. Before becoming a full-time author, she worked in book publishing, including as a senior editor at Random House. Anna graduated from Yale and lives in New York City and East Hampton.