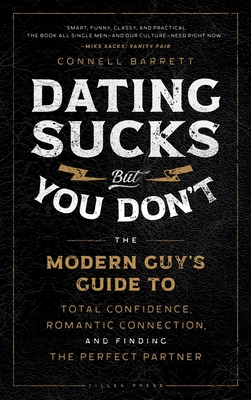 Dating Sucks, but You Don't
The Modern Guy's Guide to Total Confidence, Romantic Connection, and Finding the Perfect Partner
Hardcover

* Individual store prices may vary.
Other Editions of This Title:
Digital Audiobook (5/10/2021)
Paperback (6/28/2022)
Compact Disc (5/11/2021)
Description
From renowned international dating coach comes an essential, must-have dating guide for men looking to gain confidence and find lasting love in the #MeToo era.

Rejection. Ghosting. Not knowing how to talk to women. For many men, dating just sucks. But it doesn't have to. There's a simple, yet powerful, way to gain instant confidence and attract a great girlfriend: Be authentic.

Whether you want to confidently approach women, get quality matches on dating apps, or learn how to avoid the "friend zone," Dating Sucks, but You Don't is your step-by-step blueprint for landing your soulmate.

Using the power of "radical authenticity," you'll unlock your most awesome self and learn how to:
-Be magnetic as you…even if you're not rich, tall, or great-looking
-Always know what to say to ignite chemistry
-Get dates and connect with great women without using creepy "pickup artist" tricks
-Conquer fear and anxiety and confidently approach women (in a way they love)
-Get great matches and dates on Tinder, Bumble, Match, Hinge, or any other dating app
-Be a true gentleman of the #MeToo era who respects women and understands the boundaries surrounding consent
-Create a healthy, supportive relationship with someone who loves you for you

You definitely don't suck. And when you have total self-confidence and great results, neither does dating.
Praise For Dating Sucks, but You Don't: The Modern Guy's Guide to Total Confidence, Romantic Connection, and Finding the Perfect Partner…
"Dating Sucks, but You Don't is smart, funny, classy, and practical as f*ck. Connell's stories will make you laugh—and sometimes cringe—and his advice will transform your dating life without turning you into a douche. It's the book all
single guys need to read now, and exactly what our culture needs at this moment." —Mike Sacks, editor at Vanity Fair,
New York Times bestselling author of Poking A Dead Frog

"This is not just a book about how to attract the right woman. It's about how to be a better man." —Sean Abrams, AskMen's sex and dating editor

"This book is a wake-up call for men to reject toxic masculinity and embrace empathy and vulnerability. It's a must-read for single men in the #MeToo era." —Mike Johnson, Bachelorette star, Instagram influencer, bestselling author of Making the Love You Want

"Dating in L.A. sucks. It's refreshing to read a book that teaches guys what women really want: true authenticity. There's nothing sexier than a man who knows who he is." —Ione Butler, actress, bestselling author of Uplifting Stories

"Few have as firm a handle on the modern dating landscape as Connell Barrett. Eloquent, passionate, informative, and empowering—he understands what makes men tick, what women want, and what all of us need to improve in our journey towards love and happiness." —Brian Howie, host of The Great Love Debate podcast

"To find the woman of your dreams, you need confidence, a positive mindset, and a tested, step-by-step plan. This book gives you all three." —Jim Fannin, peak-performance coach for elite athletes and businesses, bestselling author of The Blueprint

"This book helps good-hearted guys find love without having to use any 'pickup' tricks or play any games. Nice guys do finish first." —Karen Salmansohn, bestselling author of more than two million books, including Happy Habits
S&S/Simon Element, 9781982159139, 256pp.
Publication Date: May 11, 2021
About the Author
Connell Barrett is the founder of Dating Transformation, where he serves as an international coach who helps guys connect with women by unlocking their best, true, most confident selves. Connell has appeared on shows such as Access Hollywood, the Today show, and Good Morning LA, and in many magazines, including Best Life, Cosmopolitan, Oprah Daily, and Playboy. He's also a dating coach for The League—a swiping app aimed at high-achievers—and an advisor for AskMen and EliteDaily. And in 2019 Datezie.com named him "New York City's Best Male Dating Coach." Connell was formerly an Executive Editor at Sports Illustrated, and he has written for Esquire, Men's Journal, and Salon. He lives and works in New York City. Learn more about him at DatingTransformation.com.
or
Not Currently Available for Direct Purchase