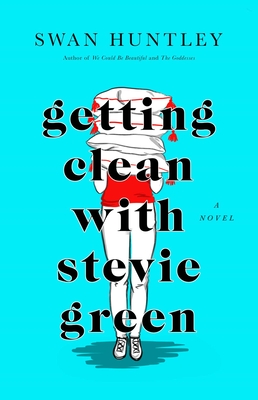 Getting Clean With Stevie Green
Paperback

* Individual store prices may vary.
Other Editions of This Title:
Digital Audiobook (1/31/2022)
Compact Disc (1/25/2022)
Description
The author of the "sparkling dark romance" (Redbook) We Could Be Beautiful brings her "wit and verve" (The New York Times Book Review) to this quirky, feel-good novel about one woman's messy journey from self-delusion to self-acceptance.

At thirty-seven, Stevie Green has had it with binge drinking and sleeping with strange men. She's confused about her sexuality and her purpose in life. When her mother asks her to return to her hometown of La Jolla to help her move into a new house, she's desperate enough to say yes. The move goes so well that Stevie decides to start her own decluttering business. She stops drinking. She hires her formerly estranged sister, Bonnie, to be her business partner. She rekindles a romance with her high school sweetheart, Brad. Things are better than ever—except for the complicated past that Stevie can't seem to outrun.

Who was responsible for the high school scandal that caused her life to take a nosedive twenty years earlier? Why is she so secretive about the circumstances of her father's death? Why are her feelings for her ex-friend, Chris, so mystifying? If she's done drinking, then why can't she seem to declutter the mini wine bottles from her car?

A winsome, fast-paced read, Getting Clean With Stevie Green is about coming to terms with who you are, resolving the pain of your past, and accepting the truth of your life in all its messy glory.
Praise For Getting Clean With Stevie Green…
"Compelling ... animated by genuine emotional resonance—plus a thoughtful exploration of addiction, anxiety about sexual identity, and the ways family bonds shift in adulthood."—Kirkus Reviews

"Huntley shines in this story of a woman returning home to get her life together... This smart and expertly plotted tale captivates."—Publishers Weekly

"Imperfect, maddening, charming Stevie... Loyal readers of Kelly Harms, Lia Louis, and Maria Semple will fall for this compelling novel of identity, reinvention, and the contrast between ordered spaces and hidden chaos."—Booklist

"A charming, fast-paced read, filled with idiosyncratic and unforgettable characters, you'll fall in love with Stevie and her messes (personal and professional), and maybe even be inspired to cleaning up of your own."—BuzzFeed

"Swan Huntley's witty and fast-paced third novel follows an organizational guru as she works through addiction, self-acceptance and sexuality, and attempts to take control of her life."—Shelf Awareness

"Swan Huntley has captured the essence of the disaster queer, and the long curved journey to finding out who you truly are."—Gaby Dunn, New York Times bestselling co-author of I Hate Everyone But You

"There is no one, and I mean no one, like Swan Huntley. The fact that we get to consume this "can't put it down" gem of a novel is the greatest gift I can think of during what often feels like the end of times. Getting Clean with Stevie Green will have you asking, "How does she know I feel that way too?" There's no category for Swan Huntley so don't even try. Just find her and never let her go."—Jennifer Pastiloff, bestselling author of On Being Human

"The woman at the center of Swan Huntley's delicious new novel specializes in helping her clients make their houses feel more like homes—so it's maybe no surprise I found myself wanting to live inside the book. Getting Clean with Stevie Green is funny, sweet, sexy, and wise—as irresistible as Stevie herself. By the end of the first page I was already rooting for her to clean up her mess of a life. By the end of the book I was ready to hire her to clean up mine!"—Robin Wasserman, author of Girls on Fire

"What a ride through another person's trauma responses. It's refreshing to read a queer coming-of-age story that feels realistic about addiction, recovery, late-blooming, and the perpetual puzzle of figuring out who you are. I only put it down in between bouts of inspired decluttering and queer panic."—Arabelle Sicardi, author of Queer Heroes

"Swan Huntley is a master of the character-driven comedy; with sharp wit and a keen eye for detail, she's written a book that is as funny as it is authentic. How do we understand ourselves if not by the objects - and people - with which we surround ourselves? Getting Clean with Stevie Green is a book that, with Huntley's signature wry charm, asks the deep questions and delivers unexpected answers."—Jen Silverman, author of We Play Ourselves
Gallery Books, 9781982159627, 304pp.
Publication Date: February 1, 2022
About the Author
Swan Huntley is the author of Getting Clean With Stevie Green, The Goddesses, and We Could Be Beautiful. She earned her MFA at Columbia University and has received fellowships from MacDowell and Yaddo, where she was the 2019 recipient of The LeSage-Fullilove Residency. Her writings have appeared on Salon, The Rumpus, and Autostraddle, among others. She lives in Los Angeles.