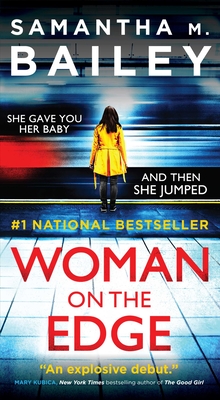 Woman on the Edge
Mass Market

* Individual store prices may vary.
Other Editions of This Title:
Paperback (7/13/2021)
Paperback (3/3/2020)
Description
#1 NATIONAL BESTSELLER

A moment on the subway platform changes two women's lives forever—a debut thriller that will take your breath away.

A total stranger on the subway platform whispers, "Take my baby."
She places her child in your arms. She says your name.
Then she jumps…

In a split second, Morgan Kincaid's life changes forever. She's on her way home from work when a mother begs her to take her baby, then places the infant in her arms. Before Morgan can stop her, the distraught mother jumps in front of an oncoming train.

Morgan has never seen this woman before, and she can't understand what would cause a person to give away her child and take her own life. She also can't understand how this woman knew her name.

The police take Morgan in for questioning. She soon learns that the woman who jumped was Nicole Markham, prominent CEO of the athletic brand Breathe. She also learns that no witness can corroborate her version of events, which means she's just become a murder suspect.

To prove her innocence, Morgan frantically retraces the last days of Nicole's life. Was Nicole a new mother struggling with paranoia or was she in danger? When strange things start happening to Morgan, she suddenly realizes she might be in danger, too.

Woman on the Edge is a pulse-pounding, propulsive thriller about the lengths to which a woman will go to protect her baby—even if that means sacrificing her own life.
Praise For Woman on the Edge…
"A fast-moving thriller with satisfying twists."
— Toronto Star

"Bailey has talent and I, dear reader, am looking forward to her next novel."
— The Globe and Mail

"One woman's struggles with motherhood and another's desperate desire to be a mother collide in this explosive debut. Woman on the Edge is a white-knuckle read that welcomes a bright new talent to the world of psychological suspense."
— MARY KUBICA, New York Times bestselling author of The Good Girl

"[A] nail-biting debut. . . . The tension becomes unrelenting . . . Fans of psychological suspense are in for a treat."
— Publisher's Weekly (Starred review)

"Woman on the Edge begins with a shocking, tragic event and doesn't stop there. Samantha M. Bailey has written an impressive debut that will keep you reading until the final twist."
— SAMANTHA DOWNING, USA Today bestselling author of My Lovely Wife

"From its first chapter—its first line!—Woman on the Edge will grip you like so few novels manage to do. From the moment two women's lives collide on a subway platform to the shocking finale, you'll be dizzied by the twists and turns the story takes. Some writers toil their entire career trying to master this kind of adept plotting, but Samantha M. Bailey nails it in her first effort. Woman on the Edge stayed with me for days after I turned its final pages. A truly thrilling debut."
— AMY STUART, bestselling author of Still Here

"A shocking premise and two intriguingly damaged characters whose storylines hurtle toward each other, colliding in a powerful, moving climax. A propulsive read! Samantha M. Bailey is a writer to watch in the thriller genre."
— ROBYN HARDING, #1 bestselling author of The Swap

"A fast-paced, twisty rollercoaster ride in which a desperate widow, a guilt-ridden new mother, and the secrets of the past collide—with a baby's life hanging in the balance. . . . I couldn't race to the end quickly enough! An exciting, binge-worthy debut."
— KRISTIN HARMEL, bestselling author of The Book of Lost Names

"A propulsive beginning grabs the reader by the throat, but it's the unspooling of the plot and the layers of Bailey's characters that keep you turning the pages."
— LISA UNGER, New York Times bestselling author of Confessions on the 7:45

"A tale so tightly told that you won't swallow or exhale for the entire duration. Dark, riveting, utterly gripping. . . . Bailey is a new name to watch in the genre!"
— ROZ NAY, bestselling author of Hurry Home

"Exhilarating and evocative. . . . Woman on the Edge had me gripped. This book effortlessly ticks all the boxes: wonderful world building, realistic characters and a gripping plot that made me keep flipping the pages. It's about obsession and madness, motherhood and trauma. This is a debut you'll want to slip straight to the top of your to-read pile!"
— CHRISTINA MCDONALD, USA Today bestselling author of The Night Olivia Fell

"Readers, clear yourself a block of time for this one, because once you pick up Woman on the Edge, you won't want to set it down. From its breathless first chapter to its startling conclusion, Bailey is in control, delivering a gripping plot, palpable tension, and characters pushed ever closer to the brink in this unmissable debut."
— PAULA TREICK DEBOARD, critically acclaimed author of Here We Lie and The Drowning Girls

"Woman on the Edge opens with an ingenious setup: a woman on the subway hands her baby to a total stranger, then jumps in front of an oncoming train. But were they really strangers, and did she really jump? Suspicions swirl in this propulsive debut, and the truth is revealed in twisty, page-turning increments that culminate in a whopper of an ending. A clever and addictive read from a bright new talent."
— KIMBERLY BELLE, USA Today bestselling author of Dear Wife
Simon & Schuster, 9781982160548, 288pp.
Publication Date: February 23, 2021
About the Author
Samantha M. Bailey is the USA TODAY and #1 national bestselling author of Woman on the Edge, which has sold in eleven countries. She is also a journalist and freelance editor; her work has appeared in NOW Magazine, The Village Post, and Oxford University Press, among other publications. She lives in Toronto. Connect with her on Twitter @SBaileyBooks and on her website at SamanthaMBailey.com.