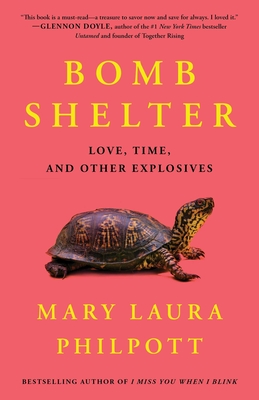 Bomb Shelter
Love, Time, and Other Explosives
Hardcover

* Individual store prices may vary.
Other Editions of This Title:
Digital Audiobook (4/11/2022)
Library Binding, Large Print (7/1/2022)
Compact Disc (4/12/2022)
Paperback (4/11/2023)
April 2022 Indie Next List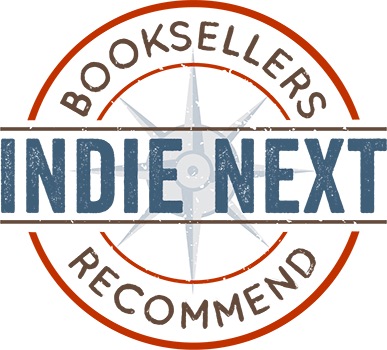 "I have so much love for
Bomb Shelter
, as a mom, a woman, an animal lover, and simply as a fellow human. I love Mary Laura's humor and her compassionate and certain voice. I can't wait to share this book with EVERYONE!"
— Sue Kowalski, The Bookstore of Glen Ellyn, Glen Ellyn, IL
View the List
Description
"A beautifully wrought ode to life." —The Washington Post
"Her new masterwork." —The New York Times Book Review

New York Times Editors' Choice, Most Anticipated by Read With Jenna, BookPage, LitHub, The Millions

From the bestselling author of I Miss You When I Blink comes a poignant and powerful new memoir that tackles the big questions of life, death, and existential fear with humor and hope.

A lifelong worrier, Philpott always kept an eye out for danger, a habit that only intensified when she became a parent. But she looked on the bright side, too, believing that as long as she cared enough, she could keep her loved ones safe.

Then, in the dark of one quiet, pre-dawn morning, she woke abruptly to a terrible sound—and found her teenage son unconscious on the floor. In the aftermath of a crisis that darkened her signature sunny spirit, she wondered: If this happened, what else could happen? And how do any of us keep going when we can't know for sure what's coming next?

Leave it to the writer whose critically acclaimed debut had us "laughing and crying on the same page" (NPR) to illuminate what it means to move through life with a soul made of equal parts anxiety and optimism (and while she's at it, to ponder the mysteries of backyard turtles and the challenges of spatchcocking a turkey).

Hailed by The Washington Post as "Nora Ephron, Erma Bombeck, Jean Kerr, and Laurie Colwin all rolled into one," Philpott returns in her distinctive voice to explore our protective instincts, the ways we continue to grow up long after we're grown, and the limits—both tragic and hilarious—of the human body and mind.
Praise For Bomb Shelter: Love, Time, and Other Explosives…
"A beautifully wrought ode to life." --The Washington Post

"I was struck to my core--all kinds of overripe feelings and neglected memories shook loose--by Mary Laura Philpott, or more precisely, by her new masterwork, Bomb Shelter." --The New York Times Book Review

"From a lifelong worrier who's also a reveler in the joys of human experience, engrossing essays on living with both." --People

"An unforgettable memoir about holding it together when it's time to let go, Bomb Shelter met me exactly where I am and gently walked me towards humor and hope. This book is a must read—a treasure to savor now and save for always. I loved it." —Glennon Doyle, Author of the #1 New York Times Bestseller Untamed and Founder of Together Rising

"Bomb Shelter is a gorgeous, gut-wrenching memoir that drew me in immediately. Mary Laura Philpott puts words to the human condition in a life-affirming, joyful, and surprisingly funny way -- even as she leaves readers in tears. I'm blown away." —Lori Gottlieb, New York Times bestselling author of Maybe You Should Talk to Someone

"Each of these powerful, beautifully written essays is like a tiny grenade aimed straight at the heart. Mary Laura Philpott is a trustworthy guide, ushering us through the magnificent, harrowing terrain of being human. Trust me: you will laugh, you will cry. You will fall in love with her voice." —Dani Shapiro, New York Times bestselling author of Inheritance

"At the heart of Bomb Shelter is a truth parents know deeply: 'I felt the universe had entrusted me with so much more than I could possibly keep safe.' I put this book down feeling less anxious as a mother and more inspired as a writer. Why? Philpott reveals, page after page, that the love that makes us vulnerable is the same force that makes us powerful." —Maggie Smith, bestselling author of Keep Moving and Goldenrod

"I have never met Mary Laura Philpott, but reading Bomb Shelter felt like sitting up all night talking with a dear friend who saved up all her best secrets to share with me. Delicious." —Duchess Goldblatt, author of Becoming Duchess Goldblatt

"Witty, inspiring, and piercingly honest, this book will pull you in and it won't let go. Mary Laura Philpott has the gift of making the ordinary extraordinary as she invites you to reflect and laugh. You'll leave these pages with a deeper appreciation for this exceptional and explosive thing we call life." —Tembi Locke, New York Times bestselling author of From Scratch

"One reason we read is to know that burst of recognition when someone supplies new language for that which we once found indescribable. Mary Laura Philpott finds words for [an] intense experience known to so many—and she's consistently hilarious, too, even when discussing all the terrifying things in life that we can neither predict nor prevent… This book has felt like a comfort even when cutting close to the bone." —Nicole Chung, "I Have Notes," The Atlantic

"A perfect book for 2022, honestly: existential dread, but make it hopeful." --BookPage Most Anticipated Nonfiction

"Philpott gently guides the reader with humor and familiarity through life's terrain, letting her readers know if she can do it, we can do it." —LitHub's Most Anticipated Books of 2022

"This quirky work has a lot of heart." —Publishers Weekly

"Beautifully written...eloquent...offers pleasure and comfort to anyone who has ever worried about someone they love." —Booklist

"Smart and compassionate, tender and incisive, Bomb Shelter examines the way love is always braided through with fear. I read it with my heart in my throat, gripped especially by its account of the worry and awe in raising children. 'The pain came with the territory, but the territory was so glorious that the pain didn't matter.'" – Flynn Berry, New York Times bestselling author of Northern Spy

"If you've ever loved someone or been loved by someone, Bomb Shelter will have resonance for you. This book deserves pride of place alongside Anne Lamott's Bird by Bird, Joan Didion's The White Album, and Nora Ephron's Crazy Salad." -- Garrett M. Graff, New York Times bestselling author of Watergate and The Only Plane in the Sky

"Philpott's greatest gift as a writer is her ability to tell a story as if she is simply sharing the events of her day with a friend." --chapter16.org

"Philpott's newest collection explores the extraordinary and the mundane with humor, anxiety, and hope." --The Millions

"Philpott's openhearted joy and fear is relatable regardless of your parenting status—a reminder that, even amid the most frightening challenges, we are rarely alone." --BookPage, starred review
Atria Books, 9781982160784, 288pp.
Publication Date: April 12, 2022
About the Author
Mary Laura Philpott, nationally bestselling author of I Miss You When I Blink and Bomb Shelter, writes essays and memoirs that examine the overlap of the absurd and the profound in everyday life. Her writing has been featured by The New York Times, The Washington Post, and The Atlantic, among many other publications. A former bookseller, she also hosted an interview program on Nashville Public Television for several years. Mary Laura lives in Nashville, Tennessee, with her family.