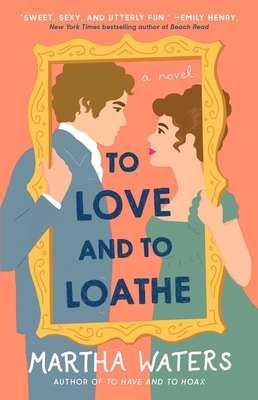 To Love and to Loathe
A Novel (The Regency Vows #2)
Paperback

* Individual store prices may vary.
Description
Named a best romance of the year by Entertainment Weekly
Named a most anticipated romance by Oprah Daily, Marie Claire, BuzzFeed, PopSugar, and more!

"There was no romance novel more fun this year than this extremely witty enemies-with-benefits confection." —Entertainment Weekly

The author of the "hilarious...joyful, elegant" (Publishers Weekly, starred review) To Have and to Hoax returns with an effervescent, charming, and swoon-worthy novel about a man and woman who never agree on anything—until they agree to a no-strings-attached affair in this Regency-era romp.

The widowed Diana, Lady Templeton and Jeremy, Marquess of Willingham are infamous among English high society as much for their sharp-tongued bickering as their flirtation. One evening, an argument at a ball turns into a serious wager: Jeremy will marry within the year or Diana will forfeit one hundred pounds. So shortly after, just before a fortnight-long house party at Elderwild, Jeremy's country estate, Diana is shocked when Jeremy appears at her home with a very different kind of proposition.

After his latest mistress unfavorably criticized his skills in the bedroom, Jeremy is looking for reassurance, so he has gone to the only woman he trusts to be totally truthful. He suggests that they embark on a brief affair while at the house party—Jeremy can receive an honest critique of his bedroom skills and widowed Diana can use the gossip to signal to other gentlemen that she is interested in taking a lover.

Diana thinks taking him up on his counter-proposal can only help her win her wager. With her in the bedroom and Jeremy's marriage-minded grandmother, the formidable Dowager Marchioness of Willingham, helping to find suitable matches among the eligible ladies at Elderwild, Diana is confident her victory is assured. But while they're focused on winning wagers, they stand to lose their own hearts.

With Martha Waters's signature "cheeky charm and wonderfully wry wit" (Booklist, starred review), To Love and to Loathe is another clever and delightful historical rom-com that is perfect for fans of Christina Lauren and Evie Dunmore.
Praise For To Love and to Loathe: A Novel (The Regency Vows #2)…
"There was no romance novel more fun this year than this extremely witty enemies-with-benefits confection."
—Entertainment Weekly

"Martha Waters's To Love and to Loathe is sweet, sexy, and utterly fun. A love story with depth to match its humor, and refreshingly frank communication between its two headstrong leads—I adored it."
—Emily Henry, New York Times bestselling author of Beach Read

"Waters has an arch sense of humor and a marvelously witty voice that rivals the best of the Regency authors (see: Julia Quinn, even Austen herself)....unabashedly fun and bursting with screwball energy. It's a romp of the highest order, difficult to put down and effervescent with its own abundant charm."—Entertainment Weekly

"With delightful screwball-comedy energy, this Regency romance turns a playful wager into an escalating emotional tug-of-war between two dedicated antagonists, their meddling relatives, and a charming circle of friends. As with her debut novel To Have and to Hoax, Waters has gifted readers another swoony tale full of romance, impish banter, and just the right amount of lust."
—Natalie Jenner, USA Today bestselling author of The Jane Austen Society

"Packed with saucy banter and delightful period details, this Regency rom-com is completely charming. Diana and Jeremy's maddening and magical chemistry make this hard to put down."
—Hannah Orenstein, author of Head over Heels and Love at First Like

"To Love and to Loathe is pure fun on every page. With their witty verbal sparring, steamy chemistry, and unexpected tender moments, Jeremy and Diana were made for each other but are the last to know it."
—Sarah Hogle, author of You Deserve Each Other and Twice Shy

"Waters excels at pitting Diana and Jeremy against each other with clever dialogue and comical situations to ensure a lively and steamy rivals-to-romance story. Readers of To Have and To Hoax will enjoy the return of Violet and Audley as supporting characters. A worthy addition to the trend for historical romantic comedies and highly recommended for fans of Evie Dunmore and Elizabeth Everett."—Library Journal

"Waters' debut was a perfect little whipped-cream confection of a historical romance, but her sophomore novel might be even better, especially if you're a fan of enemies-to-lovers, house parties and wagers gone wrong." — BookPage

"[I]rresistibly irreverent...the journey to their happy ending is worth every step." —Publishers Weekly

"In her second superbly entertaining Regency-set historical, following To Have and to Hoax (2020), Waters once again rewards readers with a comically clever love story that blithely blends engaging writing spiked with deliciously dry wit and a beguiling cast of characters." —Booklist (starred review)

"Martha Waters's second historical romance is a delightful enemies-to-lovers escape filled with banter and humor—perfect for readers looking to laugh and swoon in equal measure." —Shelf Awareness

"This absolutely perfect Regency romance is chock-full of chatty, flirty characters and delectable scoundrels… Waters sets a jaunty pace with flirty dialogue, easy camaraderie and enjoyable characters. All the typical trademarks of Regency era are present, but thanks to Waters' charm, this story feels timeless and young and fun." —BookPage

"The second in a series of Julia Quinn-like sensuous rom-coms." —Kirkus Reviews

"If you enjoy historical romance filled with the laughter and wit found in the Bridgerton family, then this book is for you." —BookBub

"Effervescent, charming, and swoon-worthy." —Nerd Daily

"The second in a series we pray continues as long as the Bridgerton series. . . . sexy, smart." —Globe and Mail

"The book is a wonderful romp, full of ridiculous fun and utterly charming characters." —San Francisco Book Review

"Sweet, funny and electrifying from the very first chapter, this book is full of intimacy and passion." —First for Women

"With her dry wit, Martha Waters is an undeniable inheritor to Julia Quinn's romance legacy."—EW
Atria Books, 9781982160876, 352pp.
Publication Date: April 6, 2021
About the Author
Martha Waters is the author of the Regency Vows series, which includes To Have and to Hoax, To Love and to Loathe, To Marry and to Meddle, and To Swoon and to Spar. She was born and raised in sunny south Florida and is a graduate of the University of North Carolina at Chapel Hill. She lives in coastal Maine, where she works as a children's librarian by day, and loves sundresses, gin cocktails, and traveling.