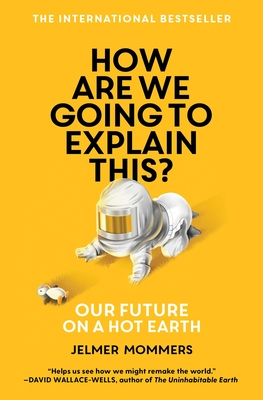 How Are We Going to Explain This?
Our Future on a Hot Earth
Paperback

* Individual store prices may vary.
Other Editions of This Title:
Digital Audiobook (11/16/2020)
Compact Disc (11/17/2020)
Description
There's a new story in the making, one in which the consequences of our actions add up—and every contribution is meaningful.

If climate change is the biggest threat humanity has ever faced, then why are we doing so little about it? And where do we go from here?

Journalist Jelmer Mommers knows most people prefer not to talk or even think about climate change, and that is exactly why he wrote this book. Denial and despair are not the only possible responses to the current crisis.

Drawing on the latest science, Mommers describes how we got here, what possible future awaits us, and how you can help make a difference.

Five years in the making, How Are We Going to Explain This was an instant bestseller in the Netherlands. With this revised and updated translation, including responses to the COVID-19 pandemic, Mommers brings his unique blend of realism and hope to the wider world.
Praise For How Are We Going to Explain This?: Our Future on a Hot Earth…
Praise for How Are We Going To Explain This?

"We have to dream bigger, as Jelmer Mommers does. The likely warming of the next few decades can make the future look practically unlivable. But we will find ways to live in it, perhaps even thrive. Mommers helps us see how—how we might remake the world, secure that future, and above all stop seeing the present as a conceptual cage constricting our hopes rather than a husk to leave behind."
—David Wallace-Wells, author of The Uninhabitable Earth

"Mommers avoids hectoring or preaching to the choir, and he does turn up at least a flicker of hope in remaking the economy with an eye to sustainability ... A welcome reminder that there are things we can do to heal the planet that go beyond useless half-measures."
—Kirkus Reviews

"One of the most important books I've read this year. How Are We Going to Explain This? is a crystal clear treatise on where we are and what we need to do right now. Especially recommended for those who feel hopeless."
—Rutger Bregman, author of Utopia for Realists and Humankind

"As a journalist, Jelmer Mommers has broken important stories about how we got in our current climate mess; as a thinker, he shows us there may still be some ways out, if we move with grace and speed. A fine account of where we stand, and where we could go if we wanted to!"
—Bill McKibben, author, environmentalist, and activist

"At a time when despair, fabrication, and partisanship are combining to prevent vital action, How Are We Going to Explain This? is a much needed, joyful, clear, and practical companion. Read this—it could save your planet. Give it to your friends and colleagues—it's their planet, too."
—A. L. Kennedy, author of The Little Snake

"A great book on climate change: how we got here but most importantly how we get out of the mess we have created. Shines a light on the path forward with clarity and determination."
—Christiana Figueres, architect of the Paris climate agreement, Executive Secretary of the United Nations Framework Convention on Climate Change (UNFCCC), 2010 to 2016

"We are at a crossroads. As we recover from the corona pandemic, we can choose to proceed toward an uninhabitable earth or take a turn toward sustainability. Jelmer Mommers shows us that the choice really is up to all of us—and that we still have time. Once you've read this book, you'll know how to play your part. The astonishing thing is getting things right has never been so simple."
—Jeremy Leggett, social entrepreneur and author of The Carbon War

"An important contribution to the most existential threat of our day: climate change and environmental collapse. What sets this book apart from others is that the author combines hard science with the narratives necessary to save us. We are taken on a trip from gut bacteria and dancing bees to agricultural practices and CO2 sequestering—the micro and the macro beautifully linked to provide us with the big picture with all its hope and horror."
—Joanna Pocock, author of Surrender

"Provides a unique take on the challenge to avert a climate crisis. It provides important insights into our dire situation, but it also sketches out a persuasive path forward. A must-read if you want to know where we stand and what we can and must still do!"
—Michael Mann, distinguished professor, Penn State University, and author of The Hockey Stick and the Climate Wars and The Madhouse Effect

"Explaining the climate story clearly and convincingly: Jelmer Mommers can do it like no other."
—David Van Reybrouck, author of Congo
Scribner, 9781982163136, 224pp.
Publication Date: November 17, 2020
About the Author
Jelmer Mommers is a climate and energy journalist for De Correspondent, an online journalism platform based in Amsterdam. He made world headlines when he reported on Shell Oil documents revealing the company's internal research into global warming and delivered a popular TEDx talk on climate change. He lives in Amsterdam with his family.
or
Not Currently Available for Direct Purchase