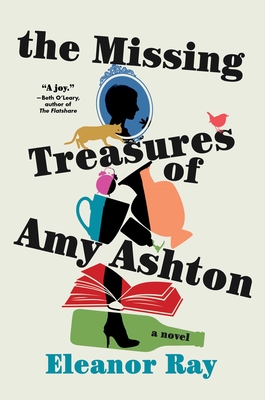 The Missing Treasures of Amy Ashton
Hardcover

* Individual store prices may vary.
Other Editions of This Title:
Digital Audiobook (6/7/2021)
Paperback (3/29/2022)
Compact Disc (6/8/2021)
Description
For fans of The Keeper of Lost Things and Evvie Drake Starts Over comes a "heartwarming and tender…good-humored and uplifting" (BookPage) debut about a reclusive artist whose collection has gotten out of control—but whose unexpected friendship with her new neighbors might be just what she needs to start over.

Amy Ashton once dreamed of becoming an artist and creating beautiful objects. But now she simply collects them. Aquamarine bottles, bright yellow crockery, deep Tuscan red pots (and the odd slow-cooker) take up every available inch of space in her house. Having suffered a terrible tragedy—one she staunchly refuses to let herself think about, thank you very much—she's decided that it's easier to love things instead of people.

But when a new family moves in next door with two young boys, one of whom has a collection of his own, Amy's carefully managed life starts to unravel, prompting her to question why she began to close herself off in the first place. As Amy embarks on a journey back into her past, she has to contend with nosy neighbors, a meddlesome government worker, the inept police, and a little boy whose love of bulldozers might just let Amy open up her heart—and her home—again.

Quirky and charming, big-hearted and moving, The Missing Treasures of Amy Ashton proves that it's never too late to let go of the things that don't matter...and welcome the people who do.
Praise For The Missing Treasures of Amy Ashton…
"Like Eleanor Oliphant is Completely Fine (2017), the novel's heart is its protagonist; readers will feel deeply bonded to Amy. Mystery lovers and fans of Liane Moriarty will also enjoy the quick-paced plot and perfectly timed reveals. This will be a must-read for many."—Booklist (starred review)

"Heartwarming and tender… an ideal read for anyone looking for a good-humored and uplifting story, but especially for those who enjoyed Gail Honeyman's Eleanor Oliphant is Completely Fine and Ruth Hogan's The Keeper of Lost Things."—BookPage

"[An] amiable debut...Readers who can appreciate a comforting story about nice people will find much to like."—Publishers Weekly

"A bighearted novel."—PopSugar

"Characters such as Rachel Joyce's Harold Fry and Gail Honeyman's Eleanor Oliphant endeared themselves to readers and turned their creators into bestselling authors…Now, a new character is set to be warmly received into their ranks: Amy Ashton…The novel is beautifully written and full of compassion, kindness, and hope. From the beginning, it rings with humor to lighten the themes of sadness and trauma that pervade Amy's life. Readers will empathize with her character all the way to the end."—Irish Independent

"A tender, heartwarming story with strong Eleanor Oliphant vibes."—Apartment Therapy

"[A] funny debut."—Country Living

"This book quietly took hold of me and wouldn't let me go until I turned the final page. I loved stepping in to Amy's world, with all its treasures, and it was a joy to see her beginning to make space for herself."—Beth O'Leary, author of The Flatshare

"This is one of those books you just want to gulp down."—Good Housekeeping UK

"I loved this charming, endearing novel . . . it will melt even the hardest of hearts . . . If ever there was a time for a book like The Missing Treasures of Amy Ashton to lift us above the everyday doom and gloom, it is now."—Joanna Nell, author of The Single Ladies of Jacaranda Retirement Village

"As the mystery at the heart of Amy's story unravels so did we – but in the best way possible."—Stylist

"A gorgeous, warm hug of a book."—Sinéad Moriarty, author of Seven Letters

"Original, sad in parts but compassionate and uplifting. A brilliant read."—Woman's Way

"A stunning book—intricate, beautifully written and thought-provoking. Packed with psychological realism, Eleanor Ray has perfectly captured how it feels to not quite fit in, to live with emotional baggage, to not know how to let go of the past. Absolutely brilliant and a must-read."—MW Craven, award-winning author of The Puppet Show

"So beautiful, so devastating, so clever."—Lorna Cook, author of The Forgotten Village

"Ray's portrayal of her hoarding in response to grief and trauma was both convincing and original, tender and funny. The novel manages to accommodate so many qualities that might be presumed to be in tension, but in Ray's hands are brought together powerfully, so that it is charming and thrilling, romantic and gripping."—Claire Kendal, author of The Book of You

"A truly remarkable book that had me hooked from the start and racing to the end. Beautifully written."—Jenni Keer, author of The Hopes and Dreams of Lucy Baker

"A gently absorbing entry into the mystery-uplit canon."—Vaseem Khan, author of The Unexpected Inheritance of Inspector Chopra

"This book is a tonic for the soul."—Lesley Kara, author of The Rumor
Gallery Books, 9781982163525, 320pp.
Publication Date: June 8, 2021
About the Author
Eleanor Ray has an MA in English literature from Edinburgh University and works in marketing. She lives in London with her husband and two young children. Eleanor was inspired to write The Missing Treasures of Amy Ashton by the objects her toddler collects and treasures–twigs, empty water bottles, and wilting daisies. She is currently working on her next novel.