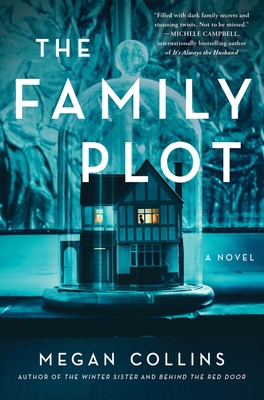 The Family Plot
A Novel
Hardcover

* Individual store prices may vary.
Other Editions of This Title:
Digital Audiobook (8/16/2021)
Paperback (3/29/2022)
Library Binding, Large Print (12/22/2021)
Compact Disc (8/17/2021)
Description
A HIGHLY ANTICIPATED, BEST BOOK OF AUGUST SELECTED BY * POPSUGAR * E! NEWS * LIFESAVVY * CRIMEREADS * AND MORE!

"Exceedingly entertaining." —The New York Times
"Umbrella Academy meets Tana French. Dark, claustrophobic, and beautifully written." —Andrea Bartz, author of We Were Never Here

From the author of The Winter Sister and Behind the Red Door, a family obsessed with true crime gathers to bury their patriarch—only to find another body already in his grave.

At twenty-six, Dahlia Lighthouse is haunted by her upbringing. Raised in a secluded island mansion deep in the woods and kept isolated by her true crime-obsessed parents, she is unable to move beyond the disappearance of her twin brother, Andy, when they were sixteen.

After several years away and following her father's death, Dahlia returns to the house, where the family makes a gruesome discovery: buried in their father's plot is another body—Andy's, his skull split open with an ax.

Dahlia is quick to blame Andy's murder on the serial killer who terrorized the island for decades, while the rest of her family reacts to the revelation in unsettling ways. Her brother, Charlie, pours his energy into creating a family memorial museum, highlighting their research into the lives of famous murder victims; her sister, Tate, forges ahead with her popular dioramas portraying crime scenes; and their mother affects a cheerfully domestic facade, becoming unrecognizable as the woman who performed murder reenactments for her children. As Dahlia grapples with her own grief and horror, she realizes that her eccentric family, and the mansion itself, may hold the answers to what happened to her twin.
Praise For The Family Plot: A Novel…
"With her third novel, Megan Collins may have unlocked a new level of fictional discourse on the true-crime industrial complex…an examination of how flattening people into stories and churning them through the true-crime mill creates lasting, intergenerational damage…an exceedingly entertaining look at how corrosive family bonds can become." —New York Times

"Collins' talent to make prose moody and atmospheric is masterful... The Family Plot is a steady and satisfying hunt for a killer that true-crime enthusiasts and thriller fans can both savor." —USA Today

"A masterpiece of gothic suspense and horror, filled with dark family secrets and stunning twists. Not to be missed."
—Michele Campbell, internationally bestselling author of It's Always the Husband

"The Family Plot has one of the most original, twisted, genius storylines I've ever read. Megan Collins has created an astonishing, creepy suspense about escaping the bonds and betrayals of family. It's brilliant and bone-chilling, and you won't be able to look away for a second."—Samantha M. Bailey, internationally bestselling author of Woman on the Edge

"Megan Collins's best book yet! It's like Umbrella Academy meets Tana French. Dark, claustrophobic, and beautifully written with Collins's signature musical prose, The Family Plot mixes brilliant modern touches with timeless eerie details." —Andrea Bartz, author of The Herd and We Were Never Here

"Gorgeously wrought and deliciously creepy, The Family Plot is a twisted delight. Evocative prose and skillful misdirection propel the reader through the story, keeping them glued right up to the shocking conclusion. Perfect for true crime fans—and anyone looking for a gripping, vividly drawn suspense novel!" —Kathleen Barber, author of Truth Be Told and Follow Me

"[A]tmospheric… Plausible suspects and complex characters match the well-crafted plot. This is an entertaining as well as chilling tale of family secrets, lies, and primordial fears." —Publishers Weekly

"The Family Plot is true crime meets house of horrors with incredibly twisted & fascinating characters. All the complicated family dynamics and vivid writing you expect from a Megan Collins thriller, but with a true crime twist. I could not put it down!"—Vanessa Lillie, author of Little Voices and For the Best

"A gripping thriller with a gothic edge so sharp it's practically a switchblade, Megan Collins delivers a fiendish and compulsive read in The Family Plot. As the dark, murder-obsessed world of the Lighthouse Family unravels one deadly secret at a time — and the truth draws closer with each turned page — nothing will prepare you for Collins's shocking finale. Read this book. Now." —P. J. Vernon, author of Bath Haus and When You Find Me

"What a terrific book! Completely immersive from page one, the talented Megan Collins creates a unique and multi-layered novel that's part perfectly crafted gothic thriller, part brilliantly dark social commentary, and part riveting story. Just start reading this, you all, and see what I mean. It's incredibly well-written, seamless and haunting and unpredictable. You will not be able to stop thinking about this. And it will change the way you look at the world. This is a real triumph." —Hank Phillipi Ryan, author of The First to Lie

"The title of this one works on so many levels! Megan Collins' new true crime gothic has everything—a family obsessed with honoring the murdered, a mother who acts out death scenes, a father who silently hunts each day in the woods, a missing son, his lost twin sister, their mordant siblings, and a fateful family reunion that begins with the discovery of a mystery skeleton in a plot meant to be their father's grave." —Crimereads

"The Family Plot is the quintessential summer thriller for true crime enthusiasts." —Apartment Therapy

"Collins is a master at building suspense and immersing the Lighthouse family and their island in a dark fog of disquiet. She wraps her story in a gripping narrative embellished with vivid metaphors." —Journal Inquirer

"Collins has an affinity for writing volatile family drama into her crime thrillers...her exploration of the larger themes of toxic relationships, and why people stay in them, is enticing." —AV Club

"The Family Plot will draw you into what seems like a spider's web of death... You will be tempted to read the book twice to see what you missed the first time." —Book Reporter
Atria Books, 9781982163846, 320pp.
Publication Date: August 17, 2021
About the Author
Megan Collins is the author of Thicker Than Water, The Family Plot, Behind the Red Door, and The Winter Sister. She taught creative writing for many years at both the high school and college level and is the managing editor of 3Elements Literary Review. She lives in Connecticut, where she obsesses over dogs, miniatures, and cake.
or
Not Currently Available for Direct Purchase