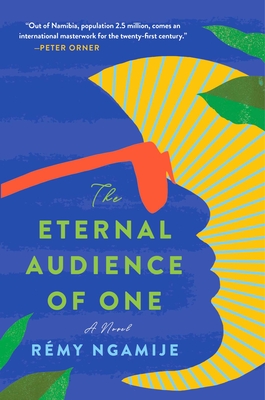 The Eternal Audience of One
Hardcover

* Individual store prices may vary.
Other Editions of This Title:
Compact Disc (8/10/2021)
Description
"The Eternal Audience of One is laugh-out-loud funny with writing that is sometimes so beautiful that it dances off the page—to a millennial beat—in perfect tempo with its tales of migration, love, loss, and friendship." —Sarah Ladipo Manyika, author of In Dependence

Reminiscent of Zadie Smith and Michael Chabon, this "gorgeous, wildly funny, and, above all, profoundly moving and humane" (Peter Orner, author of Am I Alone Here) coming-of-age tale follows a young man who is forced to flee his homeland of Rwanda during the Civil War and make sense of his reality.

Nobody ever makes it to the start of a story, not even the people in it. The most one can do is make some sort of start and then work toward some kind of ending.

One might as well start with Séraphin: playlist-maker, nerd-jock hybrid, self-appointed merchant of cool, Rwandan, stifled and living in Windhoek, Namibia. Soon he will leave the confines of his family life for the cosmopolitan city of Cape Town, in South Africa, where loyal friends, hormone-saturated parties, adventurous conquests, and race controversies await. More than that, his long-awaited final year in law school promises to deliver a crucial puzzle piece of the Great Plan immigrant: a degree from a prestigious university.

But a year is more than the sum of its parts, and en route to the future, the present must be lived through and even the past must be survived.

From one of Africa's emerging literary voices comes a lyrical and piquant tale of family, migration, friendship, war, identity, and race following the intersecting lives of Séraphin and a host of eclectic characters from pre- and post-1994 Rwanda, colonial and post-independence Windhoek, Paris and Brussels in the 70s, Nairobi public schools, and the racially charged streets of Cape Town.
Praise For The Eternal Audience of One…
"A novel this compelling shouldn't be so entertaining. As comically inventive as it is superbly written, Ngamije's The Eternal Audience of One has a rare narrative propulsion—I have not been so swept up on a novel in years. Out of Namibia, population 2.5 million, comes an international masterwork for the 21st Century."

—Peter Orner, author of The Second Coming of Mavala Shikongo, winner of the Los Angeles Times Book Award



"The Eternal Audience of One had me completely in its palm. A delightful, witty and impeccably funny novel that I'll read over and over again."

—Candice Carty-Williams, internationally bestselling author of Queenie

"A wickedly funny and deeply felt story about a young man's intense desire to break free from the past, visually striking and beautifully told with youthful energy and hard-won wisdom"

—Rabeah Ghaffari, screenwriter, and author of To Keep the Sun Alive

"Hilarious and heartbreaking, The Eternal Audience of One showed me another world and myself in equal measure on every page. A delightful, masterful, instant classic of a debut."

—Adam Smyer, author of Knucklehead and You Can Keep That to Yourself

"The Eternal Audience of One by Remy Ngamije is a brilliant debut that is as funny as it is wise and as beautiful as it is original. A stunning new work."

—Nana Kwame Adjei-Brenyah, author of Friday Black





"No writing convention is safe in Remy's hands, not time, not form, not where a story begins or ends because to tell the story of an idiosyncratic yet strangely coherent and cosmopolitan Africa; where anything can happen, he has to reshape writing itself. And he does so with love, beauty and humor. Reader, please meet the future of African Literature!"

—Mukoma Wa Ngugi, author and Associate Professor of Literatures in English, Cornell University

"At once a millennial caper and a loving homage to all that is lost in exile, The Eternal Audience of One is nothing short of brilliant. The humor in this stunning novel will keep you glued, but it is the wisdom – elegiac and mature -- that will keep you mesmerized. Take note world: Rémy Ngamije is that electrifying voice you have been waiting for."

—Maaza Mengiste, author of The Shadow King, shortlisted for the 2020 Booker Prize

"A novel of youthful anxiety and dreams — written at a lively, chatty pace — that poses an eternal question: What will happen after graduation?" —The New York Times

"Ngamije's gift is to show us that, although this novel is urgent and timely, Seraphin's struggle to learn how to live in a harsh world is timeless." —The Freelance Star

"A charming, witty, and incredibly humane story of a group of friends."—The Pittsburgh Gazette
Gallery/Scout Press, 9781982164423, 384pp.
Publication Date: August 10, 2021
About the Author
Rémy Ngamije is a Rwandan-born Namibian writer and photographer. He is the cofounder and editor-in-chief of Doek! Literary Magazine, Namibia's first literary magazine. His work has appeared in Litro Magazine, AFREADA, The Johannesburg Review of Books, Brainwavez, The Amistad, The Kalahari Review, American Chordata, Azure, Sultan's Seal, Santa Ana River Review, Columbia Journal, New Contrast, Necessary Fiction, Silver Pinion, and Lolwe. He was shortlisted for the AKO Caine Prize for African Writing in 2020. He was also longlisted for the 2020 Afritondo Short Story Prize. In 2019, he was shortlisted for Best Original Fiction by Stack. More of his writing can be read on his website RemytheQuill.com.