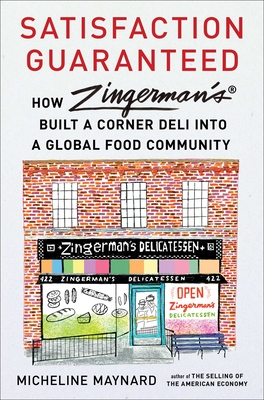 Satisfaction Guaranteed
How Zingerman's Built a Corner Deli into a Global Food Community
Hardcover

* Individual store prices may vary.
Other Editions of This Title:
Compact Disc (2/22/2022)
Description
From an accomplished national journalist, a lively look at the inception, growth, future, and unique management style of Zingerman's—a beloved, $70 million-dollar Michigan-based specialty food store with global reach.

Certain businesses are legendary, exerting immense influence in their field. Zingerman's in Ann Arbor, Michigan, is one of those places. Over the years the flagship deli has expanded into a community of more than a dozen businesses, including a wildly successful mail order operation, restaurants, bakery, coffee roastery, creamery, candy maker, and events space—transforming Ann Arbor into a destination for food lovers.

Founded in 1982 by Paul Saginaw and Ari Weinzweig, Zingerman's philosophy of good food, excellent service, and sound finances has turned it into a company whose reach spans all corners of the gourmet food world.​ Famous for its generous deli sandwiches, fresh bread, and flavorful coffee—all locally produced—Zingerman's is also widely celebrated for its superb customer service and employee equity. The culture is one of respect and innovation, while maintaining very high standards. Every employee has access to the financial records, everyone has a voice, and everyone is heard. It has legions of enthusiastic customers, fans across the food world, and business principles and a work ethic that have been admired, analyzed, and copied. All that is revealed here, in Micheline Maynard's Satisfaction Guaranteed.

Readers will discover how by 2019, Zingerman's employed hundreds of employees and achieved close to $70 million in annual sales. When the pandemic struck, Zingerman's growth momentarily screeched to a halt—but it survived by reinventing itself, while still serving its beloved food and selling its wide array of groceries. Now, as Zingerman's approaches its 40th anniversary, it is on track for stronger results than ever. A recipe for success in business and in life, Satisfaction Guaranteed provides a roadmap for manifesting joy and purpose in business.
Praise For Satisfaction Guaranteed: How Zingerman's Built a Corner Deli into a Global Food Community…
"Just when we food lovers thought we couldn't admire Zingerman's any more than we do, along comes Satisfaction Guaranteed with dozens more reasons to marvel at the treasured food haven. Maynard has written a book that captures the soul of this little deli that grew and grew and the unusual thinking that built the business. If you're new to Zingerman's, this is a great introduction to a most extraordinary place. If you're already a fan, you'll be fascinated by the insights. In every case, satisfaction is guaranteed." —Dorie Greenspan, author of Baking with Dorie

"Just like the exceptional company it chronicles, this book might have been called Satisfaction Exceeded! Micheline Maynard beautifully captures the trials, tribulations, trajectory, and ultimate triumph of one of America's greatest business stories. Zingerman's has fed generations of hungry gastronauts and inspired a legion of businesses fueled by purpose and love." —Danny Meyer, CEO of Union Square Hospitality Group and author of Setting the Table

"Whether you are starting a business, or just looking for a better way to organize your life, Micheline Maynard's book is sure to make you better at everything you do. Sometimes in life we have all the motivation but not the information and this book helps you put those two together." —Patricia Wells, journalist, author, and cooking school teacher

"Satisfaction Guaranteed is a bible for excellence and values-driven organizations. This isn't how most businesses are run . . . but it should be. I underlined half the book! Micheline Maynard delivers what I have wanted for decades: a deep dive into the magic of Zingerman's." —Ti Martin, co-proprietor of Commander's Palace, New Orleans
Scribner, 9781982164614, 256pp.
Publication Date: February 22, 2022
About the Author
Micheline Maynard is a journalist, author, and professor. She has been a senior editor at NPR's Here & Now and was a senior correspondent and Detroit bureau chief for The New York Times. Her essays appear in Voices Across America at The Washington Post, and she also writes for The Takeout, Medium, as well as the Ann Arbor Observer. She is the author of four books, most notably The End of Detroit: How the Big Three Lost Their Grip on the American Car Market. She lives in Ann Arbor, Michigan.