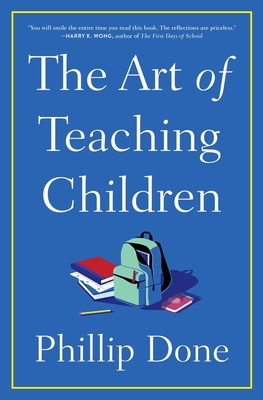 The Art of Teaching Children
All I Learned from a Lifetime in the Classroom
Hardcover

* Individual store prices may vary.
Other Editions of This Title:
Digital Audiobook (7/25/2022)
Compact Disc (7/26/2022)
Description
An essential guide for teachers and parents that's destined to become a classic, The Art of Teaching Children is one of those rare and masterful books that not only defines a craft but offers a magical reading experience.

After more than thirty years in the classroom, award-winning teacher Phil Done decided that it was time to retire. His days of teaching schoolchildren may have come to an end, but a teacher's job is never truly done, and he set out to write the greatest lesson of his career: a book for educators and parents that would pass along everything he learned about working with kids. The result is this delightful and insightful teaching bible, The Art of Teaching Children. From the first-day-of-school jitters to the last day's tears, Done writes about the teacher's craft, classrooms and curriculums, the challenges of the profession, and the reason all teachers do it—the children.

Drawing upon decades of experience, Done shares sound guidance, time-tested tips, and sage advice: Real learning is messy, not linear. Greeting kids in the morning as they enter the classroom is one of the most important parts of the school day. If a student is having trouble, look at what you can do differently before pointing the finger at the child. Ask yourself: Would I want to be a student in my class? When children watch you, they are learning how to be people, and one of the most important things we can do for our students is to model the kind of people we would like them to be.

Done tackles topics you won't find in any other teaching book, including Back to School Night nerves, teacher pride, lessons that bomb, the Sunday Blues, Pinterest envy, teacher guilt, and the things they never warn you about in "teacher school" but should, like how to survive lunch supervision, recess duty, and field trips. Done also addresses some of the most important issues schools face today: bullying, excessive screen time, unsupportive administrators, the system's obsession with testing, teacher burnout, and the ever-increasing demands of meeting the diverse learning needs of students.

With great wit and wisdom, first-rate storytelling, and boundless compassion, The Art of Teaching Children is the definitive guide to educating today's young learners and the perfect resource for teachers and parents everywhere.
Praise For The Art of Teaching Children: All I Learned from a Lifetime in the Classroom…
"You will smile the entire time you read this book. The reflections are priceless."
—Harry K. Wong, author of The First Days of School

"I hope [this book] will spark some rethinking of certain attitudes and assumptions in the classroom. Done writes about his decades in the classroom, working with children, and challenges of the field. He discusses the obsession with testing, how some teachers kill the joy of learning and reading, and how 'smart' can look different in different people. Perhaps most importantly, if something's not working, he writes about teachers looking at themselves before assuming it's the student. This is a book about learning, not about school. About relationship and connection. At times, that feels downright revolutionary in education."
—Jaime Herndon, Book Riot

"Done mines his 33 years of experience for colorful stories and sound advice in this spirited teacher's survival guide. . . . Well-crafted examples and pithy prose drive his points home. Done's experience will hearten those in the trenches and be a tonic for young teachers."
—Publishers Weekly

"After three decades teaching elementary school, Done has amassed hundreds of interesting stories about his students, and he demonstrates a strong grasp of what works (and doesn't) in the classroom. . . . Given the author's highly successful career, it's clear that his methods are proven to work. For teachers seeking inspiration, Done provides numerous stimulating concepts that can be incorporated into any lesson plan; for prospective or aspiring teachers, the author has plenty of insights into the ups and downs of teaching young children. All readers will have no doubt that Done chose the right profession. . . . A well-rounded, satisfying look at the daily life of a teacher."
—Kirkus Reviews

"At no time in our history have kids and teachers had a greater need for what this book provides. It's a recipe for love, comfort, and routine in the classroom, providing a true foundation for the love of learning."
—Jim Fay, author of Teaching with Love and Logic

"Anyone who has ever considered taking on the challenge of teaching this current generation of children will find a rare and rich resource in The Art of Teaching Children. This is the book you'll be reaching for again and again as you struggle to become the kind of inspirational teacher you've always dreamed of being."
—Adele Faber, author of How to Talk So Kids Will Listen & Listen So Kids Will Talk

"With humor, warmth, practical tips, and cherished memories, Phillip Done offers the next generation of teachers a treasury of insights into the teaching profession. Part memoir, part practical guide, The Art of Teaching Children reminds educators that the spark that led them to choose teaching as their life's work will ignite their imaginations and optimism even when faced with day-to-day challenges. This book is a love letter to teachers at any stage in the journey, written by a seasoned veteran who spent thirty-three years in a classroom. 'Be committed, compassionate, and creative,' writes Done. This book is rich with all three."
—Julie Bogart, author of Raising Critical Thinkers

"Phillip Done has done it again! Done has become a go-to author for an authentic window into the classroom, his writing perpetually infused with the combination of gentle humor, kindness and pragmatism that is so needed today."
—Esmé Raji Codell, author of Educating Esmé
Avid Reader Press / Simon & Schuster, 9781982165666, 464pp.
Publication Date: July 26, 2022
About the Author
Phillip Done taught elementary school for thirty-three years and was the recipient of the prestigious Charles Schwab Distinguished Teacher Award, a Teacher of the Year in California, and a nominee for Disney's Teacher of the Year. He has taught in public and private schools in the United States and internationally. He has also served as an educational consultant around the world. Additionally, Done has worked as an on-set teacher for child actors in television and film. Done's writing about education has appeared in Real Simple, Instructor, Parent, NEA Today, and Reader's Digest. He lives in Budapest, Hungary.