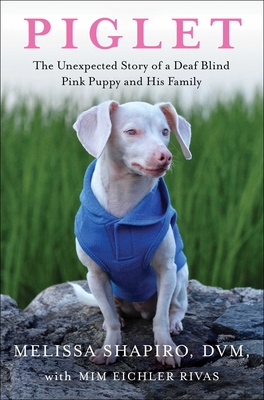 Piglet
The Unexpected Story of a Deaf, Blind, Pink Puppy and His Family
Hardcover

* Individual store prices may vary.
Other Editions of This Title:
Digital Audiobook (8/2/2021)
Paperback (6/7/2022)
Library Binding, Large Print (12/1/2021)
Compact Disc (8/3/2021)
Description
Named a Best Feel-Good Book by The Washington Post

In the tradition of the beloved New York Times bestsellers Marley and Me and Oogy: The Dog Only a Family Could Love, a charming, inspirational memoir about empathy, resilience, kindness, and an adorable deaf blind pink dog.

When Connecticut veterinarian Melissa Shapiro gets a call about a tiny deaf blind puppy rescued from a hoarding situation in need of fostering, she doesn't hesitate to say, "yes." Little does she know how that decision will transform her, her family, and legions of admirers destined to embrace the saga of the indomitable pink pup.

One of the most anxious dogs Melissa had ever encountered, the traumatized Piglet weighed under two pounds upon his welcome into the Shapiro household—which included Melissa's husband Warren and their three college-aged kids, plus six other rescued dogs. After weeks of reassurance, and lots of love, Piglet connected, gained confidence, and his extraordinary spirit emerged. Melissa soon forged a powerful bond with Piglet, allowing the two to communicate without sound or visual cues.

Two months later, when the day arrived to say good-bye to the now dashing, six-pound pink boy dog with the larger than life spirit, Melissa faced a heart-wrenching decision. Could she hand him over to someone willing to give Piglet the full-time attention he required or could she adapt her schedule and her household to make a permanent place for him in her life and work? Of course, the answer was simple: love would find a way.

Curious, engaged, and incredibly eager to learn, Piglet quickly became part of the family. What started out as a few simple Facebook posts of Piglet and his pack rapidly evolved into a global celebration of Piglet's infectiously positive mindset. Piglet: The Unexpected Story of a Deaf, Blind, Pink Puppy and His Family fully illustrates this heartwarming story of one special little puppy with a purpose to teach the power of empathy, love, and kindness.
Praise For Piglet: The Unexpected Story of a Deaf, Blind, Pink Puppy and His Family…
Named one of the best feel-good books of 2021 by The Washington Post

"Piglet is a social media superstar. But before that, he was a two-pound deaf, blind pup without a home. Shapiro, a veterinarian, took him in and fell in love. This sweet story details Piglet's transformation from a traumatized, anxious puppy into a confident, spirited pink dog and his new family."
— The Washington Post

"A puppy with a purpose, Piglet teaches us the power of love and kindness."
— Good Morning America

"Piglet is just getting started on his quest to make the world a better place."
— People.com

"Shapiro's personal tale will inspire even the most time-pressed among us to take time out for the pups — and people — that matter."
— Zibby Owens

"A little dog with a big following,helping students learn a powerful lesson about acceptance."

— Lester Holt

"Such a beautiful, inspiring story of Piglet, and his loving, patient human mom and veterinarian, Melissa Shapiro. This story will warm your heart and brings to life how this beautiful dog came into the Shaprio family with his own purpose. Through sheer love and dedication, Piglet no longer lives in a world of total darkness.

This story touched my heart and soul in such a profound way, as it reminded to me how my sweet, blind, and deaf 5-pound poodle, Emma, is happy, content, and loves her precious life too."
— Laura Schroff, #1 internationally and bestselling author of An Invisible Thread

"I never thought I would call a book about a dog and their caring and compassionate humans a page-turner. However, I was wrong and pleasantly surprised that Melissa Shapiro's riveting Cinderella story of a tiny deaf blind pink pup called Piglet, who surely would have died had not human hands and hearts intervened, took me on this unexpected joyride. Suffice it to say, Piglet is a beautiful and inspirational story about a beautiful and inspirational dog and his beautiful and inspirational humans who all can be viewed as poster beings who enrich our lives by embracing kindness, compassion, and love when the easy way out would have been to say something like, "This is hopeless." Feeling hopeless? Pick up this book, savor its heartwarming messages, and share it widely. It is that good."
— Marc Bekoff, Ph.D., author of Canine Confidential: Why Dogs Do What they Do and A Dog's World: Imagining the Lives of Dogs In a World Without Humans (with Jessica Pierce)

"Piglet—a pink, blind, and deaf puppy—inspires others to overcome the odds."

— CBSnews.com

"Sometimes we need a little inspiration to remember to never give up. . . . And a little deaf and blind puppy named Piglet is just that inspiration."

— theanimalrescuesite.greatergood.com

"Educators and their students, animal advocacy groups, his legion of social media friends, and now readers of this book, will continue to be inspired by Piglet and his pack face each new challenge with resilience. Including serious factual details as needed while creating an emotional bond with touches of sorrow and joy, this book will rightly gain its canine influencer new followers."
— Booklist

"The heartwarming journey of how Piglet gained confidence and now helps others face their own challenges. Each page of Piglet's story shows the power of empathy, love and kindness—it's a joyful respite that is certain to inspire."
— Woman's World Magazine

Shapiro and Piglet's uplifting odyssey, cowritten by Eichler-Rivas (The Pursuit of Happyness), is touching, emotional, and not to be missed."
— Library Journal (starred review)

I worked with Lassie for many years, one of the most heroic dogs the world has known. I never thought a profoundly disabled, one-pound pink puppy could rival her. But little Piglet does just that, overcoming enormous obstacles to raise awareness for fellow animals in need of rescue, Vet Melissa Shapiro's story of adopting and training Piglet is sweet, funny and very emotional...and above all, entertaining. And just like my adventures with Lassie, Piglet's tale is a love story. Knowing him will enrich your life.
— Jon Provost, Timmy on Lassie and author of Timmy's in the Well

"This piggy is a little charmer."
— Connecticut Magazine
Atria Books, 9781982167165, 320pp.
Publication Date: August 3, 2021
About the Author
Melissa Shapiro, DVM, is a veterinarian, a lifelong animal welfare advocate, and mom to three children and many disabled rescued dogs and birds. Since bringing Piglet home in 2017, she has used his social media platform to educate, advocate, and inspire others to adopt pets with special needs. Her nonprofit organization, Piglet International Inc., supports the Piglet Mindset Educational Outreach, a free downloadable educational program that teaches growth mindset, acceptance, inclusion, empathy, and kindness to students and others in the community, as well as various animal rights causes. She lives in Connecticut with her husband Warren, six rescued dogs, three rescued birds, and Piglet, the deaf blind pink puppy.

Mim Eichler-Rivas is coauthor with Chris Gardner of the #1 New York Times bestseller The Pursuit of Happyness. Mim's list of more than three dozen acclaimed coauthorships includes the national bestseller Finding Fish with Antwone Fisher. Mim's solo title, Beautiful Jim Key, has sold briskly for more than a dozen years and has a feature film in the works.
or
Not Currently Available for Direct Purchase