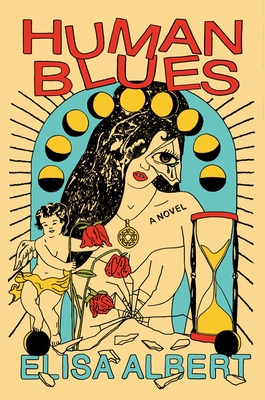 Human Blues
A Novel
Hardcover

* Individual store prices may vary.
Other Editions of This Title:
Digital Audiobook (7/4/2022)
Paperback (7/11/2023)
Compact Disc (7/5/2022)
Description
"Crackling and bighearted...A powerhouse [that] echoes with the truth that we find harmony when we listen first to ourselves." —Oprah Daily * "Takes off with magnificent speed and never lets up." —The New York Times * "Revolutionary." —NPR's Morning Edition * A Los Angeles Times and Publishers Weekly Best Book of the Year

A provocative and "darkly funny" (Cosmopolitan) novel about a woman who desperately wants a child but struggles to accept the use of assisted reproductive technology—a "riotous, visceral" (Vanity Fair) send-up of feminism, fame, art, commerce, and autonomy.

On the eve of her fourth album, singer-songwriter Aviva Rosner is plagued by infertility. The twist: as much as Aviva wants a child, she is wary of technological conception, and has poured her ambivalence into her music. As the album makes its way in the world, the shock of the response from fans and critics is at first exciting—and then invasive and strange. Aviva never wanted to be famous, or did she? Meanwhile, her evolving obsession with another iconic musician, gone too soon, might just help her make sense of things.

Told over the course of nine menstrual cycles, this utterly original novel is a "fast, fiery, and often funny" (The Boston Globe) interrogation of our cultural obsession with childbearing. It's also the story of one fearless woman at the crossroads, ruthlessly questioning what she wants and what she's willing—or not willing—to do to get it.
Praise For Human Blues: A Novel…
"[Human Blues] takes off with magnificent speed and never lets up… [an] explosively hip, funny and heartfelt book." —The New York Times Book Review

"[From] one of our most fearless chroniclers of the trials of womanhood... Human Blues follows a musician over the course of nine menstrual cycles, captured with a rollicking rhythm that would make Carrie Brownstein proud." —Chicago Review of Books

"Revolutionary." —Rachel Martin, NPR's Morning Edition

"A tour de force about the power women can wield—which can be unstoppable but not always controllable." —Bethanne Patrick, Los Angeles Times

"Fast, fiery, and often funny... Albert has created a relatable and, at times, irresistible character, whose own empathy offers us insight into the life of an artist who also happens to be unhappy." —The Boston Globe

"Motherhood is an awe-inspiring rite of passage in which no two experiences are alike. Few writers have captured its radical challenges better than the novelist Elisa Albert… Human Blues is a crackling and bighearted novel that doesn't shy away from hard conversations…. Guided by Aviva's ecstatic, exuberant voice, Human Blues is a powerhouse… [that] echoes with the truth that we find harmony when we listen first to ourselves." —Oprah Daily

"Few contemporary writers embody feminine swagger like Elisa Albert, a novelist whose work is equal parts Philip Roth, Sarah Silverman, and, well, her. Albert is in a rarefied group of writers... who use their considerable charisma and delight in transgression to draw attention to unsung and unseen parts of life in a female body, or a body outside the norms of conventional masculinity." —Lily Meyer, Gawker

"[A] thought-provoking and multi-faceted contribution to the discourse on bodily autonomy and reproductive choices… The novel is a potent reminder that the body and the voice are inseparable, and that both demand autonomy." —Ploughshares

"Darkly funny [and] tongue-in-cheek... Human Blues revolves around Aviva's physical body and fertility, but Albert quietly shines in laying bare topics crucial to many women—societal expectations, the push-pull between ambition and parenthood and the question of what it means to truly want to be a mother." —Hadassah

"Human Blues is filled with personality as Albert merges questions of fame and fertility into a thought-provoking exploration of agency and expression… Albert's prose [has] distinct rhythm: It's fast and sweet, with enough attitude to put Sleater-Kinney or even Lizzo to shame… [A] life-affirming howl into a wild world." —BookPage

"[A] bighearted and riotously funny performance from Albert... The depth of feeling, range of ideas, and spiky provocations amount to a Bellow-worthy wave of blistering prose. By the end, it pummels the reader into submission." —Publishers Weekly *starred review*

"Poignant, hilarious, and scathing... [A] rollicking journey to self-acceptance in a culture obsessed with motherhood." —Booklist *starred review*

"Albert cataloges the nitty-gritty rise and fall of each menstrual cycle... each yoni stream and psychedelic journey undertaken in service of a dream that feels like a birthright denied, and traveling alongside Aviva on the long, fraught road of infertility can induce in the reader a feeling of claustrophobic recrudescence, like you're trapped in it all in real time." —Kirkus

"In Elisa Albert's engrossing new novel, Aviva [Rosner's] struggles with fertility, her questions about parenthood, her ambivalence about fame, and her obsession with a gone-too-soon rock star combine to make a heartfelt, funny, brutal story about the things we choose to be and the things we end up becoming." —Town & Country

"Thrilling." —Lit Hub

"Provocative, fast-paced and darkly funny... [Human Blues] an energizing read for anyone who's ever been told, 'Oh, you're just on your period'" —Good Housekeeping

"Darkly funny." —Cosmopolitan

"Hilarious." —Nylon

"Elisa Albert brings a wealth of wit, humor, and righteous rage to her latest, Human Blues, in which she reckons with expectations imposed on the bodies of anyone with a uterus, the predatory nature of the wellness industry, and the ways in which people so often moralize fertility and conception." —Electric Literature

"[A] fiercely smart, poignant novel." —Shelf Awareness

"Aviva's are among the wettest panties of literature." —Los Angeles Times
Avid Reader Press / Simon & Schuster, 9781982167868, 416pp.
Publication Date: July 5, 2022
About the Author
Elisa Albert is the author of After Birth, The Book of Dahlia, How This Night Is Different, and editor of the anthology Freud's Blind Spot. Her stories and essays have appeared in Time, The Guardian, The New York Times, n+1, Bennington Review, Tin House, Michigan Quarterly Review, The Literary Review, the Los Angeles Review of Books, and elsewhere. She lives in upstate New York.