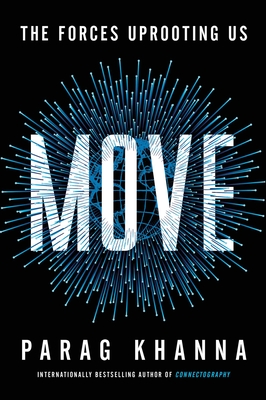 Move
The Forces Uprooting Us
Hardcover

* Individual store prices may vary.
Other Editions of This Title:
Digital Audiobook (10/11/2021)
Paperback (10/4/2022)
Compact Disc (10/12/2021)
Description
*A Financial Times Best Book of the Year*

A "provocative" (Booklist) and compelling look at the powerful global forces that will cause billions of us to move geographically over the next decades, ushering in an era of radical change.

In the 60,000 years since people began colonizing the continents, a recurring feature of human civilization has been mobility—the ever-constant search for resources and stability. Seismic global events—wars and genocides, revolutions and pandemics—have only accelerated the process. The map of humanity isn't settled—not now, not ever.

As climate change tips toward full-blown crisis, economies collapse, governments destabilize, and technology disrupts, we're entering a new age of mass migrations—one that will scatter both the dispossessed and the well-off. Which areas will people abandon and where will they resettle? Which countries will accept or reject them? As today's world population, which includes four billion restless youth, votes with their feet, what map of human geography will emerge?

In Move, celebrated futurist Parag Khanna provides an illuminating and authoritative vision of the next phase of human civilization—one that is both mobile and sustainable. As the book explores, in the years ahead people will move people to where the resources are and technologies will flow to the people who need them, returning us to our nomadic roots while building more secure habitats.

"An urgent, powerful argument for more open international borders" (Kirkus Reviews, starred review), Move is a fascinating look at the deep trends that are shaping the most likely scenarios for the future. Most important, it guides each of us as we determine our optimal location on humanity's ever-changing map.
Praise For Move: The Forces Uprooting Us…
A Financial Times Best Book of 2021

"DARING, SMART, UNFORGETTABLE... A rich exploration of our times and the way forward."
—Elif Shafak, author of the Booker Prize-shortlisted Ten Minutes Forty Eight Seconds in This Strange World

"A NUANCED DISCUSSION OF THE INCREASING IMPORTANCE OF FREE MOVEMENT ACROSS THE PLANET…Khanna makes an urgent, powerful argument for more open international borders."
—Kirkus Reviews (starred)

"PROVOCATIVE IDEAS…at the very least, it leaves [readers] pondering [the author's] theories and predictions."
—Booklist

"THOUGHT PROVOKING…As this book demonstrates, the climate crisis is just one of many forces that will have humans more on the move this century."
—Bill McKibben, New York Times bestselling author of Falter: Has the Human Game Begun to Play Itself Out?

"A REAL EYE-OPENER…Move makes clear that, though 'mobility' can be for some a desperate flight for refuge, it's also—for younger generations growing into a multi-cultural, one-planet civilization—a new expression of possibility."
—Kim Stanley Robinson, Winner of the Hugo, Nebula, and World Fantasy Awards and New York Times bestselling author of Ministry for the Future

"IMPRESSIVE…In Move, Parag Khanna proves again why he is one of the world's most incisive thinkers….The book's great accomplishment is that it not only reveals what will soon be upon us, but what lies ahead for our children and grandchildren."
—Alec Ross, New York Times bestselling author of The Industries of the Future

"KHANNA CUTS THROUGH THE CLUTTER LIKE NO ONE ELSE…Without fundamentally rethinking our economic models, the colliding demographic, environmental, and political crises many countries face will snowball into economic disasters."
—Nouriel Roubini, New York Times bestselling coauthor of Crisis Economics

"NO ONE KNOWS MORE ABOUT HOW GLOBAL CONNECTIVITY WORKS… Here Khanna examines exactly how the coming massive migrations away from increasing droughts and toward jobs can play out to humanity's great benefit—or great harm."
—Stewart Brand, creator of the Whole Earth Catalog

"ILLUMINATES A HOST OF NEW REALITES…The ability of human beings to be mobile is a key aspect of modern society—one that the pandemic has only accelerated. The creative class and those in the mobile vanguard are already searching out and creating tomorrow's leading global hubs of innovation, which pair vibrancy with sustainability, affordability, and inclusivity. Parag Khanna's Move outlines the forces creating a new geography of opportunity."
— Richard Florida, bestselling author of The Rise of the Creative Class and The New Urban Crisis

"SCINTILLATING… A clear-eyed, unapologetic defense of the right to migrate."
—Suketu Mehta, author of Pulitzer Prize finalist Maximum City and This Land is Our Land

"BRILLIANT…Move describes a world shaped not just by democracy or capitalism, but, increasingly, by migration."
—Balaji S. Srinivasan, formerly, the CTO of Coinbase and General Partner at Andreessen Horowitz

"AUTHORITATIVE AND FACT FILLED YET PLEASURABLE TO READ… A thorough investigation of the history of human migration and a discerning estimate of its probable future."
—Martin Gray, author of Sacred Earth and creator of SacredSites.com
Scribner, 9781982168971, 352pp.
Publication Date: October 12, 2021
About the Author
Parag Khanna is the founder and managing partner of FutureMap, a global strategic advisory firm that specializes in data-driven scenarios and visualizations. He is the internationally bestselling author of seven books including The Second World, Connectography, and The Future Is Asian. Parag was named one of Esquire's "75 Most Influential People of the 21st Century" and featured in WIRED's "Smart List." He holds a PhD from the London School of Economics and both a bachelor's and master's degree from the School of Foreign Service at Georgetown University. He has traveled to more than 150 countries.