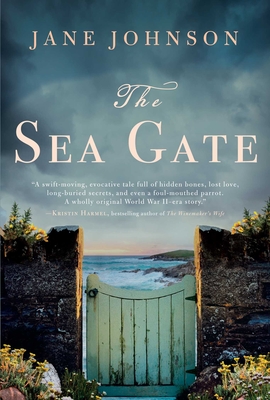 The Sea Gate
Paperback

* Individual store prices may vary.
Other Editions of This Title:
Digital Audiobook (9/2/2020)
Description
A broken family, a house of secrets—an entrancing tale of love and courage set during the Second World War.

After Rebecca's mother dies, she must sort through her empty flat and come to terms with her loss. As she goes through her mother's mail, she finds a handwritten envelope. In it is a letter that will change her life forever.

Olivia, her mother's elderly cousin, needs help to save her beloved home. Rebecca immediately goes to visit Olivia in Cornwall only to find a house full of secrets—treasures in the attic and a mysterious tunnel leading from the cellar to the sea, and Olivia, nowhere to be found.

As it turns out, the old woman is stuck in hospital with no hope of being discharged until her house is made habitable again. Rebecca sets to work restoring the home to its former glory, but as she peels back the layers of paint and grime, she uncovers even more buried secrets—secrets from a time when the Second World War was raging, when Olivia was a young woman, and when both romance and danger lurked around every corner...

A sweeping and utterly spellbinding tale of a young woman's courage in the face of war and the lengths to which she'll go to protect those she loves against the most unexpected of enemies.
Praise For The Sea Gate…
"Johnson spins an irresistible epic history of one family in Cornwall, England. . . . Johnson's powers of description evoke the setting's living history and brings it to brilliant life. This sweeping saga is a must-read."
— Publishers Weekly (Starred Review)

"A beautifully written story of two women's courage."
— The New York Journal of Books

"The talented Jane Johnson spins a vivid, complex tale of a young woman in war-torn 1940s Cornwall who has seemingly lost everything, and her distant relative in modern-day London, who must journey to England's rugged southwest coast, where a house full of mystery, history, and lies connects them both. Both storylines come alive in a swift-moving, evocative tale full of hidden bones, lost love, long-buried secrets, and even a foul-mouthed parrot. A wholly original World War II–era story that will make you both laugh and cry in equal measure."
— KRISTIN HARMEL, bestselling author of The Book of Lost Names

"Readers won't be able to resist this twisting, poignant story of love, regret, and hope as it barrels along like Olivia's Flying Standard 8."
— JULIA KELLY, bestselling author of The Whispers of War

"I was swept away by this mesmerizing book, and I savoured every moment of the journey. History, intrigue, suspense, romance, the evolution of two strong, engaging women, and a parrot—everything I longed for and more! The Sea Gate will stay in my heart for a long time."
— GENEVIEVE GRAHAM, #1 bestselling author of The Forgotten Home Child

"Johnson's time-shifting narrative transports readers between the present and 1940s while anchoring them to a place, engrossing us in both periods. . . . Although secrets abound, this is also a novel of sacrifice, forgiveness, and redemption. Recommended for readers who value the journey, however harrowing, as much as the destination."
— Library Journal (starred review)

"With its atmospheric setting, fast-paced dual narrative, and vividly eccentric characters, The Sea Gate is a juicy novel perfect for fans of Kate Morton and Daphne du Maurier. But it's also an unflinching look at racism and sexism in England during the Second World War, a bittersweet love story and a tribute to unexpected courage under fire—both from its protagonists and its other characters. . . . Readers may want to catch a train to Cornwall . . . after spending a few hours in Johnson's lushly rendered world."
— Shelf Awareness

"A beautifully written and intriguing story that stayed with me long after I had turned the last page."
— SANTA MONTEFIORE, bestselling author of The Temptation of Gracie

"Full of secrets and passion, with two strong heroines, this book satisfies every need. It's utterly romantic and page-turningly exciting. I can't recommend it highly enough."
— KATIE FFORDE, #1 Sunday Times bestselling author

"I was completely swept up in this intriguing and beautifully researched mystery of wartime Cornwall. It was quite magical."
— RACHEL HORE, bestselling author of The Love Child
Simon & Schuster, 9781982169336, 416pp.
Publication Date: January 5, 2021
About the Author
Jane Johnson is a novelist, historian, and publisher. She is the UK editor for many bestselling authors, including George R.R. Martin. She has written for both adults and children, including the bestselling novel The Tenth Gift. Writing under the pen name Jude Fisher, she wrote the companion books to Peter Jackson's Lord of the Rings and The Hobbit movie trilogies. Jane is married to a Berber chef she met while climbing in Morocco. She divides her time between London, Cornwall, and the Anti-Atlas Mountains. Connect with her on Twitter @JaneJohnsonBakr, on Instagram @JaneJohnsonBakrim, or visit her website at JaneJohnsonBooks.com.