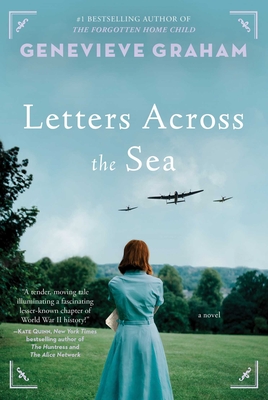 Letters Across the Sea
Paperback

* Individual store prices may vary.
Other Editions of This Title:
Digital Audiobook (4/26/2021)
Description
Inspired by a little-known chapter of World War II history, a young Protestant girl and her Jewish neighbour are caught up in the terrible wave of hate sweeping the globe on the eve of war in this powerful love story that's perfect for fans of The Guernsey Literary and Potato Peel Pie Society.

If you're reading this letter, that means I'm dead. I had obviously hoped to see you again, to explain in person, but fate had other plans.

1933

At eighteen years old, Molly Ryan dreams of becoming a journalist, but instead she spends her days working any job she can to help her family through the Depression crippling her city. The one bright spot in her life is watching baseball with her best friend, Hannah Dreyfus, and sneaking glances at Hannah's handsome older brother, Max.

But as the summer unfolds, more and more of Hitler's hateful ideas cross the sea and "Swastika Clubs" and "No Jews Allowed" signs spring up around Toronto, a city already simmering with mass unemployment, protests, and unrest. When tensions between the Irish and Jewish communities erupt in a riot one smouldering day in August, Molly and Max are caught in the middle, with devastating consequences for both their families.

1939

Six years later, the Depression has eased and Molly is a reporter at her local paper. But a new war is on the horizon, putting everyone she cares about most in peril. As letters trickle in from overseas, Molly is forced to confront what happened all those years ago, but is it too late to make things right?

From the desperate streets of Toronto to the embattled shores of Hong Kong, Letters Across the Sea is a poignant novel about the enduring power of love to cross dangerous divides even in the darkest of times—from the #1 bestselling author of The Forgotten Home Child.
Praise For Letters Across the Sea…
Praise for Letters Across the Sea

"Readers weary of European-centric World War II dramas will delight in Genevieve Graham's Letters Across the Sea, which centers on the courage and tenacity of Canadian soldiers, veterans, and home-front fighters. A budding love affair between Irish aspiring-journalist Molly and Jewish medical student Max is derailed first by a shocking anti-Semitic riot, then by the winds of war which send Max to fight in the Pacific as Molly carves herself a niche as a reporter. A lost letter has the power to bring them back into each other's lives, but at what cost? A tender, moving tale illuminating a fascinating lesser-known chapter of World War II history!"
— KATE QUINN, New York Times bestselling author of The Huntress and The Alice Network

"An epic tale of enduring love, loyalty and heroism, and a haunting portrayal of one of the most tragic yet overlooked battles of WWII, Letters Across the Sea has all the ingredients of a historical fiction masterpiece. Genevieve Graham has delivered once more a powerful, devastating, and ultimately redemptive story that stirs the heart in profound and lasting ways."
— ROXANNE VELETZOS, internationally bestselling author of The Girl They Left Behind

"I always look forward to diving into a Genevieve Graham novel, because I know I'll be swept away by her meticulous evocation of the past, her memorable and wonderfully observed characters, and her unmatchable flair for shining a light into the neglected corners of our shared past. In Letters Across the Sea, she sends us from 1930s Toronto, then under siege by a relentless plague of anti-Semitism, to a different battleground altogether: the last stand of Canadian troops at the Battle of Hong Kong. This is history worth remembering—and fiction that both enlightens and entertains."
— JENNIFER ROBSON, internationally bestselling author of The Gown

"Graham further cements her status as one of the preeminent writers of Canadian twentieth century historical fiction by illuminating a dark and complex chapter in the nation's past in the decade leading up to World War II. With meticulous research and vivid prose and memorable characters, Graham demonstrates once more her unique ability to inspire, educate, and entertain."
— PAM JENOFF, New York Times bestselling author of The Woman with the Blue Star

"A beautiful book that tells a little-known chapter of history with incredible humanity. From the neighbourhoods of Toronto to the battlefields of Hong Kong, Genevieve Graham weaves exquisite research, nail-biting tension, and rich characters into a sweeping novel of courage, betrayal, and reconciliation. I loved it!"
— JULIA KELLY, internationally bestselling author of The Light Over London

"A compelling story, meticulously researched and beautifully told—to the point that I was moved to tears on several occasions. Graham is a master storyteller with a gift to touch the heart. I'm so happy to have discovered her work."
— SANTA MONTEFIORE, bestselling author of The Temptation of Gracie
Simon & Schuster, 9781982169343, 384pp.
Publication Date: April 27, 2021
About the Author
Genevieve Graham is the USA TODAY and #1 bestselling author of The Forgotten Home Child, Letters Across the Sea, Tides of Honour, Promises to Keep, Come from Away, and At the Mountain's Edge. Her latest novel, Bluebird, will be published April 2022. She is passionate about breathing life back into Canadian history through tales of love and adventure. She lives in Halifax, Nova Scotia. Visit her at GenevieveGraham.com or on Twitter and Instagram @GenGrahamAuthor.