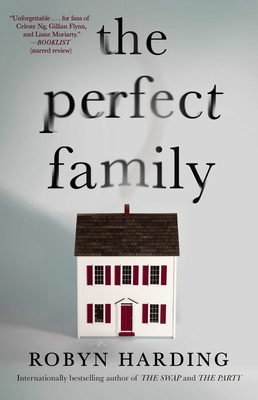 The Perfect Family
Paperback

* Individual store prices may vary.
Other Editions of This Title:
Digital Audiobook (8/9/2021)
Digital Audiobook (8/9/2021)
Library Binding, Large Print (11/1/2021)
Compact Disc (8/10/2021)
Description
The bestselling author of the The Swap explores what happens when a seemingly perfect family is pushed to the edge... and beyond in this "propulsive, constantly surprising" (Laurie Elizabeth Flynn, author of The Girls Are All So Nice Here) thriller.

Thomas and Viv Adler are the envy of their neighbors: attractive, successful, with well-mannered children and a beautifully restored home.

Until one morning, when they wake up to find their porch has been pelted with eggs. It's a prank, Thomas insists; the work of a few out-of-control kids. But when a smoke bomb is tossed on their front lawn, and their car's tires are punctured, the family begins to worry. Surveillance cameras show nothing but grainy images of shadowy figures in hoodies. And the police dismiss the attacks, insisting they're just the work of bored teenagers. Unable to identify the perpetrators, the Adlers are helpless as the assaults escalate into violence, and worse. And each new violation brings with it a growing fear. Because everyone in the Adler family is keeping a secret—not just from the outside world, but from each other. And secrets can be very dangerous….

This twisty, addictively page-turning suspense novel about a perfect family's perfect façade will keep you turning pages until its explosive ending.
Praise For The Perfect Family…
Praise for The Perfect Family

"Harding creates powerful character studies, reflects on societal expectations from a variety of viewpoints, and ramps up unmanageable chaos in a tale that is unforgettable on many levels. The small cast allows the author to present thoughtful interior monologues as each character considers their actions and responses and makes adjustments before the next event comes along and rearranges our understanding of everything. Readers ready for a roller coaster ride of guilty admissions peppered with red herrings and actual clues pertaining to the crimes committed will read straight to the end. A great choice for fans of Celeste Ng, Gillian Flynn, and Liane Moriarty." —Booklist (Starred Review)

"A highly entertaining domestic thriller from Harding... The brisk plot takes several clever twists before building to a shocking act of violence. Harding is sure to win new fans with this one." —Publishers Weekly (starred review)

"Unsettling and darkly sublime, Robyn Harding deftly explores twisted family dynamics and devastating secrets in suburbia in this stunning novel that will shock readers by the final page. The Perfect Family explores a perfect family's perfect façade, and how even perfect lies can become perfect nightmares. A mesmerizing, compulsively readable thriller, this one smoulders from the first page to the last."—Christina McDonald, USA Today bestselling author of The Night Olivia Fell

"Edgy, diabolical and completely suspenseful! The talented Robyn Harding peels back the sleek facade of suburbia to show its disturbing reality—and all the dangerous (and sometimes heartbreaking) secrets that even loving families keep from each other. Incredibly cinematic and jaw-droppingly devious, this book will have you turning the pages as fast as you can." —Hank Phillippi Ryan USA Today bestselling author of The First to Lie

"In The Perfect Family, Robyn Harding wields deep community ties like a garrote and redefines terror in suburbia. Breathless pacing and an inescapable sense of menace make Harding's latest an absolute must-read that will scare the hell out of you as only Harding can. This one's a stunner." —P. J. Vernon, author of Bath Haus and When You Find Me

"Robyn Harding is at her twisty, devious best with The Perfect Family, a novel that peels back the veneer of suburban perfection to expose the decay beneath. A propulsive, constantly surprising read that both entertains and chills—and makes the reader question whether they really know not only their neighbors, but their own family. From the opening page to the shocking last line, I was hooked." —Laurie Elizabeth Flynn, author of The Girls Are All So Nice Here

"Robyn Harding has long been one of my favourite, must-read authors, and The Perfect Family is another example why. Brilliantly layered, fabulously developed and interesting characters, and twists and turns galore all made for a compelling read I couldn't put down. Add to that Robyn's wry wit and dark sense of humour that made me laugh out loud, and this is definitely a summer hit. I loved it!" —Hannah Mary McKinnon, bestselling author of Sister Dear and You Will Remember Me.

"Harding takes the reader on a wild psychological ride with this addictive thriller." —Palm Beach Daily News' "2021 Summer Reading List: 48 of the Best Books for Adults, Teens, and Kids"

"From the author of Her Pretty Face and The Swap comes this new novel about a seemingly perfect family who suddenly find themselves on the receiving end of vandalism and violence. Thomas and Viv have everything their neighbors want, but they've certainly never done anything to attract unwanted attention... right?" —PopSugar

"From the author of Her Pretty Face and The Swap comes this new novel about a seemingly perfect family who suddenly find themselves on the receiving end of vandalism and violence. Thomas and Viv have everything their neighbors want, but they've certainly never done anything to attract unwanted attention... right?" —Bustle, "The Most Anticipated Books of August 2021"

"Behind the facade of a perfect family is a houseful of people that all have secrets, and secrets that could make them targets for harassment in "The Perfect Family" by Robyn Harding... Secrets, guilty and otherwise are all at center stage in this wild ride of a thriller." —The Parkersburg News & Sentinel

Praise for The Swap

"[A] convincing tale of obsession and celebrity worship...Fans of psychological thrillers will be satisfied."
— Publishers Weekly

"Harding conjures a dark, inescapable feeling...[Her] tale will please readers who enjoy delving into the details of how private actions in a relationship are different from public displays."
— Booklist

"Nearly everyone in this passion play becomes delightfully unhinged in the end . . . Dangerously addictive."
— Kirkus Reviews

"There are books born for summer reading and The Swap is one of them. Steamy sex, obsession, partner swapping – this one has it all. Vancouver author Robyn Harding keeps the reader engaged with a group of fascinating characters, each with a secret."
— The Globe

"Every summer, Robyn Harding releases a twisty, turn-y thriller. And every summer, we bump it to the top of our reading lists. The Swap, about what happens when two friends swap husbands for the night, will keep you on your toes until the very end."
— Hello Giggles

Praise for The Arrangement

"An insider's look into the world of sugar daddies . . . full of shocking revelations, volatile characters, and vice. Look out: The Arrangement will blow your mind."
— Mary Kubica, New York Times bestselling author of The Good Girl

"A nightmarish deep dive into the underbelly of a secret world. Rivetingly dark, The Arrangement delivers on every level - a shocking premise, a forbidden obsession, and a plot that builds slowly and masterfully escalates to a chilling end. Prepare to be blindsided."
— Heather Gudenkauf, New York Times bestselling author of The Weight of Silence and Not a Sound

Praise for Her Pretty Face

"A fast-paced, thrilling, gut-wrenching novel with sharp teeth and daring observations about the inner lives of women. I flew through the pages, desperate to get hold of what was going on beneath the surface but Robyn Harding was always one step ahead. Positively exhilarating."
— Taylor Jenkins Reid, New York Times bestselling author of Daisy Jones & The Six

"The tony setting and the slowly revealed secrets make this a good read-alike for Liane Moriarty's Big Little Lies."
— Booklist

"Robyn Harding spins a masterful tale of the disintegration of a seemingly perfect family in the aftermath of a disastrous sweet sixteen party. Engrossing and unflinching in its portrayal of the dark side of human nature, The Party takes the concept of 'mean girls' to a whole new level."
— A. J. Banner, #1 bestselling author of The Good Neighbor and The Twilight Wife

Praise for The Party

"A tense and riveting story about one night gone horribly wrong, and the fallout within a family and a group of friends. Secrets, desires, choice and consequence, The Party reveals that what lies inside a family—and each person—is not always as it seems. I was hooked from the opening scene and could not look away until I reached the very last page."
— Megan Miranda, New York Times bestselling author of All the Missing Girls

"Sexy and edgy . . . Harding keeps the tension taut throughout . . . [and] also raises several thought-provoking questions about love, fidelity and friendship that makes it an interesting conversation starter. . . . Harding explores toxicity in all relationships in a way that is smart and observant, but equally fun to read. The Swap is an excellent dose of escapism, perfect for readers of Cape May, Stranger in the Lake, and A Strange on the Beach."
— Bookreporter
Gallery Books, 9781982169398, 352pp.
Publication Date: August 10, 2021
About the Author
Robyn Harding is the author of numerous books, including the international bestseller, The Party, and The Swap, which was an instant #1 Globe and Mail (Toronto) and #1 Toronto Star bestseller. She has also written and executive produced an independent film. She lives in Vancouver, BC, with her family. Visit her at RobynHarding.com or follow her on Twitter and Instagram @RHardingWriter or Facebook @AuthorRobynHarding.