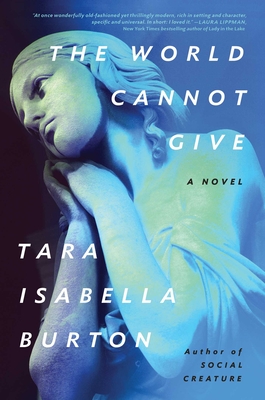 The World Cannot Give
Hardcover

* Individual store prices may vary.
Other Editions of This Title:
Digital Audiobook (3/7/2022)
Paperback (3/7/2023)
Compact Disc (3/8/2022)
Description
"The Secret History meets The Price of Salt" (Vogue) in this "equal parts dangerous and delicious" (Entertainment Weekly) novel about queer desire, religious zealotry, and the hunger for transcendence among the members of a cultic chapel choir at a Maine boarding school—and the ambitious, terrifyingly charismatic girl that rules over them.

When shy, sensitive Laura Stearns arrives at St. Dunstan's Academy in Maine, she dreams that life there will echo her favorite novel, All Before Them, the sole surviving piece of writing by Byronic "prep school prophet" (and St. Dunstan's alum) Sebastian Webster, who died at nineteen, fighting in the Spanish Civil War. She soon finds the intensity she is looking for among the insular, Webster-worshipping members of the school's chapel choir, which is presided over by the charismatic, neurotic, overachiever Virginia Strauss. Virginia is as fanatical about her newfound Christian faith as she is about the miles she runs every morning before dawn. She expects nothing short of perfection from herself—and from the member of the choir.

Virginia inducts the besotted Laura into a world of transcendent music and arcane ritual, illicit cliff-diving and midnight crypt visits: a world that, like Webster's novels, finally seems to Laura to be full of meaning. But when a new school chaplain challenges Virginia's hold on the "family" she has created, and Virginia's efforts to wield her power become increasingly dangerous, Laura must decide how far she will let her devotion to Virginia go.

The World Cannot Give is a "hypnotic and intense" (Shondaland) meditation on the power, and danger, of wanting more from the world.
Praise For The World Cannot Give…
A most anticipated book of 2022 from Harper's Bazaar, Nylon, Crimereads, and Bustle

"The Secret History meets The Price of Salt"
—Vogue

"Burton has crafted a hypnotic and intense book readers won't want to put down."
—Shondaland

"Tara Isabella Burton harnesses the fresh desire of teenage-dom in this story of a boarding school on the coast of Maine: A charismatic, devout, and sexually ambiguous young choir member manipulates her acolytes—to fatal ends."
—Vanity Fair

"Equal parts dangerous and delicious"
—Entertainment Weekly

"This new novel from the author of Social Creature plunges readers into a vortex of dark academia and queer desire."
—Harper's Bazaar

"Burton touches upon all the best parts of dark academia…She digs deep into the darkest corners of the human psyche to pose several poignant, thought-provoking questions about devotion, power, repression and the obsession of youth….If there is a writer better suited than Tara Isabella Burton to join the ranks of Donna Tartt, I certainly cannot think of one. She is not only a gorgeous prose writer, but also a brave one who, even when she makes you uncomfortable, is always pushing the envelope."
—Bookreporter

"This exquisitely modern examination of the adolescent need to give oneself over to beauty and certainty, heedless of reality or consequences, is one of the best boarding school crime novels I've ever read."
—Criminal Element

"A defiantly distinct meditation on power, desire, and the search for self. Events unfold from Laura's perspective via an increasingly breathless third-person-present narrative, conferring voyeuristic intimacy. Deftly drawn, deeply insecure characters complement the melodramatic plot, which crescendos to a devastating close."
—Kirkus, Starred Review

"Burton writes with a heart-stopping understanding of the micro-dynamics among adolescents still uncentered at their cores. The insular campus setting and small scenes in crypts, libraries, and dorm rooms that contain big emotions and powerful dialogue will make readers cringe at what they can see coming."
—Booklist

"THE WORLD CANNOT GIVE is the perfect book for anyone who loves A SEPARATE PEACE, anyone who hates A SEPARATE PEACE and anyone who has never read A SEPARATE PEACE. It is at once wonderfully old-fashioned yet thrillingly modern, rich in setting and character, specific and universal. In short: I loved it."
—Laura Lippman, New York Times bestselling author of Lady in the Lake

"Tara Isabella Burton has consistently revealed herself to be one of this country's most interesting writers. There is almost nothing she sets her pen to that isn't page-turningly fascinating. She roots around the dark corners of the human psyche, writing astutely about the dangers of repression and the psychological and physical violence it often breeds. The World Cannot Give was as unexpected as it was riveting."
—Attica Locke, author of Heaven, My Home and Bluebird, Bluebird

"I devoured this book in a single rapturous day, and finished it with the eerie satisfied sense that it had been written specifically for me, or someone like me. I have spent my life as a reader hunting for those books that hit every mark: gorgeous sentences, enthralling plot design, characters that I am wedded to or haunted by long after the book ends, a sense of the erotic that is as queer as it is and insistent and hypnotic, and a keyhole view of some cultish sect of social life that I don't want to join, but to which I want a front row seat. I simply cannot recommend this novel highly enough. It is, I think, a perfect book."
—Melissa Febos, Nationally bestselling author of Girlhood and Whip Smart

"Tara Isabella Burton is both one of our sharpest writers of witty, propulsive fiction and one of our most profound thinkers on the 21st Century's search for religious meaning. With The World Cannot Give, she has united her talents and written a fun, serious, surprising, necessary novel about the twin adolescent thirsts for sexual experimentation and "World-Historical" importance, and the way those thirsts shape and thwart each other. Calling to mind the work of writers such as Graham Greene, Muriel Spark, and Donna Tartt, The World Cannot Give gives and gives and gives."
—David Burr Gerrard, author of The Epiphany Machine

"I love this book. Tara Isabella Burton writes beautifully about beauty, and about transcendence and longing and desire. Her characters are so vibrantly alive, so searching, so raw, so foolish and so profound. Wonderful from start to finish."
—Phil Klay, author of Missionaries and Redeployment

"A finely drawn portrait of mystic passion and fevered yearning, THE WORLD CANNOT GIVE will keep you up long into the strange, dark, thrilling night."
—Elisabeth Thomas, author of Catherine House

"Burton's second novel is just as deliciously involving as her debut Social Creature, but makes rather better use of her doctorate in theology and ongoing religious scholarship.... It's a book about the nature of and limits of fervor, religious, sexual, and otherwise, and a spellbinding coming of age story that—despite being set in the Instagram-laden present—feels somehow plucked out of time."
—Emily Temple, Crimereads
Simon & Schuster, 9781982170066, 320pp.
Publication Date: March 8, 2022
About the Author
Tara Isabella Burton's debut novel, Social Creature, was named a Best Book of the Year by The New York Times, Vulture, and The Guardian. She has written on religion, culture, and place for The New York Times, National Geographic, The Washington Post, The Wall Street Journal, City Journal, The Economist's 1843, Aeon, The BBC, The Atlantic, Salon, The New Statesman, and The Telegraph. She is a columnist at Religion News Service, a contributing editor at American Purpose, and the former staff religion writer at Vox. Her fiction has appeared in Granta, Volume 1 Brooklyn, The New Yorker's Daily Shouts, Tor, PANK, and more. She received a doctorate in theology from Trinity College, Oxford, where she was a Clarendon Scholar, in 2017.