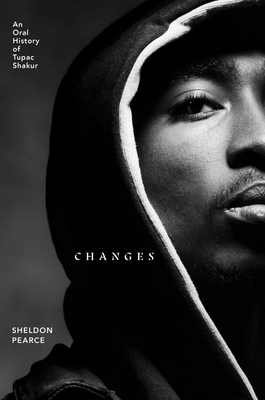 Changes
An Oral History of Tupac Shakur
Hardcover

* Individual store prices may vary.
Other Editions of This Title:
Digital Audiobook (6/7/2021)
Compact Disc (6/8/2021)
Description
A New Yorker writer's intimate, revealing account of Tupac Shakur's life and legacy, timed to the fiftieth anniversary of his birth and twenty-fifth anniversary of his death.

In the summer of 2020, Tupac Shakur's single "Changes" became an anthem for the worldwide protests against the murder of George Floyd. The song became so popular, in fact, it was vaulted back onto the iTunes charts more than twenty years after its release—making it clear that Tupac's music and the way it addresses systemic racism, police brutality, mass incarceration, income inequality, and a failing education system is just as important now as it was back then.

In Changes, published to coincide with the fiftieth anniversary of Tupac's birth and twenty-fifth anniversary of his death, Sheldon Pearce offers one of the most thoughtful and comprehensive accounts yet of the artist's life and legacy. Pearce, an editor and writer at The New Yorker, interviews dozens who knew Tupac throughout various phases of his life. While there are plenty of bold-faced names, the book focuses on the individuals who are lesser known and offer fresh stories and rare insight. Among these are the actor who costarred with him in a Harlem production of A Raisin in the Sun when he was twelve years old, the high school drama teacher who recognized and nurtured his talent, the music industry veteran who helped him develop a nonprofit devoted to helping young artists, the Death Row Records executive who has never before spoken on the record, and dozens of others. Meticulously woven together by Pearce, their voices combine to portray Tupac in all his complexity and contradiction.

This remarkable book illustrates not only how he changed during his brief twenty-five years on this planet, but how he forever changed the world.
Praise For Changes: An Oral History of Tupac Shakur…
"Illuminates the kaleidoscopic aspects of Shakur's life…[Pearce] scores remarkable details."–Alan Light for The New York Times Book Review

"A book that quietly tries to humanize an oft-mythologized figure…makes [Tupac] seem more flesh-and-blood than the countless statues and murals that pay tribute to his brief yet incredibly eventful life."—Mosi Reeves, The A.V. Club

"Collectively, Pearce and his cast offer a portrait that shades in the traditional Tupac myth with context and complexity."—Pitchfork

"Candidly told through the voices of people with whom Shakur interacted—both closely and less so—the book provides insight into his personality and details the circumstances that influenced and motivated him. In almost cinematic fashion, these accounts create a nuanced portrait of Shakur's story."—Tracy Crawford, Library Journal (starred review)

"Compelling…essential Tupac reading."—Kirkus Reviews

"Riveting…The insights in this absorbing narrative contribute to a deeper understanding of Shakur's complexity as a person and an artist."—Allison Escoto, Booklist

"Legendary hip-hop martyr Tupac Shakur is movingly captured as the people's gangsta in this kaleidoscopic commemoration of his life…Tupac's multitudes of fans will eat this up." —Publishers Weekly
Simon & Schuster, 9781982170462, 288pp.
Publication Date: June 8, 2021
About the Author
Sheldon Pearce is the music writer and editor for The New Yorker. Previously, he was a contributing writer at Pitchfork. He has worked for NPR Music, and his writing has appeared in The Guardian, Rolling Stone, The Fader, Spin, Dazed, Complex, Deadspin, and others.