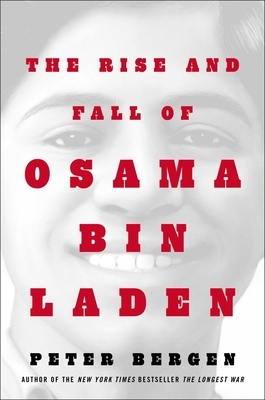 The Rise and Fall of Osama bin Laden
Hardcover

* Individual store prices may vary.
Other Editions of This Title:
Digital Audiobook (8/2/2021)
Paperback (8/2/2022)
Compact Disc (8/3/2021)
Description
The world's leading expert on Osama bin Laden delivers for the first time the definitive biography of a man who set the course of American foreign policy for the 21st century, and whose ideological heirs we continue to battle today.

In The Rise and Fall of Osama bin Laden, Peter Bergen provides the first reevaluation of the man responsible for precipitating America's long wars with al-Qaeda and its descendants, capturing bin Laden in all the dimensions of his life: as a family man, as a zealot, as a battlefield commander, as a terrorist leader, and as a fugitive. The book sheds light on his many contradictions: he was the son of a billionaire, yet insisted his family live like paupers. He adored his wives and children, depending on two of his wives, both of whom had PhDs, to make important strategic decisions. Yet he also brought ruin to his family. He was fanatically religious, yet willing to kill thousands of civilians in the name of Islam. He inspired deep loyalty yet, in the end, his bodyguards turned against him. And while he inflicted the most lethal act of mass murder in United States history, he failed to achieve any of his strategic goals.

The lasting image we have of bin Laden in his final years is of an aging man with a graying beard watching old footage of himself, just another dad flipping through the channels with his remote. In the end, bin Laden died in a squalid suburban compound, far from the front lines of his holy war. And yet despite that unheroic denouement, his ideology lives on. Thanks to exclusive interviews with family members and associates, and documents unearthed only recently, Bergen's portrait of Osama will reveal for the first time who he really was and why he continues to inspire a new generation of jihadists.
Praise For The Rise and Fall of Osama bin Laden…
Named one of the Best Nonfiction Books of the Year by The Los Angeles Times and Kirkus Reviews

"Meticulously documented, fluidly written and replete with riveting detail... Equally revealing about the Americans and their pursuit of him." — The New York Times Book Review (Editors' Choice)

"Of the raft of books that are marking the 20th anniversary of 9/11 and its aftermath, few are likely to be as meticulously documented, as fluidly written or as replete with riveting detail as Peter Bergen's The Rise and Fall of Osama bin Laden... A page-turner." — The New York Times Book Review

"The portrait [Bergen] draws is intimate and detailed."— The Washington Post

"The Rise and Fall of Osama bin Laden does much more than reveal a human side to a mass murderer, offering the general reader an authoritative and convincing portrait of a man whose misdeeds changed all our lives in many ways, none for the better." — The Guardian

"Comprehensive, authoritative, and compelling." — H.R. McMaster, author of Dereliction of Duty and Battlegrounds: The Fight to Defend the Free World

"The author's encyclopedic familiarity with his subject and his interviews with almost every key player are complemented by a succinct, almost laconic, writing style... An excellent primer for the general reader... The author's mastery of the detail gives him an unmatched authority and he makes decisive pronouncements on some controversial issues." — The Cipher Brief

"Well-written and meticulously researched book draws heavily on the treasure trove of material that was captured by the US Navy Seal team that carried out the raid on bin Laden's Abbottabad lair that resulted in his death." — The National

"Well written. Its prose is crisp and clean. Its style will appeal to specialists and non-specialists alike...The result is an enjoyable and informative read." — Washington Free Beacon

"A compelling, nuanced portrait of America's erstwhile public enemy No. 1... Throughout, Bergen turns up revealing details and sharp arguments against received wisdom... Essential for anyone concerned with geopolitics, national security, and the containment of further terrorist actions." —Kirkus Reviews (starred review)

"Bergen adds intriguing new details to the story of Osama bin Laden in this solid, well-sourced biography....Surprising insights and fluid prose enrich this authoritative portrait of the terrorist leader and the movement he inspired. Foreign affairs buffs will be fascinated." — Publishers Weekly

"Bergen's detailed, incisive, and clarifying biography is an invaluable work marking 9/11's twentieth anniversary.... Recounts bin Laden's ruthless rise to power, al-Qaeda's early successes, and bin Laden's last bitter years, leading to an excellent summary of bin Laden's effect on American and international politics." — Booklist
Simon & Schuster, 9781982170523, 416pp.
Publication Date: August 3, 2021
About the Author
Peter Bergen is the author or editor of nine books, including three New York Times bestsellers and four Washington Post best nonfiction books of the year. A Vice President at New America, Bergen is a professor at Arizona State University and a national security analyst for CNN. He has testified before congressional committees eighteen times about national security issues and has held teaching positions at Harvard and Johns Hopkins University.