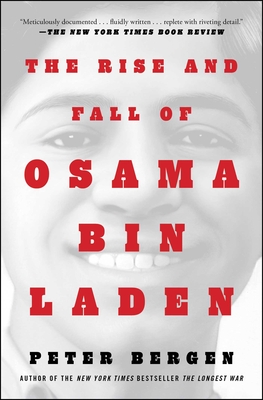 The Rise and Fall of Osama bin Laden
Paperback

* Individual store prices may vary.
Other Editions of This Title:
Digital Audiobook (8/2/2021)
Hardcover (8/3/2021)
Compact Disc (8/3/2021)
Description
The world's leading expert on Osama bin Laden delivers for the first time the "riveting" (The New York Times) definitive biography of a man who set the course of American foreign policy for the 21st century and whose ideological heirs we continue to battle today.

In The Rise and Fall of Osama bin Laden, Peter Bergan provides the first reevaluation of the man responsible for precipitating America's long war with al-Qaeda and its decedents, capturing bin Laden in all the dimensions of his life: as a family man, as a zealot, as a battlefield commander, as a terrorist leader, and as a fugitive. The book sheds light on his many contradictions: he was the son of a billionaire yet insisted his family live like paupers. He adored his wives and children, depending on his two wives, both of whom had PhDs, to make critical strategic decisions. Yet, he also brought ruin to his family. He was fanatically religious but willing to kill thousands of civilians in the name of Islam. He inspired deep loyalty, yet, in the end, his bodyguards turned against him. And while he inflicted the most lethal act of mass murder in United States history, he failed to achieve any of his strategic goals.

In his final years, the lasting image we have of bin Laden is of an aging man with a graying beard watching old footage of himself, just as another dad flipping through the channels with his remote. In the end, bin Laden died in a squalid suburban compound, far from the front lines of his holy war. And yet, despite that unheroic denouement, his ideology lives on. Thanks to exclusive interviews with family members and associates, and documents unearthed only recently, Bergen's "comprehensive, authoritative, and compelling" (H.R. McMaster, author of Dereliction of Duty and Battlegrounds: The Fight to Defend the Free World) portrait of Osama bin Laden reveals for the first time who he really was and why he continues to inspire a new generation of jihadists.
Praise For The Rise and Fall of Osama bin Laden…
"Meticulously documented, fluidly written and replete with riveting detail... Equally revealing about the Americans and their pursuit of him." — The New York Times Book Review (Editors' Choice)

"Of the raft of books that are marking the 20th anniversary of 9/11 and its aftermath, few are likely to be as meticulously documented, as fluidly written or as replete with riveting detail as Peter Bergen's The Rise and Fall of Osama bin Laden... A page-turner." — The New York Times Book Review

"The portrait [Bergen] draws is intimate and detailed."— The Washington Post

"The Rise and Fall of Osama bin Laden does much more than reveal a human side to a mass murderer, offering the general reader an authoritative and convincing portrait of a man whose misdeeds changed all our lives in many ways, none for the better." — The Guardian

"Comprehensive, authoritative, and compelling." — H.R. McMaster, author of Dereliction of Duty and Battlegrounds: The Fight to Defend the Free World
Simon & Schuster, 9781982170530, 416pp.
Publication Date: August 2, 2022
About the Author
Peter Bergen is the author or editor of nine books, including three New York Times bestsellers and four Washington Post best nonfiction books of the year. A Vice President at New America, Bergen is a professor at Arizona State University and a national security analyst for CNN. He has testified before congressional committees eighteen times about national security issues and has held teaching positions at Harvard and Johns Hopkins University.