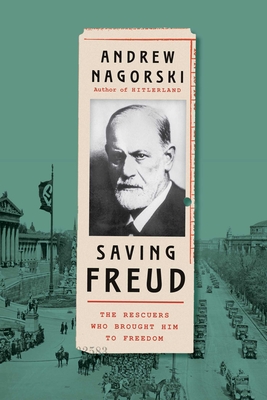 Saving Freud
The Rescuers Who Brought Him to Freedom
Hardcover

* Individual store prices may vary.
Other Editions of This Title:
Digital Audiobook (8/22/2022)
Compact Disc (8/23/2022)
Description
A dramatic true story about Sigmund Freud's last-minute escape to London following the German annexation of Austria and the group of friends who made it possible.

In March 1938, German soldiers crossed the border into Austria and Hitler absorbed the country into the Third Reich. Anticipating these events, many Jews had fled Austria, but the most famous Austrian Jew remained in Vienna, where he had lived since early childhood. Sigmund Freud was eighty-one years old, ill with cancer, and still unconvinced that his life was in danger.

But several prominent people close to Freud thought otherwise, and they began a coordinated effort to persuade Freud to leave his beloved Vienna and emigrate to England. The group included a Welsh physician, Napoleon's great-grandniece, an American ambassador, Freud's devoted youngest daughter Anna, and his personal doctor.

Saving Freud is the story of how this remarkable collection of people finally succeeded in coaxing Freud, a man who seemingly knew the human mind better than anyone else, to emerge from his deep state of denial about the looming catastrophe, allowing them to extricate him and his family from Austria so that they could settle in London. There Freud would live out the remaining sixteen months of his life in freedom.

This book is both an incisive new biography of Freud and a group biography of the extraordinary friends who saved Freud's life.
Praise For Saving Freud: The Rescuers Who Brought Him to Freedom…
"As exciting and suspenseful as a spy novel, Andrew Nagorski's masterful narrative reveals how an eclectic group of Sigmund Freud's friends, ranging from an American ambassador to a French-born princess, came together to do the seemingly impossible: engineer his rescue from Nazi-controlled Austria as the Gestapo were closing in. Their successful efforts underscore how powerful love, loyalty, and friendship can be, even in the midst of overwhelming evil."
—Lynne Olson, author of Madame Fourcade's Secret War: The Daring Young Woman Who Led France's Largest Spy Network Against Hitler

"An intimate, touching portrait of a genius as an old man. Ill, myopic, in denial and terribly vulnerable, this Freud is more human than any I've encountered before. Andrew Nagorski has an artist's eye for revealing detail and a novelist's ability to bring to life a long-lost world and its myriad denizens."
—Sylvia Nasar, author of A Beautiful Mind

"Andrew Nagorski has written a gripping masterpiece about one of the greatest figures in history, whose insights about human beings as 'savage beasts' could not be more timely."
—Professor Brett Kahr, Honorary Director of Research, Freud Museum London, and author of Freud's Pandemics: Surviving Global War, Spanish Flu, and the Nazis

"Part engrossing biography of the father of psychoanalysis, part vivid group portrait of the circle of notables who rescued Freud from the Nazis, Saving Freud pulses with urgent life. Nagorski captures the power of self-delusion and denial even among the most brilliant minds. This is also an all too relevant portrait of the speed with which a refined, hyper-civilized society can unravel."
—Kati Marton, author of The Chancellor: the Remarkable Odyssey of Angela Merkel

"With his characteristic clarity and meticulous research, Nagorski has once again produced a masterful work. Saving Freud is a page-turner, mixing biography and escape narrative, with a powerful reminder that historians need to pay attention not just to words, but to relationships."
—Rebecca Erbelding, historian and author of Rescue Board: The Untold Story of America's Efforts to Save the Jews of Europe

"I am a longtime fan of Andrew Nagorski's work, and his phenomenal talent for personalizing history, allowing the reader to witness events through the eyes of those who lived them. Saving Freud is one of his finest—a spectacularly engaging and entertaining account of an incredible rescue. Do not miss this one."
—Seth MacFarlane, executive producer, Family Guy and The Orville

"Nagorski delivers a riveting page-turner. . . . A fine biography of Freud. . . . Excellent."


— Kirkus Reviews (starred review)

"Sigmund Freud's vibrant life in Vienna and narrow escape from the Gestapo are recounted in this entertaining history. . . . An invigorating look at a lesser-known chapter of Freud's well-documented life."
— Publishers Weekly

"Highly exciting and no less historically ambitious for it; John le Carré meets Ian Kershaw."
—Emma Szewczak, author of The Offset
Simon & Schuster, 9781982172831, 352pp.
Publication Date: August 23, 2022
About the Author
Andrew Nagorski served as Newsweek's bureau chief in Hong Kong, Moscow, Rome, Bonn, Warsaw, and Berlin. He is the author of seven previous critically acclaimed books, including Hitlerland and The Nazi Hunters. He has also written for countless publications. Visit him at AndrewNagorski.com.