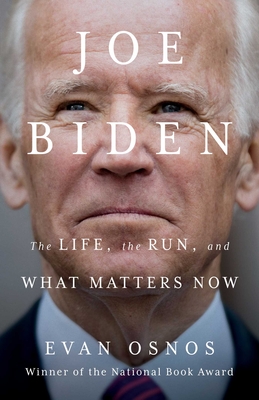 Joe Biden
The Life, the Run, and What Matters Now
Hardcover

* Individual store prices may vary.
Other Editions of This Title:
Compact Disc (10/6/2020)
Paperback, Spanish (12/22/2020)
Description
A FINANCIAL TIMES BEST BOOK OF 2020

A concise, brilliant, and trenchant examination of Joseph R. Biden Jr.'s successful lifelong quest for the presidency by National Book Award winner Evan Osnos.

President-elect Joseph R. Biden Jr. has been called both the luckiest man and the unluckiest—fortunate to have sustained a fifty-year political career that reached the White House, but also marked by deep personal losses and disappointments that he has suffered.

Yet even as Biden's life has been shaped by drama, it has also been powered by a willingness, rare at the top ranks of politics, to confront his shortcomings, errors, and reversals of fortune. As he says, "Failure at some point in your life is inevitable, but giving up is unforgivable." His trials have forged in him a deep empathy for others in hardship—an essential quality as he leads America toward recovery and renewal.

Blending up-close journalism and broader context, Evan Osnos, who won the National Book Award in 2014, draws on nearly a decade of reporting for The New Yorker to capture the characters and meaning of 2020's extraordinary presidential election. It is based on lengthy interviews with Biden and on revealing conversations with more than a hundred others, including President Barack Obama, Cory Booker, Amy Klobuchar, Pete Buttigieg, and a range of activists, advisers, opponents, and Biden family members.

This portrayal illuminates Biden's long and eventful career in the Senate, his eight years as Obama's vice president, his sojourn in the political wilderness after being passed over for Hillary Clinton in 2016, his decision to challenge Donald Trump for the presidency, and his choice of Senator Kamala Harris as his running mate.

Osnos ponders the difficulties Biden faces as his presidency begins and weighs how a changing country, a deep well of experiences, and a rigorous approach to the issues, have altered his positions. In this nuanced portrait, Biden emerges as flawed, yet resolute, and tempered by the flame of tragedy—a man who just may be uncannily suited for his moment in history.
Praise For Joe Biden: The Life, the Run, and What Matters Now…
"[From] an immensely talented reporter for The New Yorker, Joe Biden ably takes the measure of the man and the politician, presenting a picture of the Democratic nominee that is in a few ways unexpected." —The Washington Post

"[A] probing biographical sketch, drawing on vivid reportage from his New Yorker profiles [and] shrewd analysis, the result is a portrait of the candidate that's smart and evocative." —Publishers Weekly

"[A] solid foundation for evaluating one of the most important figures in American governance." —Booklist

"Reading Joe Biden: The Life, the Run, and What Matters Now, a slim but comprehensive and compelling book by the New Yorker writer Evan Osnos, has only strengthened my positive impression of the Democratic nominee." —Max Boot, The Washington Post

"If you need a rapid and readable Biden briefing, it's for you." —Kirkus Reviews

"Osnos draws on his years covering Biden for the New Yorker to provide a rich narrative for the former vice president's life." —The National Book Review

"It is impossible to come away from Osnos's biography without a sense of awe at what Biden has overcome to arrive at this point." —The Guardian

"Evan Osnos asks how the Democrat candidate has defied odds in the race for the White House." —Financial Times

"This biography covers the candidate's career as a senator and vice president as well as his life on the campaign trail." —The New York Times Book Review
Scribner, 9781982174026, 192pp.
Publication Date: October 27, 2020
About the Author
Evan Osnos has been a staff writer at The New Yorker since 2008. His most recent book, Age of Ambition: Chasing Fortune, Truth, and Faith in the New China, won the National Book Award, among other honors. Previously he reported from China, Iraq, and elsewhere for the Chicago Tribune, where he shared a Pulitzer Prize for investigative reporting. He lives with his wife and children in Washington, DC.