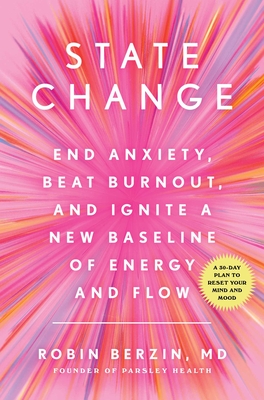 State Change
End Anxiety, Beat Burnout, and Ignite a New Baseline of Energy and Flow
Hardcover

* Individual store prices may vary.
Other Editions of This Title:
Digital Audiobook (1/17/2022)
Compact Disc (1/18/2022)
Description
A 30-day program for reaching a new level of energy, clarity, and calm, based on a paradigm shifting idea: You have to change your body to change your mind and mood.

Too often, conventional medicine treats the body as separate from the mind, ignoring physical issues like chronic illness and weight gain. Science shows that these issues are oftentimes intricately entwined with mood issues like depression, anxiety, stress, and persistent fatigue.

In State Change, Dr. Berzin draws on cutting-edge research and her work with thousands of patients to tell the complete story of how our bodies drive our minds, mood, and energy levels. This builds on her work at her nationally renowned holistic health service Parsley Health, where Dr. Berzin and her team of over 100 highly trained medical providers focus on treating the whole patient, yielding extraordinary results for those dealing with gastrointestinal, hormone-related, autoimmune, and mental health conditions.

This trailblazing book explores the new science of optimizing the body in ways that will help anyone attain a new baseline for energy, calm, and optimism. Dr. Berzin believes that treating common imbalances in the body is the only way to achieve what she calls a state change—a transformation to higher levels of mental focus, emotional stability, and flow.

Leveraging Parsley's unique patient data and successful proprietary protocols, State Change includes a 30-day program for resetting the body, mind, and mood. With easy-to-understand advice and detailed personalized assessments, State Change is the ultimate gateway to a positive mental state and peak physical health.
Praise For State Change: End Anxiety, Beat Burnout, and Ignite a New Baseline of Energy and Flow…
"State Change is a must-read for anyone with persistent mental or physical health struggles and an important reminder that the unlock for mental wellbeing starts in the body. Compassionate, authoritative, and wise, Dr. Berzin has created an inspired yet simple pathway for reaching new levels of energy, clarity, and ease. This book could not be more timely or more needed now." –Mark Hyman, MD, New York Times bestselling author of The Pegan Diet

"I am so grateful to Dr. Robin Berzin for creating this simple, concrete, step-by-step guide to achieving optimal mental and emotional wellbeing from the inside out. Every one of us needs this book. If we want to face these challenging times with the energy, flow, and grace we need to thrive, we have a chance to do it by embracing how our physical state sets the stage for our mental health and adopting this beautiful guidance." –Kelly LeVeque, Celebrity Nutritionist and best-selling author of Body Love and Body Love Every Day

"Our world is experiencing a level of palpable anxiety and burnout like never before, and it's imperative that we make a change. Thankfully, my brilliant colleague and friend Robin breaks down the exciting science of it all and sets us up with a step-by-step guide on creating the best energy flow for our life. This is a must read! – Dr. Will Cole, leading functional medicine expert, New York Times bestselling author, Intuitive Fasting

"State Change will shift the way you think about your body and your health. If you're ready to boost your energy and live with clarity, then this is the book for you." — Gabrielle Bernstein, #1 New York Times bestselling author and international speaker

"State Change is a gift of tactical inspiration for anyone struggling with their mental or physical health. Innovative, strategic, and wise, Dr. Berzin has created a gentle toolkit for reaching new levels of energy, clarity, and ease. Let her be your guide to a new baseline of wellbeing."— Erica Chidi, CEO and Co-founder of LOOM

"State Change delves deeply into beating burnout and lowering anxiety via physiology. It's the ultimate makeover… for your mind." – Women's Health

"[Dr. Berzin] offers all manner of research-backed motivations, as well as the kind of tough love that requires no explanation." –The Wall Street Journal

"Berzin's tips are practical, and she doesn't skimp on details. Readers feeling burned out will find this a balm." –Publisher's Weekly

"Conversations around burnout often focus on external factors and the idea that changing one of those factors (a stressful job, for example) will instantly improve things…good overall health involves dealing with those stressors." —The New York Post

"A great read for mind-body skeptics and believers alike." —The Chalkboard
S&S/Simon Element, 9781982176808, 304pp.
Publication Date: January 18, 2022
About the Author
Robin Berzin, MD, is the founder and CEO of Parsley Health. A summa cum laude graduate of University of Pennsylvania, Dr. Berzin completed medical school at Columbia University's College of Physicians and Surgeons and trained in internal medicine at Mount Sinai Hospital in New York City. Dr. Berzin founded Parsley Health in 2016 in order to make whole-body, transformative medicine accessible to everyone through more holistic services and smarter technology. For more information, visit RobinBerzinMD.com and ParsleyHealth.com.