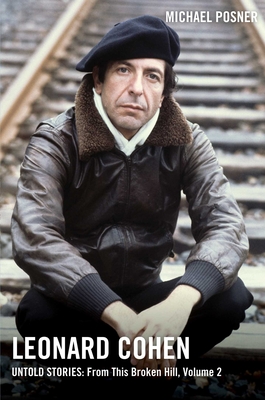 Leonard Cohen, Untold Stories
From This Broken Hill, Volume 2 (Leonard Cohen, Untold Stories series #2)
Hardcover

* Individual store prices may vary.
Other Editions of This Title:
Hardcover (10/20/2020)
Description
The second volume of the extraordinary life of the great music and literary icon Leonard Cohen, in the words of those who knew him best.

Poet, novelist, singer-songwriter, artist, prophet, icon—there has never been a figure like Leonard Cohen. He was a true giant in contemporary western culture, entertaining and inspiring the world with his work. From his groundbreaking and bestselling novels, The Favourite Game and Beautiful Losers, to timeless songs such as "Suzanne," "Dance Me to the End of Love," and "Hallelujah," Cohen is one of the world's most cherished artists. His death in 2016 was felt around the world by the many fans and followers who would miss his warmth, humour, intellect, and piercing insights.

Leonard Cohen, Untold Stories chronicles the full breadth of his extraordinary life. This second of three volumes—From This Broken Hill—follows him from the conclusion of his first international music tour in 1971 as he continued to compose poetry, record music, and search for meaning into the late 1980s. The book explores his decade-long relationships with Suzanne Elrod, with whom he had two children, and various other numerous romantic partners, including the beginning of his long relationship with French photographer Dominique Issermann and, simultaneously, a five-year relationship with a woman never previously identified.

It is a challenging time for Cohen. His personal life is in chaos and his career stumbles, so much so that his 1984 album, Various Positions, is rejected by Columbia Records, while other artistic endeavours fail to find an audience. However, this period also marks the start of his forty-year immersion in Zen Buddhism, which would connect him to the legendary Zen master Joshu Sasaki Roshi and inspire some of his most profound and enduring art.

In From This Broken Hill, bestselling author and biographer Michael Posner draws on hundreds of interviews to reach beyond the Cohen of myth and reveal the unique, complex, and compelling figure of the real man. Honest and entertaining, this is a must-have book for any Cohen fan.
Praise For Leonard Cohen, Untold Stories: From This Broken Hill, Volume 2 (Leonard Cohen, Untold Stories series #2)…
Praise for Leonard Cohen, Untold Stories: The Early Years

A Globe and Mail Top 100 Book of 2020

"Posner undertook dozens and dozens of interviews . . . creating a unique oral history, as if they're in a room together, sharing memories and stories. . . . They're linked together with a light narrative voice that gives this biography a very intimate and personal feel."
— Toronto Star

"The life of Leonard Cohen—poet, novelist, artist, Zen monk, and oh, yes, singer-songwriter—is too vast to be contained within one book. Thankfully, Posner is giving us three. . . . Posner draws on hundreds of interviews to explore Cohen's private and public lives, his complexities and contradictions, and, of course, his inarguable charisma. Serve yourself some tea and oranges and settle in."
— Zoomer

"Through these stories, a unique portrait of a young Leonard Cohen is revealed, with insights into not only his extraordinary life but also his timeless poetry and music."
— ANNE MURRAY, Grammy Award–winning singer

"Posner masterfully weaves an abundance of interviews with Cohen's family, friends, and myriad lovers to create an intricate tapestry and, ultimately, produces the most revealing portrait of the legendary songwriter and wordsmith to date."
— NICHOLAS JENNINGS, journalist and bestselling author of Lightfoot

"Out of a welter of stories—from those who encountered Leonard Cohen as associate, friend, or lover—Michael Posner has shaped a fascinating multi-faceted portrait. Posner is indeed Cohen's Boswell, no doubt about it."
— SEYMOUR MAYNE, poet, editor, and translator

"Offers an impressively thorough excavation of stories, including some gems and, well, dirt. Together, [Posner's] various positions and perspectives create a cubist portrait of the Montreal-born icon as a young man—and simultaneously an artist, intellectual, prankster, bon vivant, workaholic, and dabbler in everything . . . If Cohen's your man and you're his fan, you'll want this book."
— Maclean's

"Posner masterfully weaves the story of the iconic musician's life through hundreds of interviews with the people who knew him best, including family members, business partners, and lovers alike."
— Chatelaine

"Leonard Cohen's posthumous album in 2019 proved he still had something profound to say, even in death. This book likewise confirms that hundreds of others have their own tales to tell about the master songwriter. The first of three volumes, it covers his early life via a myriad of fascinating interviewees, from rabbis to lovers. . . . Give it to anyone who misses Cohen."
— Evening Standard

"As the anecdotes accumulate up until 1970, they build a compelling picture of the worlds around [Cohen]—affluent Montreal suburbia, Canadian Jewish summer camps, beatnik coffeehouses, jetset bohemia—grounding his myth in solid context, enriching it with casual detail. . . . As with any good oral history, the stories and opinions slowly coalesce like pointillist dots, shifting into a complex portrait of a man stepping into his myth, becoming brilliant."
— MOJO Magazine

"Sex, drugs, and poetry permeate this oral history of Leonard Cohen. . . . This book offers a seductive blend of sometimes contradictory insights."
— Library Journal

"[The] multiple perspectives capture man and myth in tandem. For all of his gift for words, Cohen would have struggled to tell his story better himself."
— Uncut Magazine
Simon & Schuster, 9781982176891, 496pp.
Publication Date: October 12, 2021
About the Author
Michael Posner is an award-winning writer, playwright, and journalist, and the author or coauthor of eight previous books. These include the bestselling Leonard Cohen, Untold Stories: The Early Years, Vol. 1, as well as the Mordecai Richler biography The Last Honest Man, and the Anne Murray autobiography All of Me, both of which were national bestsellers. He was Washington Bureau Chief for Maclean's magazine and also managing editor of the Financial Times of Canada. He later spent sixteen years as a senior writer with The Globe and Mail.