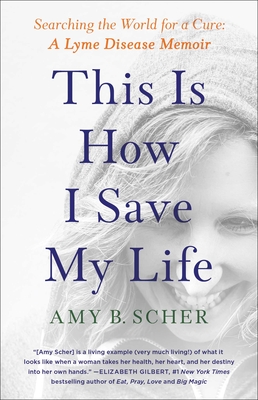 This Is How I Save My Life
Searching the World for a Cure: A Lyme Disease Memoir
Paperback

* Individual store prices may vary.
Other Editions of This Title:
Digital Audiobook (4/9/2018)
Hardcover (4/10/2018)
Compact Disc (4/10/2018)
Compact Disc (4/10/2018)
MP3 CD (4/10/2018)
Paperback (1/1/2013)
Description
"A heartwarming and inspiring story that will change the way you look at life." —Vikas Swarup, New York Times bestselling author of Slumdog Millionaire

"An Eat Pray Love-like memoir." —Pam Grout, #1 New York Times bestselling author of E-Squared

When doctors have all but given up, when a diagnosis eludes you, and when every test result raises more questions than answers, how do you save yourself?

By the time Amy B. Scher was twenty-eight-years-old, she had lived through almost a decade of misdiagnoses, excruciating pain, brain lesions, bone marrow biopsies, blood transfusions, and multiple hospital stays to treat her late-stage, chronic Lyme disease.

Taking forty-four pills a day and deteriorating rapidly, she consulted with more than sixty doctors, including the top experts in Los Angeles, the world-renowned Mayo Clinic in Minneapolis, and a state-of-the-art hospital in Chicago. When the best physicians in America labeled her condition incurable and potentially terminal, it was up to Amy to blaze her own path forward.

Then, in a stroke of serendipity, she heard about an experimental treatment only available in India—human embryonic stem cell therapy—which had as much probability of killing her as it did of curing her. She boarded a plane with no idea of what awaited her: culture shock, radical medical treatment, and most surprising of all, life-affirming love.

With warmth and humor, Amy's powerful and uplifting story of sheer determination is for anyone who believes in—or doubts—the existence of miracles. It is for anyone who wants desperately to believe in the power of the human spirit when it seems that all hope is lost. For everyone who has suffered from chronic pain, grappled with an autoimmune condition, fought for a diagnosis, or trusted their gut and their body when no one else did, Amy is a living example of how our instinct to survive can propel us onward.
Praise For This Is How I Save My Life: Searching the World for a Cure: A Lyme Disease Memoir…
"Amy Scher is a brave warrior and a wonderful writer. She is a living example (very much living!) of what it looks like when a woman takes her health, her heart, and her destiny into her own hands. My hope is that this book will inspire many other women to do the same."
—Elizabeth Gilbert, #1 New York Times bestselling author of Eat Pray Love and Big Magic

"An Eat Pray Love-like memoir."
—Pam Grout, #1 New York Times best selling author of E-Squared

"This Is How I Save My Life is a captivating memoir of Amy's journey of pain, suffering and adversity that is conquered by courage, faith and the strong inner pull to return to wholeness and be healed. A delightful and inspiring read."
—Sanjiv Chopra, MD MACP, Professor of Medicine at Harvard Medical School, bestselling author of Brotherhood with Deepak Chopra

"A heartwarming and inspiring story that will change the way you look at life."
—Vikas Swarup, New York Times bestselling author of Slumdog Millionaire

"Amy Scher goes to the edge of losing herself in mind, body, and spirit, and shows us that…sometimes it takes traveling to the other side of the globe to discover what was right in front of us all along."
—Laura Munson, New York Times bestselling author of This Is Not The Story You Think It Is, and founder of the Haven Writing Retreats

"A homecoming of healing, a human story of finding faith, wrapped in a blanket of humor and page-turning candor."
—Kristen Noel, Editor-in-Chief Best Self Magazine

"This is the rare book that is both breezy and deep. It speaks to the magic of international travel, and how it can tempt and taunt you to expand into the very best version of yourself, or perhaps become someone entirely new."
—Adam Skolnick, author of One Breath and over 30 Lonely Planet travel guides

"Heartwarming, poignant, and at times deeply funny, this book will shatter the preconceived notions we all subconsciously carry about who we are and what we're capable of."
—Sara DiVello, bestselling author of Where in the OM Am I?

"I was drawn to Amy's story immediately. . . . I was rooting for her victory, her recovery, [her] regaining some semblance of a normal life. This Is How I Save My Life shows her determination in the faith-invoking journey. Going beyond treatment became something even deeper, something within?"
—San Francisco Book Review

"In her stunning new memoir, the refrain 'we are the healing we've been waiting for' rings throughout…a beautiful testament to resilience that veers from the comical to the tragic."
—LA Review of Books
Gallery Books, 9781982177263, 272pp.
Publication Date: May 18, 2021
About the Author
Amy B. Scher is an award-winning and bestselling author of four books about human'ing and healing. She's been featured in The Washington Post, Daily News (New York), Cosmopolitan, CNN, CBS, the Los Angeles Review of Books, The Rumpus, and more. Scher was also named one of The Advocate's "40 Under 40." Amy's books have been translated into thirteen languages and endorsed by notable authors such as Elizabeth Gilbert (Eat, Pray Love); Vikas Swarup (Slumdog Millionaire); and Sanjiv Chopra, MD, MACP, Harvard Medical School (Brotherhood with Deepak Chopra). Amy lives in New York City with her beautiful wife and bad cat.
or
Not Currently Available for Direct Purchase