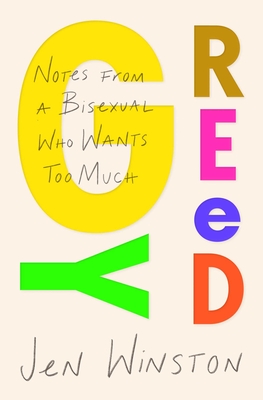 Greedy
Notes from a Bisexual Who Wants Too Much
Paperback

* Individual store prices may vary.
Other Editions of This Title:
Digital Audiobook (10/4/2021)
Compact Disc (10/5/2021)
Description
Finalist for the 2022 Lambda Literary Award for Bisexual Nonfiction

A hilarious and whip-smart collection of essays, offering an intimate look at bisexuality, gender, and, of course, sex. Perfect for fans of Lindy West, Samantha Irby, and Rebecca Solnit—and anyone who wants, and deserves, to be seen.

If Jen Winston knows one thing for sure, it's that she's bisexual. Or wait—maybe she isn't? Actually, she definitely is. Unless…she's not?

Jen's provocative, laugh-out-loud debut takes us inside her journey of self-discovery, leading us through stories of a childhood "girl crush," an onerous quest to have a threesome, and an enduring fear of being bad at sex. Greedy follows Jen's attempts to make sense of herself as she explores the role of the male gaze, what it means to be "queer enough," and how to overcome bi stereotypes when you're the posterchild for all of them: greedy, slutty, and constantly confused.

With her clever voice and clear-eyed insight, Jen draws on personal experiences with sexism and biphobia to understand how we all can and must do better. She sheds light on the reasons women, queer people, and other marginalized groups tend to make ourselves smaller, provoking the question: What would happen if we suddenly stopped?​​

Greedy shows us that being bisexual is about so much more than who you're sleeping with—it's about finding stability in a state of flux and defining yourself on your own terms. This book inspires us to rethink the world as we know it, reminding us that Greedy was a superpower all along.
Praise For Greedy: Notes from a Bisexual Who Wants Too Much…
"Jen Winston has been unlearning and learning anew and sharing that experience for over a decade. Her vulnerability contrasted with her self-containment provides an accessible, prescient education that is simultaneously not indulgent and delightfully pleasurable. Jen's work makes me feel safe, seen, proudly queer, and proudly woman, encompassing all the facets."
— Ilana Glazer

"Reading Greedy is like hanging out with your coolest friend—the one who knows where to find the best party in Amsterdam and the most important protest in New York; the one with the wildest stories, the perfect reading suggestions, and hundreds of thousands of Instagram followers. As affecting as it is thought-provoking, Jen Winston's debut is part memoir, part call to action, and all heart."
— Diana Spechler, author of Skinny and Who by Fire and writer of the New York Times column "Going Off"

"Winston viscerally describes the sense of being unmoored without language to describe herself and the difficult path to finding it, all with a breezy irreverence that will enamor her to fans of millennial essayists like Samantha Irby and Jia Tolentino. One of her greatest strengths is in pivoting from acerbic wit to earnest reflection . . . In playfully queering the coming-of-age story, Winston has written something wholly original, and entirely delightful."
— Publishers Weekly

"Provocative and profound, funny and frank."
— OprahDaily.com

"I found Jen Winston's forthcoming memoir so resonant that I eventually had to stop underlining it because the book was looking ridiculous. She weaves research and humor seamlessly, contextualizing relatable experiences like bi imposter syndrome, wondering if you simply want to 'be' your same-sex crushes, and the external/internalized gatekeeping from the larger queer community. This book is an entertaining-yet-information-packed crash course in what bisexuality can really mean."
— BuzzFeed

"In Greedy, Winston hilariously, entertainingly, and honestly approaches her journey to asserting her sexuality. But this isn't just any memoir; it's also an educational examination that delves into identity, cultural misunderstandings of bisexuality and the microaggressions that come along with that, why coming out bi has specific challenges, and more."
— Shondaland

"In this cackle-loudly-and-send-quotes-to-your-friends chronicle of bisexuality, Winston takes us from banana blow job practice to a confusing adulthood of wondering if she is entitled to the Chromatica Oreos. It's a memoir but also a rich snapshot of one part of queer culture, a story of awkwardness and identity crisis that Winston hopes will "become obsolete." The wonder will stay, she promises, but the wondering where you belong will become a thing of the past."
— Glamour
Atria Books, 9781982179175, 336pp.
Publication Date: October 5, 2021
About the Author
Jen Winston (she/they) is a writer, creative director, and bisexual based in Brooklyn. Their work bridges the intersection of sex, politics, and technology, and has been featured in The Wall Street Journal, The Washington Post, CNN, and more. Jen is passionate about unlearning and creating work that helps others do the same. Her newsletter, The Bi Monthly, is dedicated to exploring bi issues and experiences—it comes out every month, much like Jen herself. Follow Jen on Twitter, Instagram, and TikTok (please, she's begging you): @Jenerous.