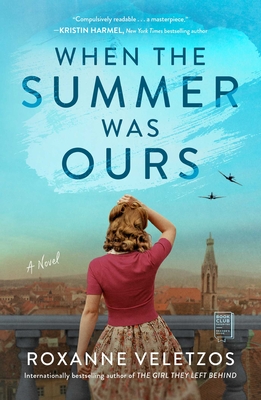 When the Summer Was Ours
A Novel
Hardcover

* Individual store prices may vary.
Other Editions of This Title:
Digital Audiobook (8/23/2021)
Library Binding, Large Print (2/23/2022)
Compact Disc (8/24/2021)
Paperback (8/24/2021)
Description
"This compulsively readable tale of loss and love during and after the Second World War is a masterpiece." —Kristin Harmel, New York Times bestselling author

"A gorgeously written, impeccably researched historical novel, spanning decades and continents, and filled with a richly drawn cast of characters." —Jillian Cantor, USA TODAY bestselling author

This epic World War II tale of star-crossed lovers separated by class, circumstance, and ​tragedy—from the international bestselling author of the "gripping…filled with passion and hope" (Kate Quinn, New York Times bestselling author) The Girl They Left Behind—explores the impact of war on civilian life and the indestructible resilience of first love.

Hungary, 1943: As war encroaches on the country's borders, willful young Eva César arrives in the idyllic town of Sopron to spend her last summer as a single woman on her aristocratic family's estate. Longing for freedom from her domineering father, she counts the days to her upcoming nuptials to a kind and dedicated Red Cross doctor whom she greatly admires.

But Eva's life changes when she meets Aleandro, a charming and passionate Romani fiddler and artist. With time and profound class differences against them, Eva and Aleandro still fall deeply in love—only to be separated by a brutal act of hatred.

As each are swept into the tides of war, they try to forget their romance. Yet, the haunting memory of that summer will reshape their destinies and lead to decisions which are felt through generations.

From the horrors of the Second World War to the tensions of the 1956 Hungarian uprising and beyond, When the Summer Was Ours is a sweeping story about the toll of secrets, the blurred lines between sacrifice and obsession, and the endurance of the human spirit.
Praise For When the Summer Was Ours: A Novel…
"A fast-paced, illuminating, gorgeously written epic, this compulsively readable tale of loss and love during and after the Second World War is a masterpiece." —Kristin Harmel, New York Times bestselling author of The Forest of Vanishing Stars

"In her novel of forbidden romance, conflict, separation, and reunion, Roxanne Veletzos creates a world devastated by the brutality of war, yet inhabited by characters whose challenges are matched by their hope and an epic love that defies social boundaries, geography, and time." –Lisa Wingate, #1 New York Times bestselling author of Before We Were Yours and The Book of Lost Friends

"When the Summer Was Ours is a breathtaking romance that unfolds in a richly drawn landscape of war and loss—a gripping, unforgettable story of enduring love and the fragile yet indomitable hope that sustains the human heart through tragedy to redemption." —Jennifer Chiaverini, New York Times bestselling author of Resistance Women

"A gorgeously written, impeccably researched historical novel, spanning decades and continents, and filled with a richly drawn cast of characters. Roxanne Veletzos deftly weaves a tale of music, heartbreak, survival, and ultimately, enduring love. I devoured this beautiful, moving book." —Jillian Cantor, USA Today bestselling author of Half Life

"A gripping story of a passionate, illicit love affair torn apart by decades of brutal inhumanity and secrets. Through unimagined journeys of self-discovery and determination, the characters must find within themselves the courage not only to endure but to once again reach for the impossible. A heart wrenching, vivid novel of love, war, and loyalty written in Roxanne Veletzos' trademark style of unapologetic honesty and lasting devotion." —Genevieve Graham, bestselling author of The Forgotten Home Child

"A remarkable story of love, suffering, and second chances, told in immersive prose. With its rich setting and bittersweet twists of fate, When the Summer was Ours drew me in and kept me wondering until the final page. I highly recommend this original and moving WWII read." —Ellen Keith, bestselling author of The Dutch Wife

"A sweeping story of love and forgiveness. You won't want to put this book down." —Diana Giovinazzo, author of The Woman in Red

"Like the gypsy music that is at the center of this wonderful novel, WHEN THE SUMMER WAS OURS is a lyrical and deeply moving story of star-crossed love during World War II, Hungary. Eva is a complex heroine and her ultimate fate is bittersweet and rewarding at the same time. Book clubs will love this intimate tale of courage and sacrifice." —Anita Abriel, internationally best selling author of Lana's War

"A sweeping, heartbreaking love story about how the smallest of choices can change our fates. Set against the backdrop of war and revolution, When Summer Was Ours is an artfully written story told with deep compassion. Historical fiction fans will love this book!" —Julia Kelly, author of The Whispers of War

"A Tale of Two Cities meets The Nightingale in this luminous wartime love story that sweeps readers from an impoverished Romani camp in Hungary at the brink of World War Two to the Siege of Budapest and on to the New York art scene during the Cold War. Tenderly drawn and lyrically told, Roxanne Veletzos's unforgettable characters show us the political is always personal, art is both transcendent and fragile, and courage is the ultimate weapon against injustice. Transportive and moving, When the Summer Was Ours is haunted by the violin music of the Romani people and a love that endures through war and devastation." —Laurie Lico Albanese, author of Stolen Beauty

"In this heartbreaking, powerful story of unrequited love, Veletzos draws us into Eva and Aleandro's enduring love affair that spans half a century, from WWII Hungary to 1950s New York and the Cold War, in which their personal upheavals and triumphs are artfully intertwined with those of history. Veletzos' beautiful and well-crafted novel, in lush sensual prose, opens the deep chambers of the heart to show the choices and regrets, and the secret hopes, we all carry within us." —Alexis Landau, author of Those Who Are Saved

"With exquisitely realized characters, Veletzos deftly frames this unforgettable romance against the backdrop of history." —Booklist
Atria Books, 9781982187743, 384pp.
Publication Date: August 24, 2021
About the Author
Roxanne Veletzos was born in Bucharest, Romania, and moved to California with her family as a young teen. Already fluent in English and French, she began writing short stories about growing up in her native Eastern Europe, at first as a cathartic experience as she transitioned to a new culture. With a bachelor's degree in journalism, she has worked as an editor, content writer, and marketing manager for a number of Fortune 500 companies. Her debut novel, published in multiple languages, is an international bestseller. Roxanne lives in the San Francisco Bay Area.