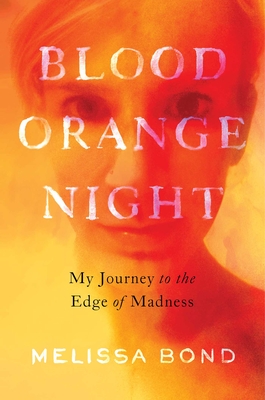 Blood Orange Night
My Journey to the Edge of Madness
Hardcover

* Individual store prices may vary.
Other Editions of This Title:
Digital Audiobook (6/13/2022)
Compact Disc (6/14/2022)
Description
Brain on Fire meets High Achiever in this "page-turner memoir chronicling a woman's accidental descent into prescription benzodiazepine dependence—and the life-threatening impacts of long-term use—that chills to the bone" (Nylon).

As Melissa Bond raises her infant daughter and a special-needs one-year-old son, she suffers from unbearable insomnia, sleeping an hour or less each night. She loses her job as a journalist (a casualty of the 2008 recession), and her relationship with her husband grows distant. Her doctor casually prescribes benzodiazepines—a family of drugs that includes Xanax, Valium, Klonopin, Ativan—and increases her dosage on a regular basis.

Following her doctor's orders, Melissa takes the pills night after night; her body begins to shut down and she collapses while holding her infant daughter. Only then does Melissa learn that her doctor—like many doctors—has over-prescribed the medication and quitting cold turkey could lead to psychosis or fatal seizures. Benzodiazepine addiction is not well studied, and few experts know how to help Melissa as she begins the months-long process of tapering off the pills without suffering debilitating, potentially deadly consequences.

Each page thrums with the heartbeat of Melissa's struggle—how many hours has she slept? How many weeks old are her babies? How many milligrams has she taken? Her propulsive writing crescendos to a fever pitch as she fights for her health and her ability to care for her children. Lyrical and immersive, Blood Orange Night shines a light on the prescription benzodiazepine epidemic as it reaches a crisis point in this country.
Praise For Blood Orange Night: My Journey to the Edge of Madness…
"In her propulsive, poetic memoir, Blood Orange Night, Bond narrates her experience in harrowing detail… Told with a journalist's commitment to fact and a poet's touch."
—Shelf Awareness

"In this raw and captivating debut, journalist Bond chronicles her volatile descent into a benzodiazepine addiction... Pairing her unsparing candor with the same deep compassion she finds in the physician who helped her level out, Bond's narrative casts a burning light onto the hazards of overprescribing and the threat it poses to vulnerable people. This cautionary tale stuns."
—Publishers Weekly (Starred Review)

"A harrowing memoir about a class of drugs as dangerous as opioids… Bond's sharp critique of big pharma and the broken American health care system sounds an urgent alarm. A vivid chronicle of suffering."
—Kirkus Reviews

"Bond's story, with lines like 'the blood orange night turns red and screams through my eyes,' is an eloquent cautionary tale."
—Booklist

"A page-turner memoir chronicling a woman's accidental descent into prescription benzodiazepine dependence – and the life-threatening impacts of long-term use – that chills to the bone."
—Nylon

"Deeply personal insight into the ongoing benzodiazepine epidemic."
—AV Club

"An engaging testament to the powers of self-advocacy and resilience written with lyrical clarity and heart. This cautionary tale will help many understand how prescription drug dependency can happen and the strength and courage required to overcome it. Highly recommended."
—Library Journal

"There is a line in this evocative memoir that I will not forget, for it so perfectly sums up the effect that benzodiazepines have had on millions of lives: 'Benzos are the thief that steals everything you own a piece at a time.' In Blood Orange Night, Melissa Bond writes of the thief that crept into her life with the narrative skills of a fine novelist."
—Robert Whitaker, author of Anatomy of an Epidemic and Mad in America

"Blood Orange Night is a beautifully written and exceptionally moving firsthand account of Melissa Bond's struggle with addiction to benzodiazepines. It should be read by anyone considering taking or prescribing medication for insomnia."
—Irving Kirsch, PhD, author of The Emperor's New Drugs: Exploding the Antidepressant Myth

"This is the best-written and most immersive personal story on benzos that I have read. Melissa Bond summarizes the benzodiazepine crisis that is invisibly growing in the shadow of the opioids when she writes: 'Benzos dismantle the brain over time. Instead of a swift and sudden death by overdose, there is a slow slide into disability.' Immersed in her deeply personal story and peppered with pulsating prose, Blood Orange Night shows the terrifying but not uncommon consequences of using these drugs long-term as prescribed."
—Bernard Silvernail, Co-founder and President, The Alliance for Benzodiazepine Best Practices

"Blood Orange Night has it all: sex, ABC World News with Diane Sawyer, brutal addiction that's not addiction, and outright beauty (not necessarily in that order). There's also a hilarious kiddo with Down Syndrome lighting the book from the inside, but he's just the cherry on top of a magnificent cake of a book. If we were at a dinner party together and you asked me about it, I'd tell you to get the thing; get this book now and devour it. It's that good."
—Stephanie Wilder Taylor, author of Sippy Cups are not for Chardonnay

"With the unblinking eye of a journalist and the highly attuned heart of a poet, Melissa Bond brilliantly lays out the abyss prescribed benzodiazepine tranquilizers opened in her life…Blood Orange Night cuts to the bone. Here, truly, is hell on earth, and I can't help but be awed by the strength and perseverance Bond manifested to emerge intact for her own sake and for that of her children."
—Matt Samet, author of Death Grip
Gallery Books, 9781982188276, 288pp.
Publication Date: June 14, 2022
About the Author
Melissa Bond is narrative journalist and poet. In the years of her dependence on benzodiazepines, Melissa blogged and became a regular contributor for Mad in America. ABC World News Tonight interviewed her for a piece in January 2014. Melissa is a respected writer on the perils of over-prescribing benzodiazepines and has been featured on the podcasts Risk!, IGNTD, and The Addiction Podcast. Learn more at MelissaABond.com.