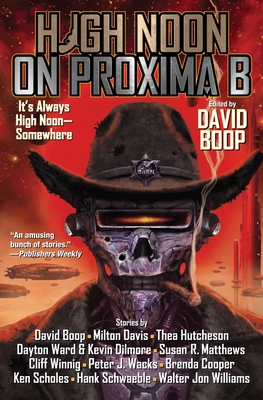 High Noon on Proxima B
Paperback

* Individual store prices may vary.
Description
It's always high noon on Proxima Centauri b. Original stories about the final frontier.

YOU TELL 'EM THE SPACE COWPOKES A'COMIN' AND HELL IS COMIN' WITH 'EM!

Adventure! Danger! Revenge! And a mail-order robot gunslinger in a wedding dress? Only in the wildest parts of space could this happen. It's time again to get in your ramshackle rocket ship and journey to the universe's western territories with this follow-up to Gunfight on Europa Station.

Meet the employees of a space bordello as they're drawn together to pull a con on a con. Or the crew filming a Western on a colony ship only to fight gravity and each other. Or a soldier on a backwater planet hiding from her past when it—and the military—finally tracks her down. Each voyage invokes the type of Western yarns you've loved before, but with a science fiction upgrade you'll get to enjoy anew.

Taking you on this ride are another set of astounding space opera authors such as Walter Jon Williams (Hardwired), Susan R. Matthews (Under Jurisdiction), Dayton Ward and Kevin Dilmore (Star Trek), Brenda Cooper (Project Earth), Milton Davis (Changa's Safari), Hank Swchaeble (Moonless Nocturne), Peter J. Wacks (Caller of Lightning) and more!

Ten tales of the West . . . not as it was, but as it might be!

About Gunfight on Europa Station:

"An enjoyable selection of hard SF stories that consistently entertain, with several that are really rather good." —Tangent Online

"Gunfight on Europa Station is another creative anthology from Baen Books, which has delivered many times before... It'll give you a home where the aliens roam—and its immense fun for it." —Warped Factor

About Straight Outta Dodge City:
"A dark, diverting anthology of 14 original tales, the third in a series. . . . By tossing weird fiction concepts into western settings, these tales give rise to unusual what-ifs. . . . [T]he ever-enjoyable Joe R. Lansdale is on hand with 'The Hoodoo Man and the Midnight Train,' an energetic tale of a mystical gunfighter, and Harry Turtledove presents the delightful 'Junior & Me,' set in an alternate world in which evolution favored reptiles rather than mammals, and the ornery galoot narrating the yarn is actually a highly evolved dinosaur. The result is an amusing . . . bunch of stories." —Publishers Weekly

About Straight Outta Tombstone:
"The authors were having fun. Even when they are not playing the stories for laughs, they are taking an opportunity to . . . tell a story with a fresh twist, and expand out of their expected boundaries." —The Galveston County Daily News
Baen, 9781982192426, 256pp.
Publication Date: February 7, 2023
About the Author
David Boop is an award-winning author and editor specializing in weird Westerns.