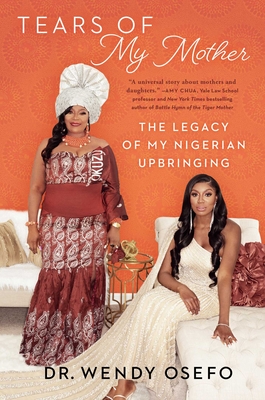 Tears of My Mother
The Legacy of My Nigerian Upbringing
Hardcover

* Individual store prices may vary.
Other Editions of This Title:
Digital Audiobook (9/19/2022)
Compact Disc (9/20/2022)
Description
When star of Bravo's The Real Housewives of Potomac Dr. Wendy Osefo was growing up, her mother was her everything. But when she became a mother herself, everything changed. In this powerful memoir, Wendy explores how her Nigerian upbringing has affected her life, her success, and her role as a parent.

Wendy Osefo's mother, Iyom Susan Okuzu, arrived in the United States from Nigeria with two things: a single suitcase and the fierce determination to make a better life for herself and her future family. And she succeeded: starting out working in a fast-food restaurant and ultimately becoming the director of nursing at a major metropolitan hospital.

While Susan may have taken pride in triumphing over every financial and emotional challenge, in Nigerian culture, a parent is only as successful as his or her children. And so her daughter, with gratitude and appreciation for her mother's sacrifices, worked hard to meet every demand Susan made of her. With four advanced degrees and a position at Johns Hopkins University as a professor—as well as being a highly sought-after political commentator, a cherished wife, and a loving mother of three—Dr. Wendy has given her mother bragging rights for life. But at what cost to herself?

In Tears of My Mother, the star of The Real Housewives of Potomac describes growing up as a first-generation American, balancing two distinct cultures. And she takes a critical look at the paradox of her mother's parenting: approval conditioned by achievement. As a teenager, Wendy struggled to carve out her own identity while still walking the narrow path of her mother's expectations. Unwavering family loyalty and obedience gave Wendy the road map to making it in America, but it also drove a wedge between mother and daughter, never more so than when she began to build her own family.

To this day, Wendy still grapples with how much she owes her mother and how to blend her American experience and Nigerian legacy in raising her children. At what point does the dutiful child become a woman in her own right? This book is for anyone who has faced conflict in the mother-daughter relationship, or wondered how much of their own upbringing they want to pass on to the next generation.
Praise For Tears of My Mother: The Legacy of My Nigerian Upbringing…
"Other first-generation immigrants may recognize some of their own struggles in this book and be able to see themselves in Wendy's story. This memoir is a love letter to Dr. Osefo's mother and first-generation immigrants all across America. Readers don't have to be Real Housewives fans to enjoy this touching story of love, loss, and emotional growth."
—Library Journal

"An honest, often funny, sometimes shocking examination of mother-daughter relationships."
—Booklist

"Raw, funny, and shockingly honest, a universal story about mothers and daughters, generational divides, and the need to break free from even those we love and admire most. This deeply moving story of a first generation Nigerian American is a lightning bolt—I fell in love with it immediately."
—Amy Chua, Yale Law Professor and author of Battle Hymn of the Tiger Mother and Political Tribes: Group Instinct and the Fate of Nations

"In Tears of My Mother, Dr. Wendy Osefo artfully captures the horrors that so many first-generation immigrants face in pursuit of that 'perfect American dream.' Not only does Osefo brilliantly document the struggle in a way that only a true researcher can, but she offers a clear path to success, without pulling any punches. Tears of My Mother is a sobering exploration of family that has the power to educate generations."
—D. Watkins, HBO writer, New York Times bestselling author of The Beast Side and Black Boy Smile

"Osefo is a gifted storyteller, and she gives us this one with equal parts candor and heart. She's always careful to stay out of the way of the book's true star: her remarkable Nigerian-born mother, Susan, who flouted tradition while upholding it. Susan demonstrated her own brand of love, Nigerian style, while modeling success, American style. I've yet to read a more exquisitely-drawn portrait of the intense bond that only a mother can have with a daughter."
—Katie Haufner, author of Mother Daughter Me: A Memoir

"A beautiful ode to a fierce Nigerian mother whose tremendous sacrifices and iron will is recognizable to many Americans raised by immigrants. I loved this story."
—Omarosa Manigault Newman, New York Times bestselling author of Unhinged
Gallery Books, 9781982194505, 272pp.
Publication Date: September 20, 2022
About the Author
Dr. Wendy Osefo is a Nigerian American political commentator, public affairs academic, philanthropist, and television personality. She is an assistant professor at Johns Hopkins School of Education. She is also a cast member on The Real Housewives of Potomac.