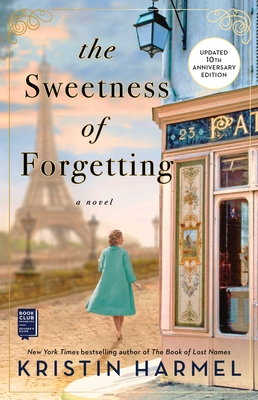 The Sweetness of Forgetting
Paperback

* Individual store prices may vary.
Other Editions of This Title:
Paperback (8/7/2012)
Description
The "beautifully complex" (Woman's Day) classic that made Kristin Harmel a superstar follows a woman who must travel from Cape Cod to Paris to uncover a family secret for her dying grandmother that could change everything. Updated with a new author's note and recipes for this 10th anniversary edition!

At thirty-six, Hope McKenna-Smith is no stranger to bad news. She lost her mother to cancer, her husband left her, and her bank account is nearly depleted. Her own dreams of becoming a lawyer long gone, she's running a failing family bakery on Cape Cod and raising a troubled preteen.

Now, Hope's beloved French-born grandmother Mamie is drifting away in a haze of Alzheimer's. But in a rare moment of clarity, Mamie realizes that unless she tells Hope about the past, the secrets she has held on to for so many years will soon be lost forever. Tantalizingly, she reveals mysterious snippets of a tragic history in WWII Paris. Armed with a scrawled list of names, Hope heads to France to uncover a seventy-year-old mystery.

What follows is "an immersive and evocative tale of generations struggling to survive" (Publishers Weekly) as Hope pieces together her grandmother's past bit by bit. Uncovering horrific tales of the Holocaust, she realizes the astonishing will of her grandmother to endure in a world gone mad. And to reunite two lovers torn apart by terror, all she'll need is a dash of courage, and the belief that God exists everywhere, even in cake.

"Kristin Harmel is a powerful and dazzling voice in historical fiction." —Patti Callahan, New York Times bestselling author of Surviving Savannah
Praise For The Sweetness of Forgetting…
"[The Forest of Vanishing Stars is] Fascinating, meticulously researched, and utterly unique."
— Kelly Rimmer, New York Times bestselling author of THE WARSAW ORPHAN

"With breathtaking natural descriptions, vivid historical details, and a brave heroine worth cheering for who must fulfill a destiny prophesied since birth, this novel is not to be missed!"
— Heather Webb, USA Today bestselling author of The Next Ship Home, on The Forest of Vanishing Stars

"What a triumph! Not since Alice Hoffman's The Dovekeepers, have I read such a spellbinding and immersive tale of a people's will to survive."
— Stephanie Dray, NYT Bestselling author of The Women of Chateau Lafayette, on The Forest of Vanishing Stars

"With meticulous research and an assured hand, Kristin Harmel once again spotlights French Resistance figures of the Second World War, unique heroes whose bravery and immeasurable sacrifices are too often lost to history. THE BOOK OF LOST NAMES is a fascinating, heartrending page-turner that, like the real-life forgers who inspired the novel, should never be forgotten. A riveting historical tale that I devoured in a single sitting."
— Kristina McMorris, New York Times bestselling author of Sold on a Monday

"Harmel brilliantly imagines the life of a young Polish-French Jewish woman during the depths of WWII...Harmel movingly illustrates Eva's courage to risk her own life for others, and all of the characters are portrayed with realistic compassion. This thoughtful work will touch readers with its testament to the endurance of hope."
— Publishers Weekly (starred review)

"Not since "The Nightingale" have I finished a book and been so choked with emotion. Harmel was inspired by the true story of French citizens who fought against evil during WWII with courage and conviction. She shines a brilliant light on those who had their identities erased and lives destroyed, on a country and its people torn apart, and young women like Eva, who risked their lives with everyday acts of epic heroism. Sweeping and magnificent."

— Fiona Davis, national bestselling author of The Lions of Fifth Avenue

"A heart-stopping tale of survival and heroism centered on a female forger who risks everything to help Jewish children escape Nazi-occupied France."
— People (20 Best Books to Read this Summer)

"Harmel's previous historical novels, including The Winemaker's Wife (2019), illuminate heartbreakingly real but forgotten stories from World War II, blended with a dash of suspense and romance, and this does the same. Recommend to fans of romantic historical fiction, including All the Ways We Said Goodbye (2020)."
— Booklist

"With exceptional skill, Kristin Harmel constructs The Winemaker's Wife between the past and the present, giving equal weight and importance to both, all the while weaving a tale full of secrets and betrayals that puts to the test mankind's strength, fragility and vileness. Once you start reading this moving novel, you will not be able to put it down until you reach the last page."
— Armando Lucas Correa, bestselling author of The German Girl, on THE WINEMAKER'S WIFE

"Harmel's engrossing latest reminds us that love, like resistance, begins with courage."
— People on THE ROOM ON RUE AMELIE

"This book of historical fiction is also a surprising story of love, courage, and the resiliency of the human spirit....[Harmel] manages to draw her audience in, even to the point of unexpected tears at the story's end.."
— Jewish Book Council on THE ROOM ON RUE AMELIE

"THE SWEETNESS OF FORGETTING is absolutely enthralling and full of twists and turns that add to the drama and keeps the tale moving along. Author Kristin Harmel does a magnificent job of telling this saga of one family's search for understanding. She also handles her approach to Alzheimer's disease with gentleness and understanding. Readers will remember THE SWEETNESS OF FORGETTING long after the final page is turned."
— Fresh Fiction

"Kristin Harmel's novels are written with a lot of heart and soul. She has a way of bringing the reader into her stories in such a powerful way that they can often forget they're reading at all. The Sweetness of Forgetting may just be Harmel's best book yet."
— Lisa Steinke

"Kristin Harmel writes with such insight and heart that her characters will stay with you long after you've finished her books."
—New York Times bestselling author Emily Giffin

"Kristin Harmel...[is] one of my favorite authors!"
–Melissa Senate, bestselling author of The Love Goddess' Cooking School
Gallery Books, 9781982198435, 400pp.
Publication Date: October 4, 2022
About the Author
Kristin Harmel is the New York Times bestselling author of over a dozen novels including The Forest of Vanishing Stars, The Book of Lost Names, The Room on Rue Amélie, and The Sweetness of Forgetting. She is published in thirty languages and is the cofounder and cohost of the popular web series, Friends and Fiction. She lives in Orlando, Florida.