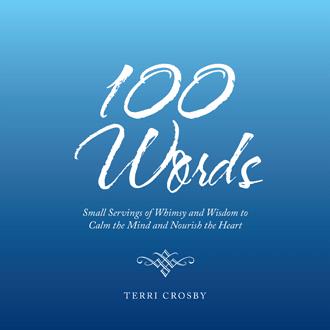 100 Words (Paperback)
Small Servings of Whimsy and Wisdom to Calm the Mind and Nourish the Heart
Balboa Press, 9781982214036, 88pp.
Publication Date: October 25, 2018
* Individual store prices may vary.
Description
100 Words is a collection of thoughtful and thought-provoking writings accompanied by beautiful photography. From a tiny bird's song to the death of a spouse, the subjects of these poems and writings will touch you and encourage you. You'll undoubtedly laugh, and probably cry, as you make your way through the pages. You'll be invited to look at life, nature, creativity and relationships differently, more positively, more hopefully. You'll certainly be reminded of the gift of appreciating small moments.
About the Author
Terri Crosby is a relationship mentor, writer, blogger and speaker with a private consulting practice for individuals and couples. She believes improving relationships with others starts (and stays) with ourselves, and that it takes only one person to change a marriage. Her work and blog can be found at www.InCareofRelationships.com. Terri is currently writing a second book especially for women who have been married multiple times which will also be published by Balboa Press.
Praise For 100 Words: Small Servings of Whimsy and Wisdom to Calm the Mind and Nourish the Heart…

I have read and loved everyone of these hundred word poems. Terri has a way of capturing the most profound and deep parts of ourselves and life in a way that makes me smile and gain a lighter perspective. I have opened every email and blog she has sent me for the past 20 years because I know it will touch my heart and give me a feeling of connection, hope and joy. - Delia, Balboa customer

I received the book a few days ago and I am enjoying the 100 word morsels deeply. They are not only delightful but go straight to the heart. I sometimes find myself laughing and moved to tears all within one 100-word piece. This is absolutely a book to be read and savored. - Amy Mandel, Amazon customer

I loved the photos expressing each vignette. Delightful read. Can open to any page and get lifted up to an expansive perspective chock full o heart and soul. - Laura Todd, Amazon customer

100 Words is a book to savor. Each page offers a gentle, insightful perspective on a life-moment that we can all connect to. Terri Crosby helps me to take a look at experiences and emotions in a way that hadn't occurred to me. I find myself smiling, or saying, "oh, yes." The photos are a beautiful accompaniment to the writing. - Amazon customer