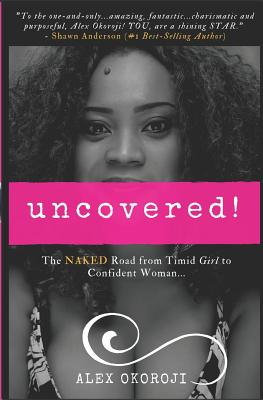 Uncovered! (Paperback)
The Naked Road from Timid Girl to Confident Woman
Independently Published, 9781982950866, 194pp.
Publication Date: July 25, 2018
* Individual store prices may vary.
Description
Will YOU Give Yourself The
Freedom
to UNCOVER The "Next Level" to Your
Greatness
?
In this raw & riveting coming of age memoir, Nigerian Actress,
Alex Okoroji
takes off the covers and unravels the connectionbetween Truth, Freedom & Greatness...
She gets downright NAKED & gritty, unashamed to tell it like it is - illustrating her own powerful journey to reinvention - as she strips down the lies & insecurities, ripping apart her limited beliefs about love, sex, money, and friendship to reveal her innermost secrets, relationship failures, career hurdles, and the endless self-doubt... Through which she UNCOVERS wisdom, freedom and a new perspective "living in a light bulb of truth" as she NOW knows it - to become the highest expression of confidence, brilliance, talent, and greatness.
This is an incredible personal revelation, that will trigger millions of men & women all over the world, to reflect on their own personal journey, unravel their relationship with money, beliefs, people, and even God, so they can recognize their own truth, experience freedom & uncover their greatness too.
It's time to stop hiding your talent, gift, message, and brilliance. Hiding does not serve the world and it doesn't serve you either.
This book invites YOU to UNCOVER the answers to some of your biggest limitations.
If you want to be bold, daring & fearless in your pursuit for Greater Purpose.
If you want to strip all the baggage, lies and bullshit weighing you down.
If you want to peel off layers of limiting beliefs & obstacles holding you back from offering your best self.
If you want to operate from a place of Freedom & Power, instead of fear or self-doubt.
If you want to be encouraged to create big powerful moves for yourself in love, life and business.
If you want a darn good laugh, and some inside scoop on how she reinvented herself.
If you want the answers on how to own your truth and leverage your past pain, failures and traumatic experiences to achieve genuine transformation.
Get this book
NOW
because there is a "next level" with your name on it and it's time for the world to uncoveryour Greatness.