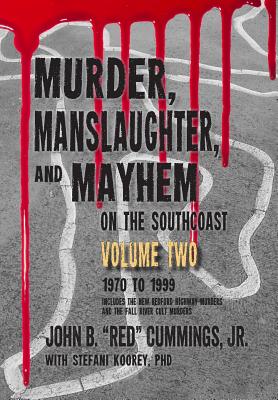 Murder, Manslaughter, and Mayhem on the SouthCoast, Volume Two
1970-1999
Paperback

* Individual store prices may vary.
Description
Murder does not discriminate. Victims and killers come from all races, nationalities, genders, and age groups. Many used or sold drugs. Some killers were just "bad" people who did not regret their actions and had no qualms about how they slew their victims. There were cult murders and unsolved roadside killings of young women believed to be prostitutes. Some of these murderers were released to kill additional innocent victims. The murderers in these pages used guns, knives, axes, fists, fire, rope, and other tools-including their hands-to commit their dastardly deeds. Fathers killed their children, husbands and wives killed each other, and children murdered their parents. Police officers were killed in cold blood while doing their jobs. Murders were committed in the suburbs and the city-Such is Murder, Manslaughter, and Mayhem on the SouthCoast, Volume Two.
Createspace Independent Publishing Platform, 9781984130273, 350pp.
Publication Date: January 25, 2018