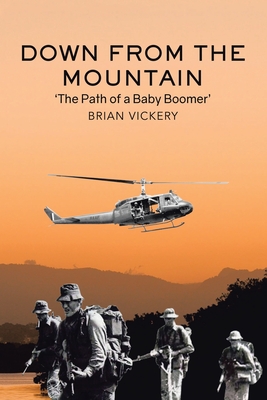 Down from the Mountain
The Path of a Baby Boomer
Paperback

* Individual store prices may vary.
Other Editions of This Title:
Hardcover (7/16/2020)
Description
The book was written to record the history of Brian's father and his uncles. They all joined the Second World War together and Brian thought that their service should not go unrecorded - it was intended to be a short history but led itself into Brian's life when he unexpectedly found himself drafted into an Army that he had no interest in joining - the Army however provided a dimension for Brian that he had never visualized and provided the experiences and friendships that can only be achieved through hardship and common deprivation. These experiences were thought worthy of being included in the book for the purpose of providing a more complete history of Brian's family with particular emphasis on the way he viewed a thirteen month tour of Vietnam and how it affected him. The path Brian took was the same as many who were born during post war years hence the term Baby Boomers.
Xlibris Au, 9781984506535, 308pp.
Publication Date: July 16, 2020
About the Author
The author was a born when his parents owned a banana plantation on the Eastern side of Mount Warning - hence the name of the book. Brian was born in 1945 and was schooled in Murwillumbah NSW Australia - he did well in his early schooling but was shy and lacked concentration - he enjoyed all things outdoor. Brian left school 3 days before his 15th birthday with the aim of becoming a carpenter - recession prevented this and he ended up working for Australia Post until called up in the National Service Ballot - this changed his life and provided a future form him and his family for the next 22 years - it was during this time that the more adventurous part of his life evolved. Brian has a wife of 53 years, two daughters and four grandchildren and lives on the southern part of the Australian Gold Coast