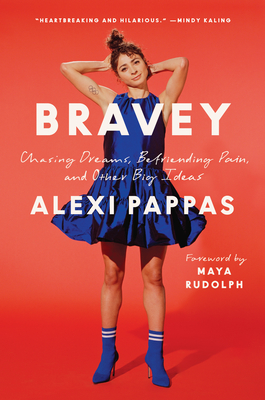 Bravey
Chasing Dreams, Befriending Pain, and Other Big Ideas
Hardcover

* Individual store prices may vary.
Other Editions of This Title:
Digital Audiobook (1/11/2021)
Paperback (1/4/2022)
Description
The Olympic runner, actress, filmmaker and writer Alexi Pappas shares what she's learned about confidence, self-reliance, mental health, embracing pain, and achieving your dreams.

NAMED ONE OF THE BEST BOOKS OF THE YEAR BY REAL SIMPLE • "Heartbreaking and hilarious."—Mindy Kaling • "A beautiful read."—Ruth Reichl • "Essential guidance to anyone dreaming big dreams."—Shalane Flanagan • "I couldn't put it down."—Adam Grant

run like a bravey
sleep like a baby
dream like a crazy
replace can't with maybe

When "Renaissance runner" (New York Times) Alexi Pappas—Olympic athlete, actress, filmmaker, and writer—was four years old, her mother died by suicide, drastically altering the course of Pappas's life and setting her on a search for female role models. When her father signed his bereaved daughter up for sports teams as a way to keep her busy, female athletes became the first women Pappas looked up to, and her Olympic dream was born. At the same time, Pappas had big creative dreams, too: She wanted to make movies, write, and act. Despite setbacks and hardships, Pappas refused to pick just one lane. She put in a tremendous amount of hard work and wouldn't let anything stand in her way until she achieved all of her dreams, however unrelated they may seem to outsiders. In a single year, 2016, she made her Olympic debut as a distance runner and wrote, directed, and starred in her first feature film. 

But great highs are often accompanied by deep lows; with joy comes sorrow. In Bravey, Pappas fearlessly and honestly shares her battle with post-Olympic depression and describes how she emerged on the other side as a thriving and self-actualized woman. Unflinching, exuberant, and always entertaining, Bravey showcases Pappas's signature, charming voice as she reflects upon the touchstone moments in her life and the lessons that have powered her career as both an athlete and an artist—foremost among them, how to be brave. 

Pappas's experiences reveal how we can all overcome hardship, befriend pain, celebrate victory, relish the loyalty found in teammates, and claim joy. In short: how every one of us can become a bravey.
Praise For Bravey: Chasing Dreams, Befriending Pain, and Other Big Ideas…
"Inspiring . . . delightful . . . a wise blueprint for all the rest of us to become bravey too."—People 

"Movingly honest . . . an engaging portrayal of resilience, proving challenges limit you only if you let them."—Real Simple

"A thoughtful, beautiful read; breathtakingly honest and poignantly insightful."—Refinery29

"[Pappas] writes with a poet's economy of word and a filmmaker's grasp of narrative."—Runner's World

"Vulnerable, real, motivating."—A Cup of Jo 

"Bravey will make you laugh, while also inspiring readers to reject the limitations society seeks to impose on us."—PopSugar

"Wise and beautiful . . . After surviving a gritty, jaw-clenching 2020, Bravey feels like a giant exhale."—Women's Running

"[A] cross-domain talent . . . Pappas incisively recounts emotional highs and lows."—Psychology Today

"Pappas's extraordinary tale is skillfully told and profoundly inspiring."—Publishers Weekly

"Inspiring, yes, but more to the point: genuinely empowering. An utterly winning collection of personal essays."—Kirkus (starred review)

"If you need a shot of courage, resilience, and motivation, look no further than Bravey."—Tara Schuster

"This is not only an inspiring look inside the mind of a gifted athlete—it's an arresting debut by a gifted writer. Alexi Pappas reveals how we can find the courage to face our fears, the grit to achieve our goals, and the resilience to bounce forward after failure and heartbreak. I couldn't put it down."—Adam Grant

"Alexi Pappas is a genuine and vulnerable narrator, and as she fledges from nest after nest, she makes plenty of falls. Like any story about real human growth, hers is not linear or neat. But through it all she stays open to what comes next—as good a description of what it means to be brave as I've ever heard."—Alison Bechdel

"I've always believed that your greatest tragedy can become be your greatest strength, and Alexi is living proof. Be brave, read Bravey, be a Bravey."—Jay Duplass

"Bravey is at once a memoir of an inspiring young life-in-progress, and also a practical how-to manual of willpower and overcoming. Wish I could have read it as a younger person!"—Richard Linklater

"Pappas not only has a powerful way with words, but also uses the stories and lessons in this beautiful book as an intimate view into who she is. If you read this book, then you know Alexi, and knowing Alexi is truly a gift."—Mary Cain

"Bravey heralds the debut of a skilled memoirist… A beautiful read that is sure to resonate deeply."—Ruth Reichl 

"Pappas is an incredible storyteller whose willingness to delve into the scary parts of life makes Bravey an important read."—Allyson Felix
The Dial Press, 9781984801128, 336pp.
Publication Date: January 12, 2021
About the Author
Alexi Pappas is an award-winning writer, filmmaker, and Olympic athlete. Her writing has appeared in The New York Times, Runner's World, Women's Running, Sports Illustrated, The Atlantic, and Outside, among other publications, and she has been profiled in The New York Times, Sports Illustrated, New York, and Rolling Stone. Pappas co-wrote, co-directed, and starred in the feature film Tracktown with Rachel Dratch and Andy Buckley. Most recently, she co-wrote and starred alongside Nick Kroll in Olympic Dreams, the first non-documentary-style movie to ever be filmed at the Olympic Games. A Greek American, Pappas holds the Greek national record in the 10,000-meters and competed for Greece in the 2016 Olympics. She lives in Los Angeles, California.