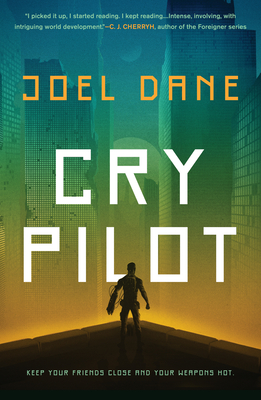 Cry Pilot (Paperback)
Ace, 9781984802521, 416pp.
Publication Date: August 6, 2019
* Individual store prices may vary.
Description
A devastated Earth. Rogue bio-weapons. And a recruit with secrets. In this explosive new military science fiction novel, a tight-knit infantry squad is thrown into battle against a mysterious enemy that appears without warning and strikes without mercy.

There's only one way for a man with Maseo Kaytu's secrets to join the military: by volunteering for a suicide mission as a 'cry pilot'. He cheats the system to survive, but you can't fake basic training. Assigned to a squad of misfits, Kaytu learns how to fight, how to obey, and how to trust. Yet the more he bonds with his fellow recruits, the more he risks exposure of his criminal past.

Keeping his secret is about to become the least of his problems. Kaytu discovers that his platoon is being deployed against a new kind of rogue bio-weapon. One that has torn apart every military force it's ever faced . . . .
About the Author
Joel Dane is the pseudonym of a full-time writer. As the son of an Army Private and an Air Force Staff Sergeant, he was raised on war stories and inter-service rivalry. He's the author of more than twenty books across several genres, and has written for film and TV, including a dozen episodes of a Netflix Original Series. He lives in California and Maine—not at the same time—with his family.
Praise For Cry Pilot…
Praise for Cry Pilot

"I picked it up, I started reading. I kept reading. This is that kind of book, intense, involving, with intriguing world development. Recommended. Joel Dane is a writer to watch."—C.J. Cherryh, author of the Foreigner series

"Joel Dane's Cry Pilot is a hyperkinetic and unflinching battle narrative that never loses sight of the truth of being a soldier: the squad comes before all else. Told with momentum and immediacy, Cry Pilot is authentic, exciting, and excellent."—Marko Kloos, author of Terms of Enlistment

"In Cry Pilot, Joel Dane has imagined a fascinating high-tech future Earth where ecological collapse and runaway evolution have conspired to create enemies no army has ever encountered before. Told through the eyes of a young soldier seeking to escape a grim past, the action-packed plot holds tight to a human dimension."—Linda Nagata, author of The Red Trilogy

"Awesome read!"—Nico Lathouris, screenwriter, Mad Max: Fury Road

"Riveting action paired with a sharp psychoemotional landscape combine for the explosive launch of a futuristic trilogy....an intriguing, thoughtful exploration of what a corporatized future might look like, liberally peppered with scenes of military life."—Publishers Weekly

"Reads like a well crafted video game, but with more heart. It would have been easy for this story to be all intense, all the time, but with the "found family" story weaved in, you will find an unexpected amount of family here. The stakes are high for these characters making this book impossible to put down."—Pure Fandom

"A diverting read for die-hard fans of military science fiction."—Booklist