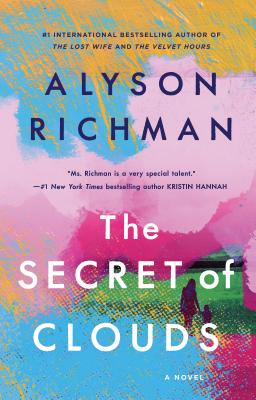 The Secret of Clouds (Hardcover)
Berkley, 9781984802620, 368pp.
Publication Date: February 19, 2019
* Individual store prices may vary.
Description
From the #1 international bestselling author of The Lost Wife and The Velvet Hours comes an emotionally charged story about a mother's love, a teacher's promise, and a child's heart.....
 
Katya, a rising ballerina, and Sasha, a graduate student, are young and in love when an unexpected tragedy befalls their native Kiev. Years later, after the couple has safely emigrated to America the consequences of this incident cause their son, Yuri, to be born with a rare health condition that isolates him from other children. Maggie, a passionate and dedicated teacher agrees to tutor Yuri at his home, even though she is haunted by her own painful childhood memories. As the two forge a deep and soulful connection, Yuri's boundless curiosity and unique wisdom inspires Maggie to make difficult changes in her own life.  And she'll never realize just how strong Yuri has made her — until she needs that strength the most......
 
A novel that will make readers examine what it means to live life with a full heart.
About the Author
Alyson Richman is the international bestselling author of The Velvet Hours, The Garden of Letters, The Lost Wife, The Last Van Gogh, The Rhythm of Memory, The Mask Carver's Son, and Grand Central. She lives on Long Island, New York, with her husband and two children.
Praise For The Secret of Clouds…
Praise for The Secret of Clouds

"Long renowned as a master of historical fiction, Alyson Richman spreads her wings and soars with the contemporary story…The Secret of Clouds is an unforgettable gift."—Pam Jenoff, New York Times bestselling author of The Orphan's Tale

"A story of family bonds, heartbreak, healing and hope—one that reminds us it is not how long we live but how well we live that matters most. The tenderly written ending will bring you to tears, but in the best possible way."—Lisa Wingate, New York Times bestselling author of Before We Were Yours

"A tender, captivating, and ultimately satisfying story about the emotional gifts exchanged between a caring teacher and a student in need. Thank you, Alyson Richman, for another heartrending tale."—Jamie Ford, New York Times bestselling author of Hotel on the Corner of Bitter and Sweet

"Exquisite and haunting. Richman writes with the soul of a poet, and her captivating new novel enchants while tugging ever so gently at the heart. Her story stands as a reminder to never take any day for granted."—Fiona Davis, national bestselling author of The Masterpiece

"Alyson Richman weaves an emotionally rich story of love, loss, and the resilience of the human spirit. The Secrets of Clouds will soar off the page and into your heart."—Jamie Brenner, national bestselling author of The Husband Hour

"Alyson Richman captures the gift of love—for family, and those who feel like family—with her pen dipped first in truth, then crystalline tenderness, and finally compassion. The Secret of Clouds immersed me in the world of a teacher's caring, an immigrant family's heroism, and a child's courage. Richman writes like a dream."—Randy Susan Meyers, internationally bestselling author of The Widow of Wall Street

"In her new novel, Alyson Richman weaves storytelling magic with an extraordinary cast of characters: a compassionate young teacher, a precocious but ailing student, and an immigrant couple with a uniquely tragic past. Readers have come to expect Richman's luscious prose and vivid details, but in The Secret of Clouds, she delivers even more – I was thoroughly captivated by this deeply personal tale of perseverance, acceptance, and the heart's capacity for love."—Lynda Cohen Loigman, author of The Two-Family House

Praise for the novels of Alyson Richman

"A truly beautiful, heartfelt story… I couldn't put it down once I started it. Ms. Richman is a very special talent."—Kristin Hannah, New York Times bestselling author

"Richman deftly weaves fact and fiction to create…a carefully wrought story of love, of what the heart chooses to give up, and what it chooses to keep."—Karen White, New York Times bestselling author

"A book as full of treasures as the Paris apartment that inspired it....A masterful mix of the glamour of the Belle Epoque and the shadows of impending war."—Lauren Willig, New York Times bestselling author

"Staggeringly evocative, romantic, heartrending, sensual, and beautifully written."—John Lescroart, New York Times bestselling author

"If you love graceful, mellifluous writing, you should read this book."—Jenna Blum, New York Times bestselling author 

"Grabs your heart and doesn't let go…Moving, unforgettable and so expertly told."—Sarah Jio, New York Times bestselling author

"Lyrical and rich…filled with beauty and tragedy, romance and heartbreak."—Jillian Cantor, author of Margot