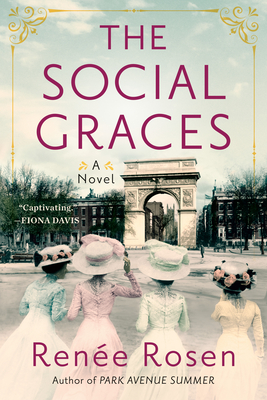 The Social Graces (Paperback)
Berkley, 9781984802811, 416pp.
Publication Date: April 20, 2021
* Individual store prices may vary.
Description
The author of Park Avenue Summer throws back the curtain on one of the most remarkable feuds in history: Mrs. Vanderbilt and Mrs. Astor's notorious battle for control of New York society during the Gilded Age.

In the glittering world of Manhattan's upper crust, where wives turn a blind eye to husbands' infidelities, and women have few rights and even less independence, society is everything. The more celebrated the hostess, the more powerful the woman. And none is more powerful than Caroline Astor—the Mrs. Astor.

But times are changing.

Alva Vanderbilt has recently married into one of America's richest families. But what good is money when society refuses to acknowledge you? Alva, who knows what it is to have nothing, will do whatever it takes to have everything.

Sweeping three decades and based on true events, this is a gripping novel about two fascinating, complicated women going head to head, behaving badly, and discovering what's truly at stake.
About the Author
Renée Rosen is the bestselling author of Park Avenue Summer, Windy City Blues, White Collar Girl, What the Lady Wants and Dollface. She is also the author of Every Crooked Pot, a YA novel published in 2007. Renée lives in Chicago.
Praise For The Social Graces…
"Rosen's novel opens with a sly wink to that grande dame of the Gilded Age, Edith Wharton, before she deftly spins a captivating tale of her own, based upon the legendary rivalry between Caroline Astor and Alva Vanderbilt. And what a rich story it is, full of opulent balls and monstrous mansions, yet firmly rooted in the parallel struggles of two very different heroines as they fight for their dignity and rights as wives, as mothers, and as women."—Fiona Davis, bestselling author of GMA Book Club Pick The Lions of Fifth Avenue
"Meticulously researched and absolutely absorbing, The Social Graces chronicles the eye-popping extravagances and catty magnificence of the brassy nouveau riches who fought to seize control of high society during the Gilded Age. I can't remember the last book that made me gasp "Oh, no!" as many times at unexpected reversals. The pages all but turned themselves!"—Julia Claiborne Johnson bestselling author of Be Frank With Me

"Rosen once again brings history to life with vivid storytelling and impeccable research. Caroline Astor and Alva Vanderbilt are formidable opponents as old money clashes with new money in the battle to reign among New York's upper crust. Rosen shares the details of their infamous parties, the salaciousness of society's scandals as well the small, personal moments that show their humaneness and vulnerability. This is a must read for historical and/or women's fiction fans."—Lauren Margolin, The Good Book Fairy