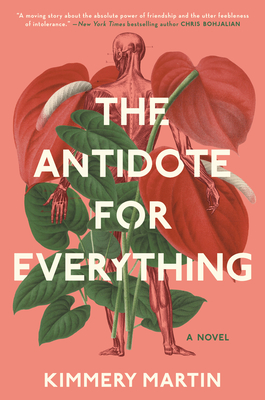 The Antidote for Everything
Hardcover

* Individual store prices may vary.
Other Editions of This Title:
Library Binding, Large Print (5/27/2020)
Description
In this whip-smart and timely novel from acclaimed author Kimmery Martin, two doctors travel a surprising path when they must choose between treating their patients and keeping their jobs.
 
Georgia Brown's profession as a urologist requires her to interact with plenty of naked men, but her romantic prospects have fizzled. The most important person in her life is her friend Jonah Tsukada, a funny, empathetic family medicine doctor who works at the same hospital in Charleston, South Carolina and who has become as close as family to her.

Just after Georgia leaves the country for a medical conference, Jonah shares startling news. The hospital is instructing doctors to stop providing medical care for transgender patients. Jonah, a gay man, is the first to be fired when he refuses to abandon his patients. Stunned by the predicament of her closest friend, Georgia's natural instinct is to fight alongside him. But when her attempts to address the situation result in incalculable harm, both Georgia and Jonah find themselves facing the loss of much more than their careers.
Praise For The Antidote for Everything…
"Martin's trademark witty repartee makes her characters fun to be with, and she both entertains and tackles thought-provoking questions of honor and integrity in a world where facts matters little."—Booklist

"A moving story about the absolute power of friendship and the utter feebleness of intolerance."—New York Times bestselling author Chris Bohjalian

"Intense and vibrant.… A binge-worthy page-turner that'll rival your favorite prime-time medical drama."—Wall Street Journal bestselling author Kerry Lonsdale

"With her signature compassion and sharp writing, Kimmery Martin delivers a poignant yet compulsively readable story examining the timely topic of medical discrimination. I loved it—and have a new must-read recommendation for book clubs everywhere."—Colleen Oakley, author of You Were There Too
 
"With incredible voice and scalpel-sharp wit, Martin deftly navigates the light, the dark, and the in-between of the human soul."—P. J. Vernon

"Close on the heels of her successful debut, physician and novelist Kimmery Martin has once again crafted a tale that will thrill readers while simultaneously illuminating how the business of medicine too often fails patients and physicians alike...A story of friendship, loyalty, and redemption, Martin's second novel is sure to become as beloved as her first."—Meghan MacLean Weir, author of The Book of Essie


Praise for The Queen of Hearts
 
"Martin leverages her own background as a doctor to great effect throughout…[she] is equally insightful about many aspects of long-term female friendships, especially the blind spots that they often contain by necessity."—The New York Times

"A gripping and emotional novel perfect for fans of Meredith and Christina's iconic friendship, The Queen of Hearts is the perfect book for fall."—Bustle
 
"Martin's extraordinary sensitivity and empathy shines through during moments of crisis, which draw out the subtle, complex shades of her characters…the beautifully rendered characters and compelling, rhythmic storyline make The Queen of Hearts a thrilling read, and a fascinating look into the medical world. It's an impressive debut, full of warmth and excitement."—The Harvard Crimson

"Fans of Grey's Anatomy are sure to enjoy this new release, a novel about friendship, success, and secrets set amid the day-to-day drama of a hospital in Charlotte, North Carolina."—Southern Living

"Kimmery Martin's excellent debut novel serves up an irresistible mix of romance, ER drama, friendship and betrayal. Martin, a physician herself, writes in a clear and lively way…. In her hands, dramatic hospital scenes and routine kitchen conversations are equally compelling." – BookPage

"A secret from two doctors' pasts may put what they cherish most under the knife: their friendship. A book about female friendships that unapologetically wears its heart on its sleeve."—Kirkus

"Martin's debut novel, about pediatric cardiologist Zadie Anson and trauma surgeon Emma Colley, is a medical drama executed with just the right balance of intensity, plot twists, tragedy, and humor...A remarkably absorbing read."—Booklist

"Whip-smart and full of heart, Martin expertly weaves the threads of friendship, love and betrayal into a story that crackles with humor and compassion. A brilliant debut."—Lisa Duffy, author of The Salt House

"In The Queen of Hearts, debut author Kimmery Martin brings humor and insight into this exploration of friendships and secrets set in the fascinating world of practicing doctors. She effortlessly weaves the past and the present to bring you all sides of this nuanced story. Part mystery and part exploration of the human heart, Martin has a cure for what ails both her characters and their relatable problems. Sure to be a hit with fans of JoJo Moyes and Liane Moriarty."—Catherine McKenzie, bestselling author of Hidden and The Good Liar

"In The Queen of Hearts, Kimmery Martin deftly weaves a tale of friendship and betrayal, family and lost love, the choices that define us and the secrets that keep us. Brimming with wit, intelligence, humor, and warmth, this dazzling debut teaches us about the heart's surprising resilience. Kimmery Martin is a new voice to watch."—Sarah Domet, author of The Guineveres

"Full of wit, subtext, and (of course) heart. Martin's writing is smart, compassionate, and just plain entertaining. I can't wait to see what she comes up with next!"—Jessica Strawser, author of Almost Missed You

"Martin's voice is sharp and authentic in this captivating debut about two old friends and the scorching secret that nearly destroys them. Your heart will be thumping until the final page."—Emily Liebert, author of Some Women

"Intense, vivid and sometimes surprisingly funny, The Queen of Hearts gives readers a behind-the-scenes look at the world of female physicians. Martin moves effortlessly between the women's highly relatable suburban lives and the literally cutting-edge drama of their work."—Kim Wright, author of Last Ride to Graceland, 2017 winner of the Willie Morris Award for Southern Fiction

"Tragedy and secrets refuse to stay buried in this fast-paced and clever exploration of the storied connection between Emma and Zadie. As wives, mothers, and physicians, they are just as susceptible to life and its multicolored traumas as any of the souls they care for."—Nadia Hashimi, international bestselling author of The Pearl that Broke Its Shell

"If you love Big Little Lies and medical dramas such as Grey's Anatomy and ER, there is no better book for you than The Queen of Hearts."—Hypable
Berkley, 9781984802835, 384pp.
Publication Date: February 18, 2020
About the Author
Kimmery Martin is an emergency medicine doctor, born and raised in the mountains of eastern Kentucky. A lifelong literary nerd, she reviews books, interviews authors, and works extensively with the library foundation in Charlotte, North Carolina, where she resides with her husband and three young children.