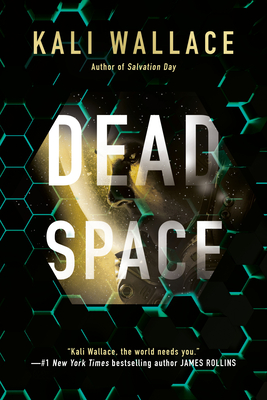 Dead Space
Paperback

* Individual store prices may vary.
Other Editions of This Title:
Digital Audiobook (3/1/2021)
Description
Nominated for the Philip K. Dick Award

An investigator must solve a brutal murder on a claustrophobic space station in this tense science fiction thriller from the author of Salvation Day.

Hester Marley used to have a plan for her life. But when a catastrophic attack left her injured, indebted, and stranded far from home, she was forced to take a dead-end security job with a powerful mining company in the asteroid belt. Now she spends her days investigating petty crimes to help her employer maximize its profits. She's surprised to hear from an old friend and fellow victim of the terrorist attack that ruined her life—and that surprise quickly turns to suspicion when he claims to have discovered something shocking about their shared history and the tragedy that neither of them can leave behind. 

Before Hester can learn more, her friend is violently murdered at a remote asteroid mine. Hester joins the investigation to find the truth, both about her friend's death and the information he believed he had uncovered. But catching a killer is only the beginning of Hester's worries, and she soon realizes that everything she learns about her friend, his fellow miners, and the outpost they call home brings her closer to revealing secrets that very powerful and very dangerous people would rather keep hidden in the depths of space.
Praise For Dead Space…
"With propulsive action and twists that keep the reader guessing…this tense sprint through a future dominated by profit-driven amorality makes for a gripping, cinematic sci-fi thriller that readers won't want to put down."–Publishers Weekly (starred review)


Praise for Salvation Day and the writing of Kali Wallace

"Kali Wallace, the world needs you--and this book. Salvation Day is a taut thriller, a near-future look at where we're headed next, a mirror reflecting the best and worst of humanity. It is all that, and so much more. I'd follow the rebellious heroine Zahra anywhere--especially into another nail-biter of a story like this."--James Rollins, New York Times bestselling author of The Demon Crown

"Salvation Day is a masterful story set at a screaming pace. It had me holding on for dear life all the way through. I loved it."—Mur Lafferty, Hugo Award-winning author of Six Wakes

"Breakneck pace with real thrills and chills—plus lots of meaty stuff to think about. One of the major science-fiction debuts of 2019. Kali Wallace is a force to be reckoned with."—Robert J. Sawyer, Hugo Award-winning author of Quantum Night

"A smart, gripping thriller you just can't put down. Explosions, betrayals, morally gray choices and twisty secrets; all set in the world that comes after the end of ours. Perfect for fans of Aliens and locked spaceship murder mysteries." – Kameron Hurley, Hugo Award-winning author of The Light Brigade

"More than a science fiction novel, it's a good old-fashioned thriller set in the future--every page filled with breadth and scope and twists and turns.  An exciting, dangerous, magical quest for truth."—Steve Berry, New York Times bestselling author of The Malta Exchange


Berkley, 9781984803726, 336pp.
Publication Date: March 2, 2021
About the Author
Kali Wallace studied geology and earned a PhD in geophysics before she realized she enjoyed inventing imaginary worlds more than she liked researching the real one. She is the author of science fiction, fantasy, and horror novels for adults, teens, and children, as well as a number of short stories and essays. After spending most of her life in Colorado, she now lives in southern California.