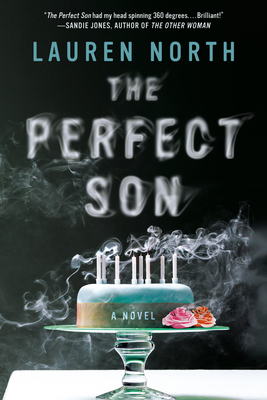 The Perfect Son (Paperback)
Berkley, 9781984803849, 368pp.
Publication Date: August 13, 2019
* Individual store prices may vary.
Description
A disturbing and shocking debut novel of psychological suspense about a recently widowed mother, her young son, and the lengths she'll go to in order to keep him safe.

When Tess Clarke wakes up in the hospital the day after her son Jamie's eighth birthday, she's sure of these things: She's been stabbed, her son is missing, her brother-in-law and her grief counselor are involved. But no one is listening to her. 

After her husband, Mark, died suddenly in a terrible accident a few months earlier, the only thing keeping Tess together is Jamie. As they struggle to make sense of their new life without Mark, they find joy in brief moments of normalcy like walking to school and watching television together. Life is hard without Mark, but Tess has Jamie, and that's what matters.

But there in the hospital, confused and surrounded by people who won't listen, Tess's world falls apart. To save her son, she must piece together what happened between Mark's death and Jamie's birthday, but the truth might just be too much for her to bear.
About the Author
Lauren North studied psychology before moving to London, where she lived and worked for many years. She now lives with her family in the Suffolk countryside. The Perfect Son is her first novel, and she's working on her second.
Praise For The Perfect Son…
Praise for The Perfect Son

"[A] perfect summer thriller…The author's ability to create a sense of escalating unease is one of her most notable achievements….The twist in The Perfect Son is a big one."—The Columbus Dispatch 

"[An] emotionally harrowing debut...an intimate, unbalancing mix of grief, paranoia, gaslighting, maternal protectiveness, and profound compassion."—Publishers Weekly (starred review)

"A powerful, unpredictable debut thriller about a mother's attempt to reassemble her life from the shards of tragedy. Lauren North's skillful narrative casts everyone as a suspect and keeps the reader guessing until the final, emotion-packed pages."—David Bell, USA Today bestselling author of Layover

"The thriller is told in two alternating time periods that come together at the very end, with a very big twist."—Betches.com
 
"A fast-paced psychological thriller."—BookRiot

"A heart-rending evocation of grief that packs a devious punch. It left me reeling."—Lesley Kara, author of the international bestseller The Rumor
 
"As satisfyingly intriguing and page-turning as you could possibly want. An emotional read—the end is a shocker!"—Emma Curtis, author of When I Find You
 
"Beautifully written psychological suspense about the power of love after a life-changing loss. A sense of impending doom and foreboding gripped me from the first page….The ending is stunning and powerful."—Mary Torjussen, author of The Girl I Used To Be

"A captivating, suspenseful thriller that draws you in--with a twist that will take your breath away."—T.M. Logan, author of Lies