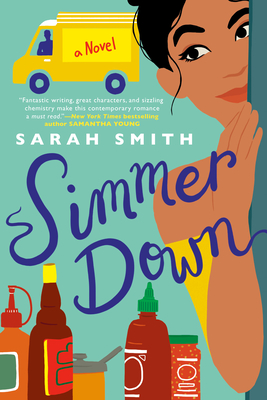 Simmer Down
Paperback

* Individual store prices may vary.
Other Editions of This Title:
Digital Audiobook (10/12/2020)
Description
A PopSugar Must-Read for October!

In this finger-licking good rom-com, two is the perfect number of cooks in the kitchen.

Nikki DiMarco knew life wouldn't be all sunshine and coconuts when she quit her dream job to help her mom serve up mouthwatering Filipino dishes to hungry beach goers, but she didn't expect the Maui food truck scene to be so eat-or-be-eaten—or the competition to be so smoking hot.

But Tiva's Filipina Kusina has faced bigger road bumps than the arrival of Callum James. Nikki doesn't care how delectable the British food truck owner is—he rudely set up shop next to her coveted beach parking spot. He's stealing her customers and fanning the flames of a public feud that makes her see sparks.

The solution? Let the upcoming Maui Food Festival decide their fate. Winner keeps the spot. Loser pounds sand. But the longer their rivalry simmers, the more Nikki starts to see a different side of Callum…a sweet, protective side. Is she brave enough to call a truce? Or will trusting Callum with her heart mean jumping from the frying pan into the fire?
Praise For Simmer Down…
Praise for Simmer Down

"Fantastic writing, great characters, and sizzling chemistry make this contemporary romance a MUST READ."—Samantha Young, New York Times bestselling author of Fight or Flight

"This food truck romance serves up an enemies-to-lovers story that is spicy, salty and sweet. Delicious!"—Mia Hopkins, author of Thirsty

"Sarah Smith delivers a story and characters to root for! Simmer Down is full of love and food (which is love), and you're sure to crave more with each page."—Tif Marcelo, author of Once Upon A Sunset

"While the enemies-to-lovers romance is irresistible, it's the sincere, well-developed characters and heart-tugging family dynamics that make this fulfilling love story stand out. This is a winner."—Publishers Weekly, starred review

"Fun, flirty, finger-licking-good"—Woman's World

"A powerhouse romance with a perfect melange of spicy banter, lush scenery, and passion!"—Charish Reid, author of The Write Escape

"This book had everything: a heart-melting hero, laugh-out-loud moments, family drama, and delicious food all wrapped up in a lush, tropical setting. Fresh, fun and utterly addictive."—Sara Desai, author of The Marriage Game


Praise for Faker

"A fresh, sweet, and funny story about how the people we think we know can surprise us in the sexiest way. Full of swoony kisses and heartfelt honesty, Faker is like a warm, reassuring hug."—Lyssa Kay Adams, author of The Bromance Book Club

"I loved every page of Smith's wonderful debut! The romance was sweet and heartwarming, but it was Smith's ability to write a main character who embraces all of her power that had me cheering throughout this book."—Alexa Martin, author of Fumbled

"Written with insight and humor, Sarah Smith's Faker is a charming, feminist diverse romance that will have you hooked until the very last page."—Sonya Lalli, author of Grown-Up Pose
Berkley, 9781984805447, 336pp.
Publication Date: October 13, 2020
About the Author
Sarah Smith is a copywriter turned author who wants to make the world a lovelier place, one kissing story at a time. Her love of romance began when she was eight and she discovered her auntie's stash of romance novels. She's been hooked ever since. When she's not writing, you can find her hiking, eating chocolate, and perfecting her lumpia recipe. She lives in Bend, Oregon, with her husband and her adorable cat, Salem.