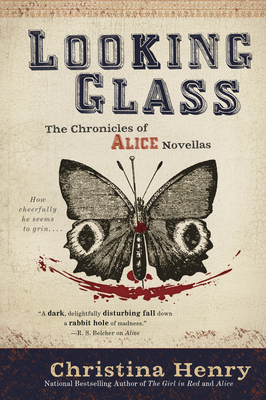 Looking Glass (The Chronicles of Alice #3)
Paperback

* Individual store prices may vary.
Other Editions of This Title:
Digital Audiobook (4/20/2020)
Description
In four new novellas, Christina Henry returns to the world of Alice and Red Queen, where magic runs as freely as secrets and blood.

Lovely Creature
In the New City lives a girl with a secret: Elizabeth can do magic. But someone knows her secret--someone who has a secret of his own. That secret is a butterfly that lives in a jar, a butterfly that was supposed to be gone forever, a butterfly that used to be called the Jabberwock...

Girl in Amber
Alice and Hatcher are just looking for a place to rest. Alice has been dreaming of a cottage by a lake and a field of wildflowers, but while walking blind in a snowstorm she stumbles into a house that only seems empty and abandoned...

When I First Came to Town
Hatcher wasn't always Hatcher. Once, he was a boy called Nicholas, and Nicholas fancied himself the best fighter in the Old City. No matter who fought him he always won. Then his boss tells him he's going to battle the fearsome Grinder, a man who never leaves his opponents alive...

The Mercy Seat
There is a place hidden in the mountains, where all the people hate and fear magic and Magicians. It is the Village of the Pure, and though Alice and Hatcher would do anything to avoid it, it lies directly in their path...
Praise For Looking Glass (The Chronicles of Alice #3)…
Praise for Looking Glass

"Mesmerizing…These somber, occasionally disturbing novellas offer a mature take on the children's story but balance the horrors of the City with hope. Henry's fans will be happy to return to this world, but readers need not be familiar with earlier installments to appreciate this twisted take on Lewis Carroll's classic tale."—Publishers Weekly

"Fans will delight in discovering the unknown family backgrounds and future fate of Alice and her wild and bloody Hatcher."--Booklist (starred review)

Praise for the Chronicles of Alice

"Alice's ongoing struggle is to distinguish reality from illusion, and Henry excels in mingling the two for the reader as well as her characters."—Publishers Weekly (starred review)

"Henry continues to shine as she expands upon the vision Lewis Carroll first dreamed, adding her own voice and imagination to this timeless classic." —RT Book Reviews
 
"Careful, this white rabbit will lead you on a psychotic journey through the bowels of magic and madness. I, for one, thoroughly enjoyed the ride."—Brom, author of The Child Thief
 
"I loved falling down the rabbit hole with this dark, gritty tale. A unique spin on a classic and one wild ride!"—Gena Showalter, New York Times bestselling author of Alice in Zombieland
 
"A dark, delightfully disturbing fall down a rabbit hole of madness and mystery. This is not your mamma's Alice…If you're looking for a book that will make you feel like you were just on a bender with the blue caterpillar, I highly recommend Alice."—R.S. Belcher, author of Nightwise

"Christina Henry's Alice takes the darker elements of Lewis Carroll's original, amplifies Tim Burton's cinematic reimagining of the story, and adds a layer of grotesquery from her own alarmingly fecund imagination to produce a novel that reads like a Jacobean revenge drama crossed with a slasher movie."—The Guardian (UK)
 
"A horrifying fantasy that will have you reexamining your love for this childhood favorite. Smooth velvety prose blends well with the deliciously complex characters and interesting storyline…A world that is nothing like Lewis Carroll ever imagined."—RT Book Reviews (top pick)
 


Ace, 9781984805638, 304pp.
Publication Date: April 21, 2020
About the Author
Christina Henry is the author of Alice, Red Queen, Lost Boy, The Mermaid, The Girl in Red and the national bestselling Black Wings series, featuring Agent of Death Madeline Black and her popcorn-loving gargoyle, Beezle.