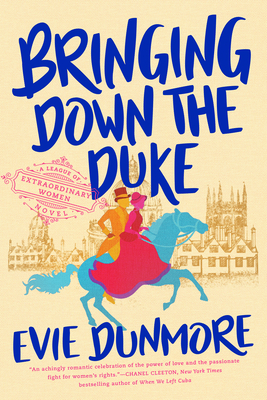 Bringing Down the Duke (A League of Extraordinary Women #1)
Paperback

* Individual store prices may vary.
Other Editions of This Title:
Digital Audiobook (9/2/2019)
Library Binding, Large Print (3/11/2020)
Description
"With her sterling debut, Evie Dunmore dives into a fresh new space in historical romance that hits all the right notes."—Entertainment Weekly

A stunning debut for author Evie Dunmore and her Oxford suffragists in which a fiercely independent vicar's daughter takes on a powerful duke in a fiery love story that threatens to upend the British social order.

England, 1879. Annabelle Archer, the brilliant but destitute daughter of a country vicar, has earned herself a place among the first cohort of female students at the renowned University of Oxford. In return for her scholarship, she must support the rising women's suffrage movement. Her charge: recruit men of influence to champion their cause. Her target: Sebastian Devereux, the cold and calculating Duke of Montgomery who steers Britain's politics at the Queen's command. Her challenge: not to give in to the powerful attraction she can't deny for the man who opposes everything she stands for.

Sebastian is appalled to find a suffragist squad has infiltrated his ducal home, but the real threat is his impossible feelings for green-eyed beauty Annabelle. He is looking for a wife of equal standing to secure the legacy he has worked so hard to rebuild, not an outspoken commoner who could never be his duchess. But he wouldn't be the greatest strategist of the Kingdom if he couldn't claim this alluring bluestocking without the promise of a ring...or could he?

Locked in a battle with rising passion and a will matching her own, Annabelle will learn just what it takes to topple a duke....

"There is nothing quite so satisfying as seeing such a man brought to his knees by a beautiful woman with nothing to her name except an inviolable sense of her own self-worth."—NPR
Praise For Bringing Down the Duke (A League of Extraordinary Women #1)…
Praise for Bringing Down the Duke
One of Publishers Weekly's Best Romances of 2019

"Dunmore captures the spirit of the era with a sparkling effervescence, plowing through staid stereotypes of Victorian England to give us a group of extraordinary women refusing to live as bystanders in their own lives…A delightful new entry in the historical romance genre that works to both uphold the best of its traditions while pushing it into new frontiers and deepening its ties to history."—Entertainment Weekly

"Evie Dunmore's debut is a marvel. Set against the backdrop of the British suffrage movement, Bringing Down the Duke is a witty, richly detailed, historically significant, and achingly romantic celebration of the power of love and the passionate fight for women's rights. A stunning blend of history and romance that will enchant readers."—Chanel Cleeton, New York Times bestselling author 

"Evie Dunmore's Bringing Down the Duke dazzles and reminds us all why we fell in love with historical romance."—Julia London, New York Times bestselling author 

"Brilliant and enchanting! Miss Dunmore is about to take the historical world by storm!"—Rachel Van Dyken, #1 New York Times bestselling author

"Simply superb! Evie Dunmore will wow you."—Gaelen Foley, New York Times bestselling author 

"One of my all-time favorite historicals."—Maisey Yates, New York Times bestselling author

"Bringing down the Duke was one of the best books I've ever read—absolutely adored it. Dunmore had me in tears, had me holding my breath...the emotion and passion made the book ache and sing."—Jane Porter, New York Times bestselling author

"Charming, sexy, and thoroughly transportive, this is historical romance done right."—Publishers Weekly (starred review) 

"Funny, smart, and a fantastic read! Bringing Down the Duke was absolutely brilliant!"—Corinne Michaels, New York Times bestselling author

"Full of witty banter and swoonworthy moments....A deliciously delightful romance."—Woman's World

"Dunmore's beautifully written debut perfectly balances history, sexual tension, romantic yearning, and the constant struggle smart women have in finding and maintaining their places and voices in life and love, with the added message that finding the right person brings true happiness and being with them is worth any price. A brilliant debut."—Kirkus Reviews (starred review) 

"Chock-full of verve, history, and passion."—Library Journal (starred review)

"Full of witty banter, rich historical detail, and a fantastic group of female friends, the first installment in Dunmore's League of Extraordinary Women series starts with fireworks as Annabelle and Montgomery try to find a path to happiness despite past mistakes and their vastly different places in society. Dunmore's strong debut is sure to earn her legions of fans."—Booklist (starred review)

"What an absolutely stunning, riveting, painfully gorgeous book! It's going straight to my keeper shelf, and I will be buying a copy the moment it comes out to reread again and again.  It's not only the best historical romance I've read in a long, long time, it's one of the best books I've ever read! I adored it!"—Megan Crane, USA Today bestselling author of Sniper's Pride

"Bringing Down the Duke is the best historical romance I've read all year. I was spellbound by this story of forbidden love between a spirited, clever Suffragette heroine and her straitlaced duke, a man who proves that fire burns hottest when it's under ice. Evie Dunmore is a  marvelous, fresh new voice in romance who is sure to go far. Don't miss her brilliant debut!"—Anna Campbell, bestselling author of the Dashing Widows series

"With just the right blend of history and romance (and a healthy dash pride from the British suffragists that would make Jane Austen proud), I was hooked on Annabelle and Sebastian's story from the very first page. I can't wait for the rest of League of Extraordinary Women novels!"—Stephanie Thornton, USA Today bestselling author of American Princess

"Evie Dunmore's Bringing Down the Duke delivers the best of two worlds—a steamy romance coupled with the heft of a meticulously researched historical novel....Readers will be entranced watching Annabelle, a woman ahead of her time, bring the sexy Duke to his knees."—Renée Rosen, author of Park Avenue Summer

"I have read the future of historical romance, and it's Evie Dunmore."—Eva Leigh, author of Dare to Love a Duke

"Evie Dunmore's debut novel Bringing Down the Duke is about personal growth, leaving preconceived notions behind and the long hard fight for women's rights. The novel is hilarious in many parts, but it also provides more serious lessons for the reader. Best of all it has a Happily Ever After."—Historical Novel Society

"A deliciously original debut featuring a fiercely passionate suffragette who melts an icy duke's heart. Set against the backdrop of the fight for women's rights, Bringing Down the Duke is the perfect blend of romance and history."—Diana Quincy, author of The Rebellious Brides Series

"Evie Dunmore has written a story we need right now—strong, smart, and passionate, featuring a heroine who won't settle for less than what she deserves and a swoony hero who learns to fight for what really matters. With her debut novel, Dunmore has instantly become a must-read for me."—Lyssa Kay Adams, author of The Bromance Book Club
Berkley, 9781984805683, 368pp.
Publication Date: September 3, 2019
About the Author
USA Today bestselling author Evie Dunmore wrote Bringing Down The Duke inspired by the magical scenery of Oxford and her passion for romance, women pioneers, and all things Victorian. In her civilian life, she is a consultant with a M.Sc. in Diplomacy from Oxford. She is a member of the British Romantic Novelists' Association (RNA). Evie lives in Berlin and pours her fascination with 19th century Britain into her writing.