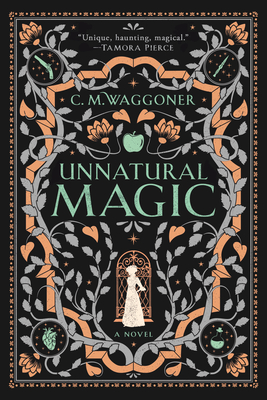 Unnatural Magic (Paperback)
Ace, 9781984805843, 400pp.
Publication Date: November 5, 2019
* Individual store prices may vary.
Description
A "brilliant and terrifically fun"* debut novel brings an enchanting new voice to fantasy.
 
Onna can write the parameters of a spell faster than any of the young men in her village school. But despite her incredible abilities, she's denied a place at the nation's premier arcane academy. Undaunted, she sails to the bustling city-state of Hexos, hoping to find a place at a university where they don't think there's anything untoward about providing a woman with a magical education. But as soon as Onna arrives, she's drawn into the mysterious murder of four trolls.
 
Tsira is a troll who never quite fit into her clan, despite being the leader's daughter. She decides to strike out on her own and look for work in a human city, but on her way she stumbles upon the body of a half-dead human soldier in the snow. As she slowly nurses him back to health, an unlikely bond forms between them, one that is tested when an unknown mage makes an attempt on Tsira's life. Soon, unbeknownst to each other, Onna and Tsira both begin devoting their considerable talents to finding out who is targeting trolls, before their homeland is torn apart…



 
*Kat Howard, Alex Award-winning author of An Unkindness of Magicians
About the Author
C.M. Waggoner is at work on her next novel.
Praise For Unnatural Magic…
Praise for Unnatural Magic

"The most unique, haunting, magical, treacherous, romantic, combative novel I've read in a long time. Action, betrayal, peoples at war, strange magic and stranger love--a whole new take on fantasy!"—#1 New York Times bestselling author Tamora Pierce

"Unnatural Magic is peopled with unforgettable characters, whose changing relationships form the beating heart of this fast-paced, beautifully written story. Within the compelling tale lie some big themes—power, magic, gender and sexuality among them—and the author weaves them in skilfully, with just the right combination of compassion, insight and humour. This one goes straight onto my Keepers shelf."—Juliet Marillier, Author of The Harp of Kings

"What a marvelous debut! I want to climb inside C.M. Waggoner's world of powerful trolls, cheeky wizards, and mathematical magic and make myself at home. She seamlessly weaves politics, love, and magic into a novel that challenges everything we know about fantasy—and comes out victorious." —New York Times bestselling author Chloe Neill

"I didn't think you could fit so many things I loved into one book--tough-talking lady-trolls and cowardly captains, true love and found families, Holmesian hijinks and gender politics--but C.M. Waggoner made it look easy. Unnatural Magic is a raucous, indulgent delight."—Alix E. Harrow, Hugo Award-winning author of The Ten Thousand Doors of January

"Complex and fascinating, Waggoner's debut offers fantasy readers a new viewpoint on magic, love, responsibility, and sacrifice. The themes of found family and unlikely, hard-earned trust are warmly convincing, and Waggoner's system of magic is unique and deeply satisfying." —Vivian Shaw, Author of the Dr. Greta Helsing series

"C.M. Waggoner's Unnatural Magic is a brilliant and terrifically fun book. I could have happily spent twice as long with Onna and Tsira in their compelling world and still wanted more. There's adventure and magic and murder, oh--and did I mention how much fun you'll have reading this?"—Kat Howard, Alex Award-winning author of An Unkindness of Magicians

"I have never read another novel that gave me so much of what I wanted so soon, and then just kept delivering the goods, page after page after page. Love, lust, magic, murder...This book has it all!" –Lara Elena Donnelly, Author of The Amberlough Dossier

"Waggoner's delightfully playful debut offers a fresh take on traditional fantasy tropes to explore themes of love and sacrifice...the whimsy, mystery, and vibrant characters are sure to enchant readers."—Publishers Weekly