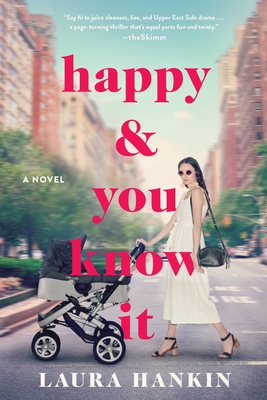 Happy and You Know It
Paperback

* Individual store prices may vary.
Other Editions of This Title:
Digital Audiobook (5/18/2020)
Hardcover (5/19/2020)
Description
"For fans of Sex and the City and The Nanny Diaries comes this juicy story…that would make even the most meticulously Drybar-ed hair curl."—Good Housekeeping

As seen in The Washington Post • Good Housekeeping • theSkimm • Good Morning America • ABC News • Book of the Month • Belletrist • OK! Magazine • Betches • Newsweek • Parade • New York Post Best Book of the Week

A dark, witty page-turner about a struggling young musician who takes a job singing for a playgroup of overprivileged babies and their effortlessly cool moms, only to find herself pulled into their glamorous lives and dangerous secrets....
 
After her former band shot to superstardom without her, Claire reluctantly agrees to a gig as a playgroup musician for wealthy infants on New York's Park Avenue. Claire is surprised to discover that she is smitten with her new employers, a welcoming clique of wellness addicts with impossibly shiny hair, who whirl from juice cleanse to overpriced miracle vitamins to spin class with limitless energy.
 
There is perfect hostess Whitney who is on the brink of social-media stardom and just needs to find a way to keep her flawless life from falling apart. Caustically funny, recent stay-at-home mom Amara who is struggling to embrace her new identity. And old money, veteran mom Gwen who never misses an opportunity to dole out parenting advice. But as Claire grows closer to the stylish women who pay her bills, she uncovers secrets and betrayals that no amount of activated charcoal can fix.
 
Filled with humor and shocking twists, Happy and You Know It is a brilliant take on motherhood – exposing it as yet another way for society to pass judgment on women – while also exploring the baffling magnetism of curated social-media lives that are designed to make us feel unworthy. But, ultimately, this dazzling novel celebrates the unlikely bonds that form, and the power that can be unlocked, when a group of very different women is thrown together when each is at her most vulnerable.
Praise For Happy and You Know It…
May 2020 Library Reads Pick!

"Say hi to juice cleanses, lies, and Upper East Side drama...a page-turning thriller that's equal parts fun and twisty. Perfect for when you're still in a quarantine reading rut."—theSkimm

"For readers who want the fun of reality TV but the heart of a good drama."—BookPage (starred review)

"Absorbing."—OK! Magazine

"A dramatic and immensely entertaining page-turner about secrets, lies, and mom culture."—Kirkus

"Dark and witty, this is a story of a woman who finds herself among dangerous secrets and glamorous lives and takes readers on a humorous and shocking trip." ―SheReads

"With deeply drawn and relatable characters, this is an excellent read."—Library Journal

"Funny, smart, surprising, totally immersive—it made me forget about the state of the world for a while."—Jasmine Guillory, New York Times bestselling author of The Proposal

"An engrossing and compelling story of the lengths women will go to convince the world--and themselves--that they're as happy and successful as society expects them to be. It's what would happen if the women from The Nanny Diaries met the women from Sex and the City in the social-media age. I devoured it in less than 48 hours."—Jill Santopolo, New York Times bestselling author of The Light We Lost and More Than Words

"Combines wry humor and sharp social commentary with an utterly addictive plot. It's nonstop fun, and I couldn't put it down."—Katharine McGee, New York Times bestselling author of American Royals

"The perfect mix of frothy fun, twisty mystery and social satire, Happy and Your Know It is a guilty pleasure of a book that is impossible to put down. Laura Hankin creates complex characters with lives that, like their Instagram feeds, are never as they seem. This is the summer read for book clubs, beachgoers and playgroup moms everywhere."—Kristy Woodson Harvey, bestselling author of Slightly South of Simple

"A juicy look at how the other half lives, Happy and You Know It is a page-turning treat in the tradition of The Nanny Diaries and Momzillas. This story of social-climbing and dark secrets heralds a delightful new voice in women's fiction."—Jamie Brenner, bestselling author of The Forever Summer

"Laura Hankin balances a sharp eye for the mad dynamics of a high-stakes playgroup with warm understanding of the occasional desperation of new motherhood. This book is bracing, fresh, and hilarious, like sticking your head in a freezer on a hot day."—Judy Blundell, bestselling author of The High Season

"A delicious, witty tale"—New York Post

"Hankin has concocted a delicious, rollicking story that features a captivating ensemble of cosmopolitan moms and a down-on-her-luck musician who's paid to entertain their kids. Packed with laughs and unexpected twists, think Liane Moriarty meets Sex and the City—simply irresistible."—Fiona Davis, national bestselling author of The Chelsea Girls

"A skillful unraveling of desperate secrets and self-deceptions. Witty, unsettling, and all-too-believable. I raced through to the end."—Emma Rous, USA Today bestselling author of The Au Pair

"Imagine if your hilarious best friend told you a really juicy story about a gaggle of rich new mothers While also delivering a sharp commentary about the expectations put on women. That is this book. Bonus for the excellent twist you won't be expecting. Put it on your list, kids."—Stephanie Wrobel, USA Today bestselling author of Darling Rose Gold

Berkley, 9781984806246, 416pp.
Publication Date: March 9, 2021
About the Author
Laura Hankin has written for McSweeney's and HuffPost, among other publications. The musical comedy she creates and stars in, both solo and with her duo Feminarchy, has been featured in The Washington Post, The New York Times, Funny or Die, and more. She splits her time between Washington, D.C. and New York City, where she has performed off-Broadway, acted on-screen, and sung to far too many babies.