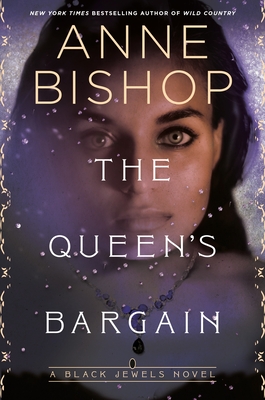 The Queen's Bargain (Black Jewels #10)
Hardcover

* Individual store prices may vary.
Other Editions of This Title:
Digital Audiobook (3/9/2020)
Mass Market (1/26/2021)
Description
POWER HAS A PRICE. SO DOES LOVE.

Return to the dark, sensual, and powerful world of the Black Jewels in this long-awaited new story in the New York Times bestselling fantasy saga.

After a youthful mistake, Lord Dillon's reputation is in tatters, leaving him vulnerable to aristo girls looking for a bit of fun. To restore his reputation and honor, he needs a handfast--a one-year contract of marriage. He sets his sights on Jillian, a young Eyrien witch from Ebon Rih, who he believes has only a flimsy connection to the noble society that spurned him. Unfortunately for Dillon, he is unaware of Jillian's true connections until he finds himself facing Lucivar Yaslana, the volatile Warlord Prince of Ebon Rih.

Meanwhile, Surreal SaDiablo's marriage is crumbling. Daemon Sadi, the Warlord Prince of Dhemlan, recognizes there is something wrong between him and Surreal, but he doesn't realize that his attempt to suppress his own nature in order to spare his wife is causing his mind to splinter. To save Daemon, and the Realm of Kaeleer if he breaks, help must be sought from someone who no longer exists in any of the Realms--the only Queen powerful enough to control Daemon Sadi. The Queen known as Witch.

As Jillian rides the winds of first love with Dillon, Daemon and Surreal struggle to survive the wounds of a marriage turned stormy--and Lucivar has to find a way to keep everyone in his family safe...even from each other.
Praise For The Queen's Bargain (Black Jewels #10)…
"Lavishly sensual...a richly detailed world based on a reversal of standard genre cliches."--Library Journal on Daughter of the Blood

"The Black Jewels novels are seductive--once you start, you just cannot stop reading."--Romance Reviews Today

"Rich and fascinatingly different dark fantasy."--Locus on Heir to the Shadows

"Vividly painted . . . dramatic, erotic, hope-filled."--Lynn Flewelling on Daughter of the Blood

"A storyteller of stunning intensity, Ms. Bishop has a knack for appealing but complex characterization realized in a richly drawn, imaginative ambience."--Romantic Times

"Surges with spellcraft and engaging romance."--Publishers Weekly on The Shadow Queen

"Vivid and sympathetic characters, a fascinating and fully realized magical system, lavish and sensuous descriptions, and interesting world building . . . many compelling and beautifully realized elements. A terrific read."--SF Site on Heir to the Shadows

"Intense . . . erotic, violent, and imaginative."--Nancy Kress on Daughter of the Blood

"Daemon, Lucivar, and Saetan ooze more sex appeal than any three fictional characters created in a very long time."--The Romance Reader on Heir to the Shadows
Ace, 9781984806628, 432pp.
Publication Date: March 10, 2020
About the Author
New York Times bestselling author Anne Bishop is a winner of the William L. Crawford Memorial Fantasy Award, presented by the International Association for the Fantastic in the Arts, for The Black Jewels Trilogy. She is also the author of the Ephemera series, the Tir Alainn trilogy, the Novels of the Others, and the World of the Others novels--including Wild Country and Lake Silence. She lives in upstate New York.